This Bride Hilariously Pranked Her Groom By Wearing a Hippo Costume for their First Look
We've got the photos — plus tips on how to pull off the prank yourself.
---
Donning ridiculous costumes for your wedding day first look is definitely not a wedding trend we expected, but it's here nevertheless. At first we thought it was a little odd — you're in a gorgeous dress, your hair and makeup is professionally done, and you want to hide that? — but, after talking to Media bride Jessica Albert, we get it: weddings can easily become stressful and overly serious, so why not start the day a lighthearted note?
That's exactly what Brittany Bermon thought as she prepared to wed husband Greg at Bluestone Country Club in Blue Bell, Pennsylvania this past September.
"Everyone kept building this day up to be very serious, which it is, but I also wanted it to be about Greg and I being ourselves," says Bermon. "We like to goof around and make jokes. Since Greg knew how serious our wedding was, I wanted to surprise him with something that would remind him that among this serious time, we will always be ourselves and I will continue to always try to make him laugh."
So she ordered a tutu-clad hippo costume from from Halloweencostumes.com, and set about surprising her groom with a more feminine twist on the T-Rex costume prank currently the sweeping the wedding corners of the Internet. For those interested in pulling off a similar stunt, we've got the photos below — as well as a quick Q&A filled with insight and advice from Brittany on how to best pull it off.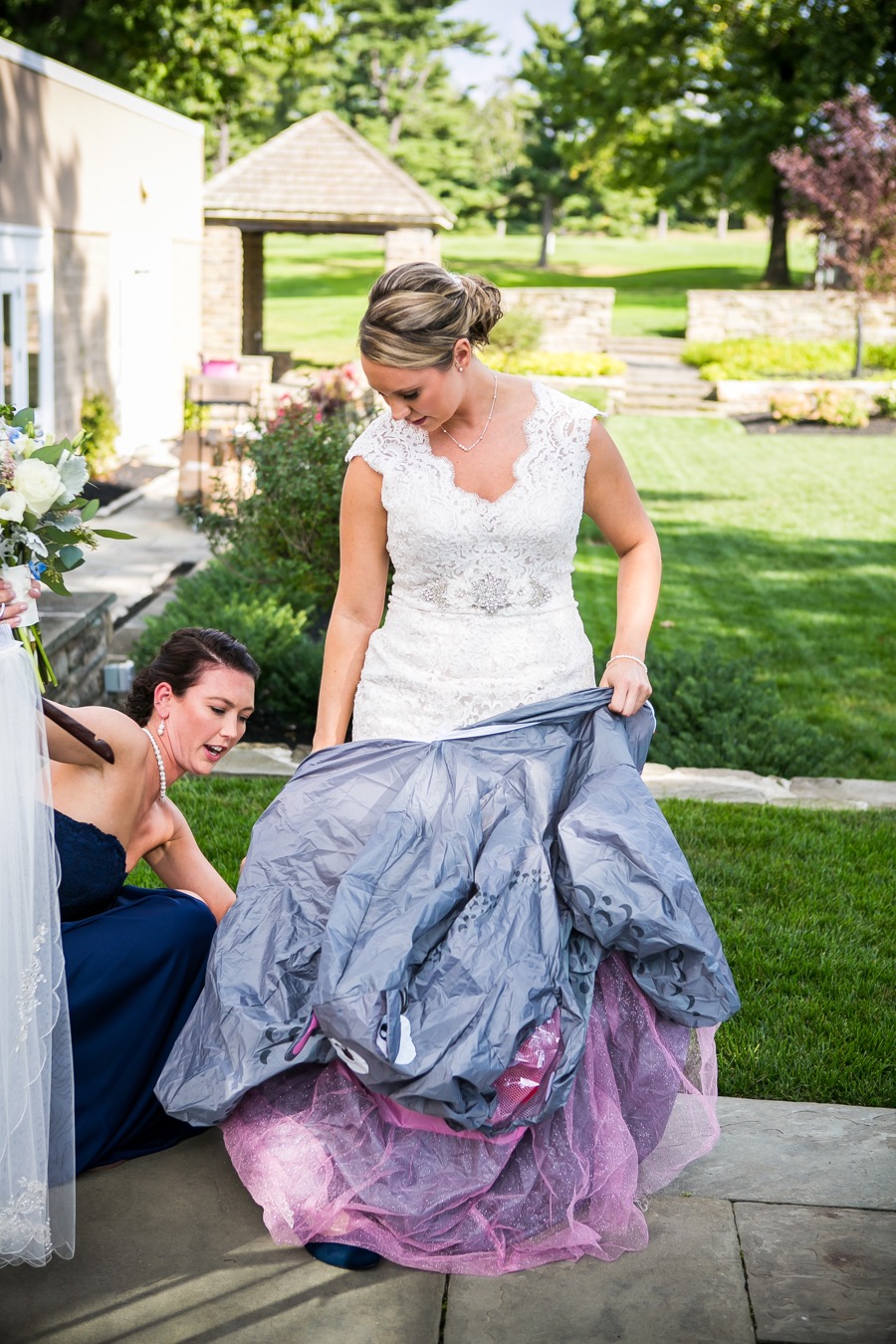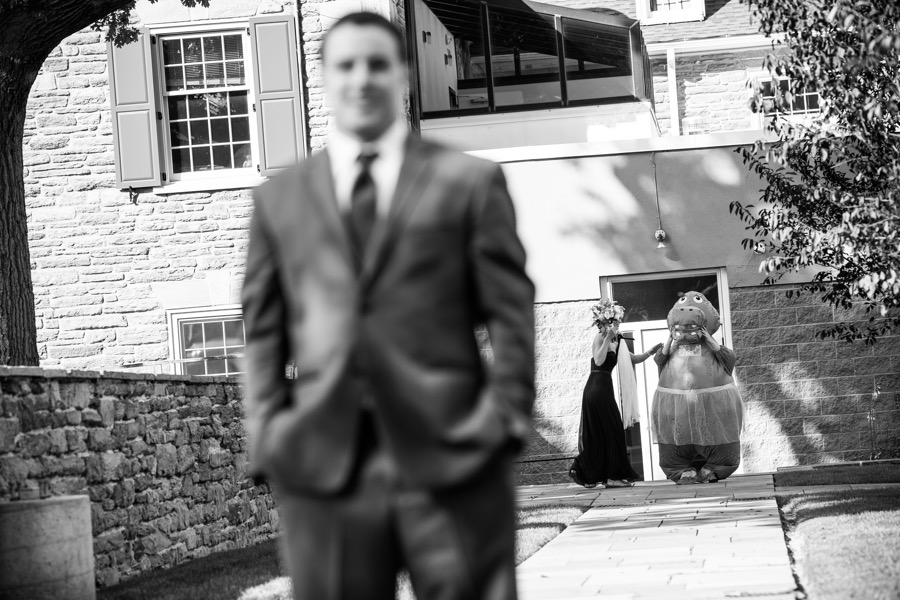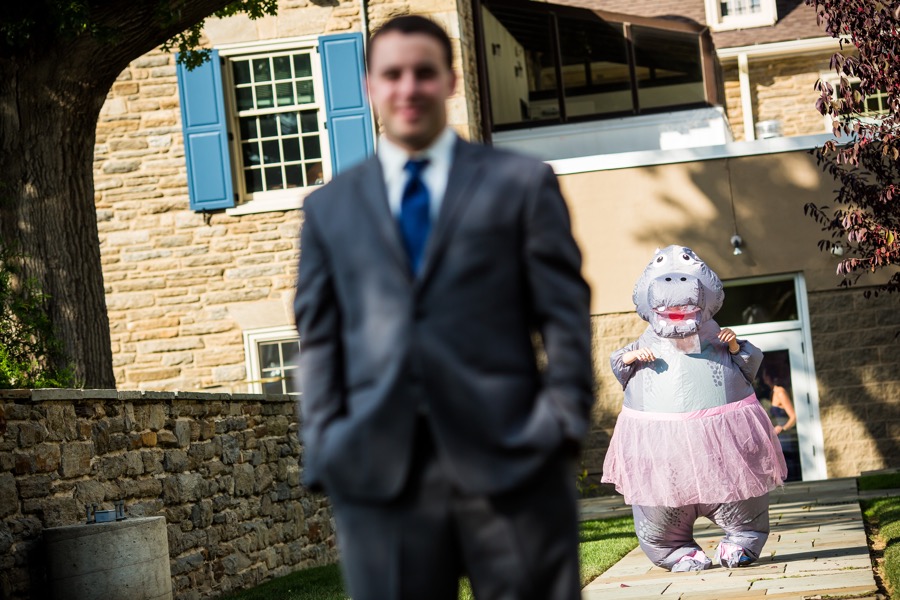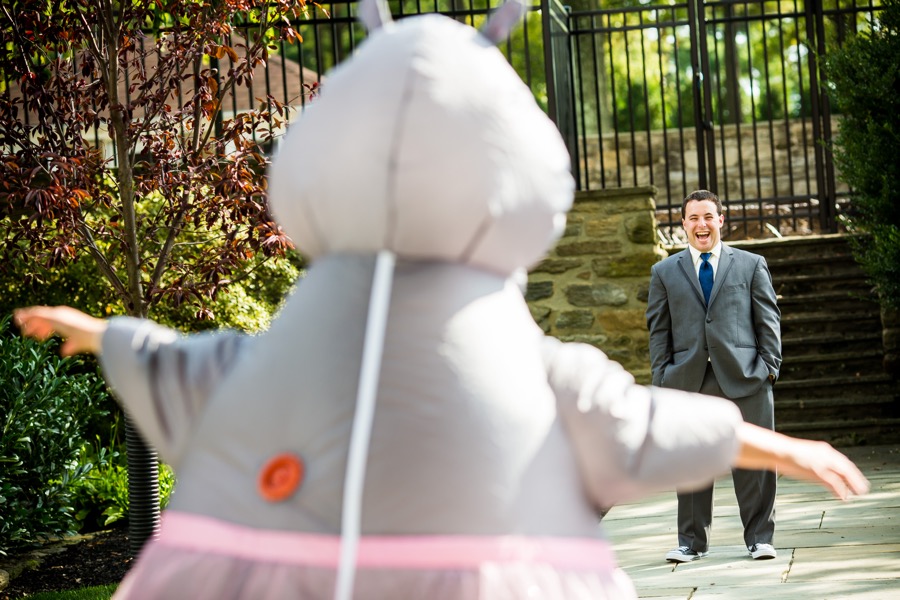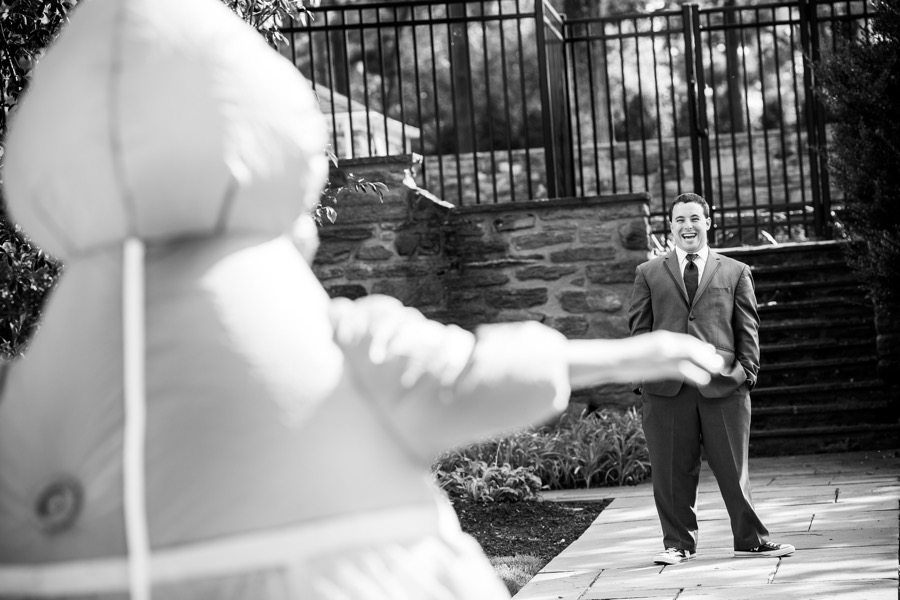 Philadelphia Wedding: You got your hair and makeup done just before putting on the costume. Were you worried about overheating and messing up your look?
Brittany Bermon: It's actually not as hot as you would think it is. It is like being in a bubble because it's filled with air.
PW: Was the costume hard to maneuver in?
BB: It was hard for me to see out of it. There are parts that are see-through but because I'm so short, I had to hold the head a certain way to see where I was going. It is easy to walk in though because there are leg holes for your feet to come out of. I was able to walk in it in my low wedges.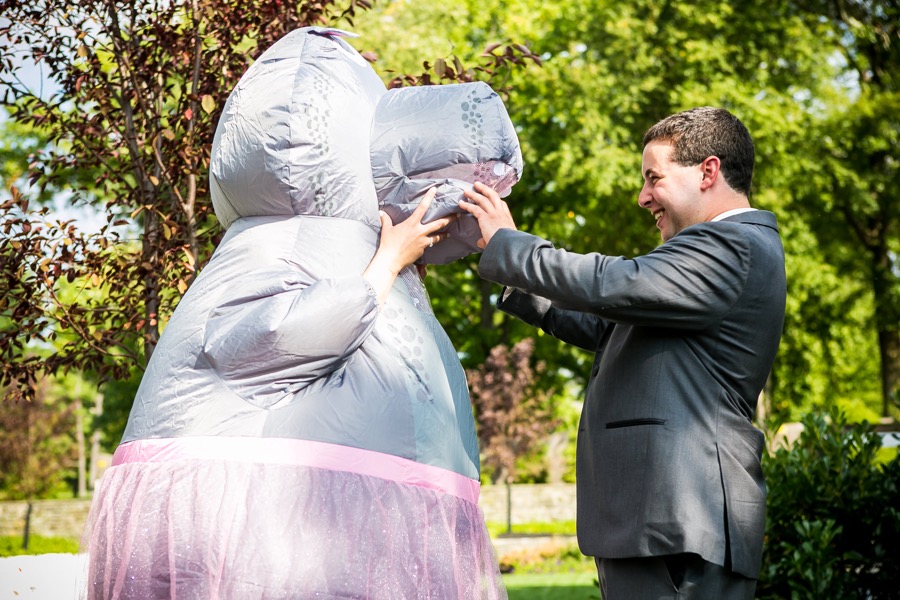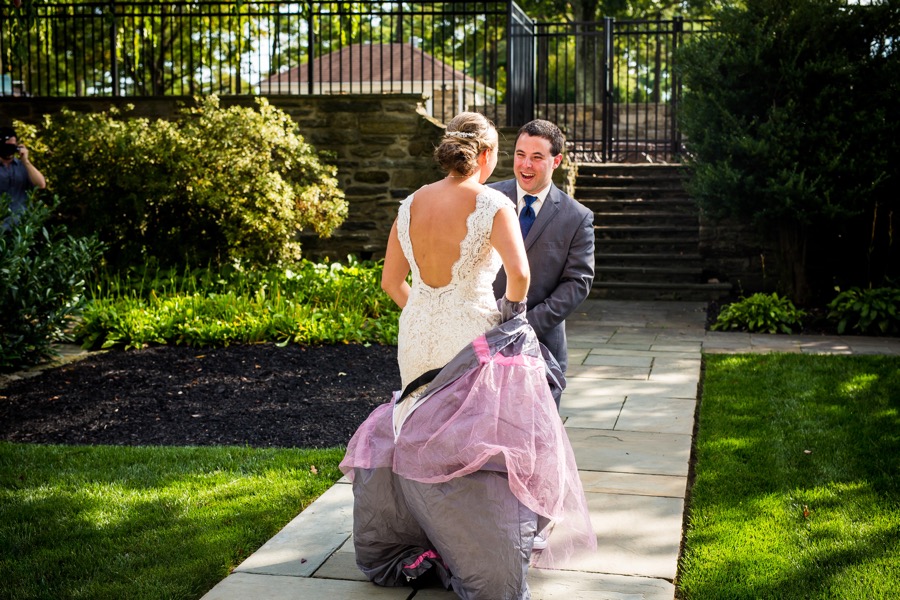 PW: Any advice for future brides looking to pull this off themselves?
BB: My advice for future brides is to get your "team" involved to make sure you pull it off. I told my brother and cousin about the plan to make sure Greg didn't have anything like this planned. I told my photographer and videographer so they were prepared to capture the reveal. I made sure my hair and makeup stylists were aware so I would still look great when getting out of the costume and for the rest of the day, and I recruited my maid of honor to help me get in and out of it.
Like what you're reading? Stay in touch with Philadelphia Wedding — here's how:
• Like Philadelphia Wedding on Facebook
• Follow Philadelphia Wedding on Instagram
• Get the Philadelphia Wedding newsletter
Getting married? Start and end your wedding planning journey with Philadelphia Weddings' guide to the best wedding vendors in the city.
---