A Guy Proposed on the Tower Theater Marquee and the Photos are Adorable
#ProposalGoals, for sure.
---
Marriage proposals aren't a competition, but if they were, Center City's Andrew Kay definitely won last week. He and Michelle Goodman, 28, had their first date at a Tame Impala concert at Upper Darby's Tower Theater a little less than two years ago. Spoiler alert: things went well. So well, in fact, that when their first anniversary rolled around, Kay, 32, tracked down a poster and ticket from the concert, framed them, and gave them to Goodman as a gift. With their second anniversary on the way, Kay wanted to do something big — and he also knew that he wanted to spend the rest of his life with Goodman. Tower was where it all began, so it made sense that the theater's signature marquee would be involved when he popped the question.
"Rolling Stones, Bob Marley. . .every band we love has had their name up there," Kay tells PW. "How cool would it be to have my proposal up there, too?"
(The decision also made sense given Kay's history with Philly signage — when the Spectrum was torn down, he bought the "S" from the sign at auction, and has since been on a mission to have it autographed by as many famous people as possible.)
Kay called in a favor to a contact in the operations department at Tower, and they gave the idea the green light. Now all Kay needed to do was find a way to get Goodman to the theater without her suspecting anything.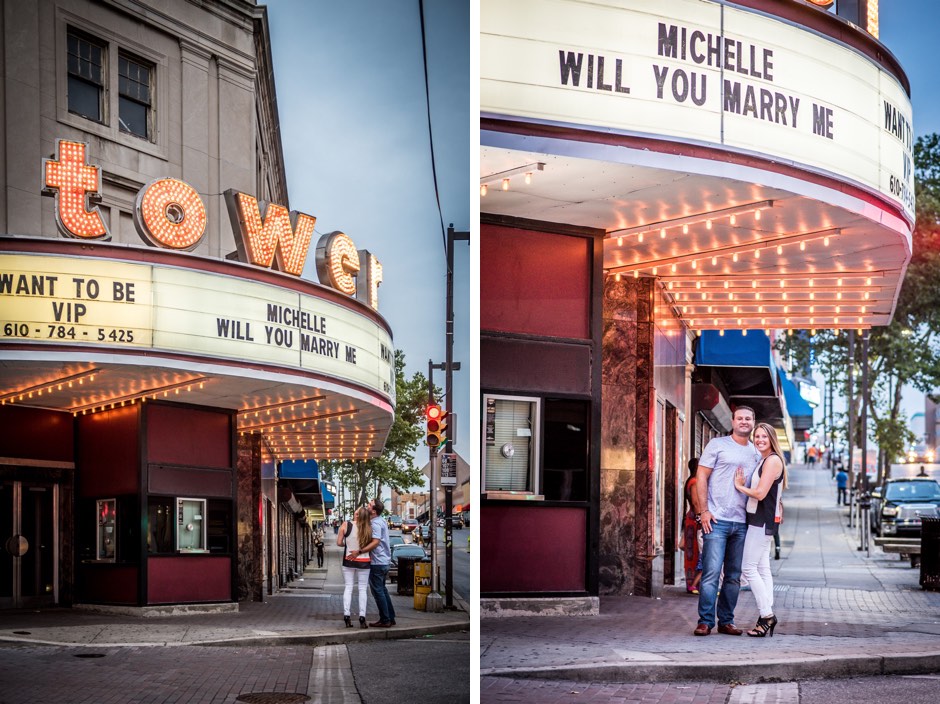 The ruse began weeks in advance. Kay, who works in government contracting, told Goodman that his boss would be in town last week. There would be a dinner on Friday, and Kay suggested they look extra-polished, so he and Goodman went shopping for new outfits ahead of time. (Little did Goodman know, she would end up picking out the shirt Kay would propose in.)
Next, Kay asked a friend who lives in Boston to pretend to buy tickets to a show at the Fillmore that Kay would need to pick up the same night. Before "dinner with the boss," Kay and Goodman drove to the Fillmore to scoop up the tickets. When they arrived, Kay called the friend, who promptly "corrected" him — the tickets were at The Tower, not The Fillmore. So off the couple went to Tower, where photographer Bradd Eeles was waiting to capture the moment.
Traffic was blocking Eeles's shot, so Kay had to find a way to delay. He turned what should have been a 15 minute drive into 45 minutes by weaving in and out of the city. (Luckily, Goodman was unfamiliar with the area and didn't find the route odd). When they arrived at Tower, Goodman saw the box office was closed, and Kay was ready to give up the ruse. So he stared up at the marquee until Goodman finally joined him to see what he was looking at.
MICHELLE WILL YOU MARRY ME
Big black letters spelled out Kay's big question. Another spoiler alert: Goodman said yes.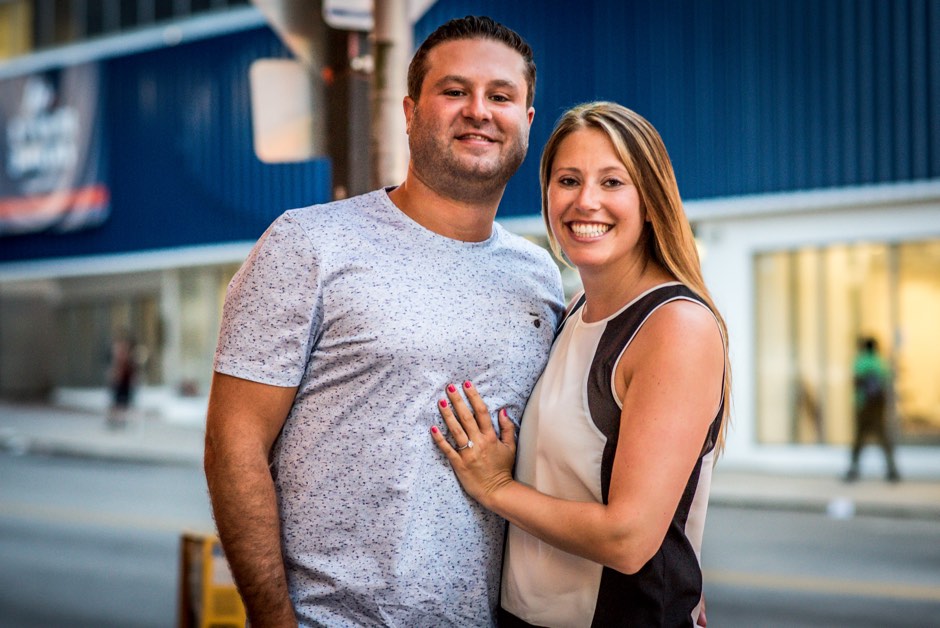 The couple then drove to Ventura's Greenhouse in Margate City, New Jersey — not for dinner with his boss, but for a surprise party with over 100 of their nearest and dearest.
We're sending our congrats to the happy couple, who are eyeing a fall 2018 wedding right here in Philly.
Our next story could be about you! Click here to learn how to share your proposal, engagement, or wedding photos with Philadelphia Wedding.
Like PW on Facebook | Follow PW on Instagram | Sign up for the PW newsletter
Getting married? Start and end your wedding planning journey with Philadelphia Weddings' guide to the best wedding vendors in the city.
---