This Philly Couple and Their Wedding Party Rode Indego Bikes From Their Ceremony to Their Reception
Jo and Nick Aster wanted a cool way to get from the Penn Museum to their wedding reception. They ended up riding Indego bikes.
---
Video by Jeff Rueppel
Jo and Nick Aster nearly fell in love at first sight: They met on a boat in the Galapagos Islands in January and were engaged three months later.
But they both fell in love with bike share when they were in Paris. "We did little else but ride them around the city the whole time, picking up cheese, chocolate and wine and picnicking," Jo Aster (née Piazza) says. And after using Indego, Philadelphia's bike share program, to ride to the University of Pennsylvania Museum while scouting wedding venues, they got an idea.
"I blanched at the idea of a cliche ride in a trolley-bus to cover the mere two miles between the wedding and the reception," Nick says. "And it was probably too far to ask people to walk … but Indego presented itself as a completely viable option—if I could convince people their finery wouldn't get soiled."
He didn't have to convince Jo, who was immediately on board with the idea. The pair went through Visit Philly, coordinated with Indego, and this past Saturday, they, their wedding party, and some of their bravest wedding guests (there were 30 bikers in all) rode from their ceremony at the Penn Museum to their reception at Vesper Boat Club. Indego delivered and picked up the bikes.
"We figured that getting at least some of the wedding party on bikes would not only be a blast, but it would send a fun statement to everyone we saw that bikes are very much a viable, often preferred, way to get around," Nick says.
---
Jo and Nick Aster's Indego Wedding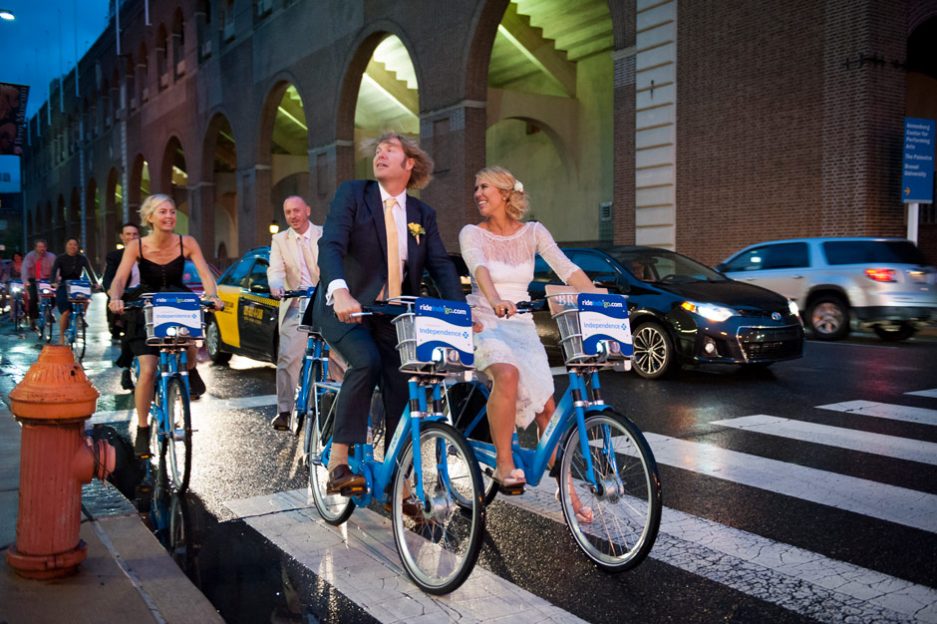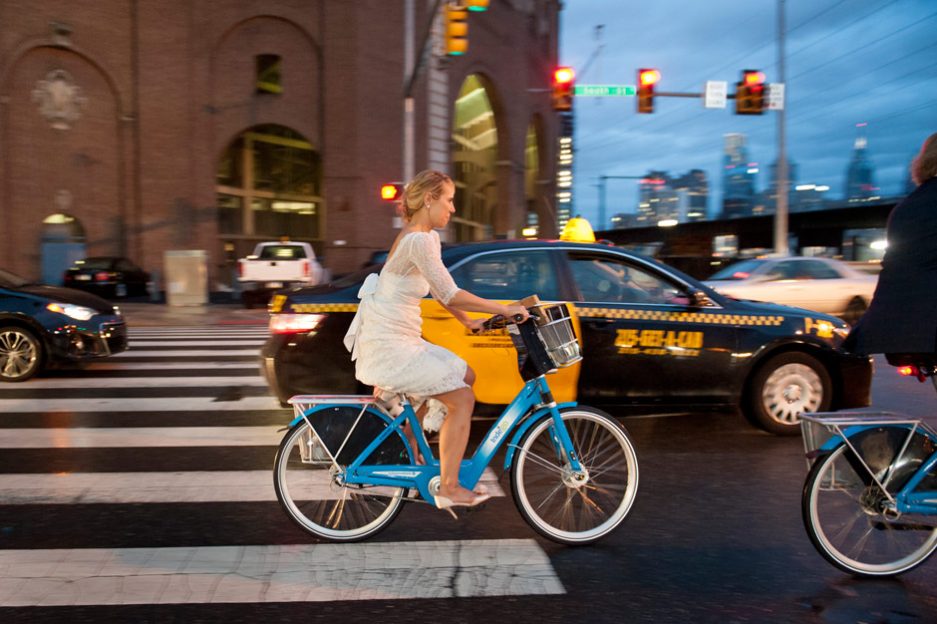 ---
Jo, who is from Yardley and went to college at Penn, is the author of several books, including The Knockoff with Lucy Sykes, and the managing editor at Yahoo! Travel. (Two years ago, Piazza wrote for Philadelphia magazine about dating in Philadelphia after I wrote about her New York Post column about the same topic.) Nick is the founder and publisher of TriplePundit; the couple now live in New York.
The weather wasn't perfect on Saturday — which was also Jo's birthday — so the ceremony was moved from the courtyard of the museum to the Sphinx gallery inside. "It was better," Jo says. "Every hipster in Brooklyn gets married outdoors in a rustic barn wedding. Who gets married in front of a 3,000 year old Sphinx?"
And since there was only a lingering sprinkle when the ceremony ended, the newly-minted Asters and their wedding party were able to go ahead with their plan: They hopped on their bikes and rode across the South Street bridge, onto the Schuylkill Banks boardwalk and trail, behind the Art Museum and onto the Kelly Drive trail to their reception venue. The wedding party carried noisemakers, cowbells and mini tambourines.
"Cars of strangers stopped on the road to take pictures and congratulate us," Jo says. "Joggers along the bike path all did a double take. I got a lot of 'Holy crap, is she in a wedding dress?'"
So, was it worth it?
"The whole thing was a riot of fun with people honking and waving and only the tiniest sprinkle in the air," Nick says. "I would recommend it to anyone for any event that involves moving a few dozen people from one place to another!
"I rode in a pair of three-and-a-half inch Badgely Mischka heels—no small feat, I promise—and in my long, lace, mermaid-style wedding dress, which I just hiked up around my thighs," says Jo. "Thank god for Spanx—they're like bike shorts."
RELATED: Here's What It Looks Like When Philly Naked Bike Riders Ride Through Your Wedding-Day Photo Shoot
Like PW on Facebook | Follow PW on Twitter | Sign up for the PW newsletter
Getting married? Start and end your wedding planning journey with Philadelphia Weddings' guide to the best wedding vendors in the city.
---