Secrets From the C-Suite Presented by Comcast Business
Join Philadelphia magazine for a free and virtual three-part speaker series featuring the region's most influential business leaders.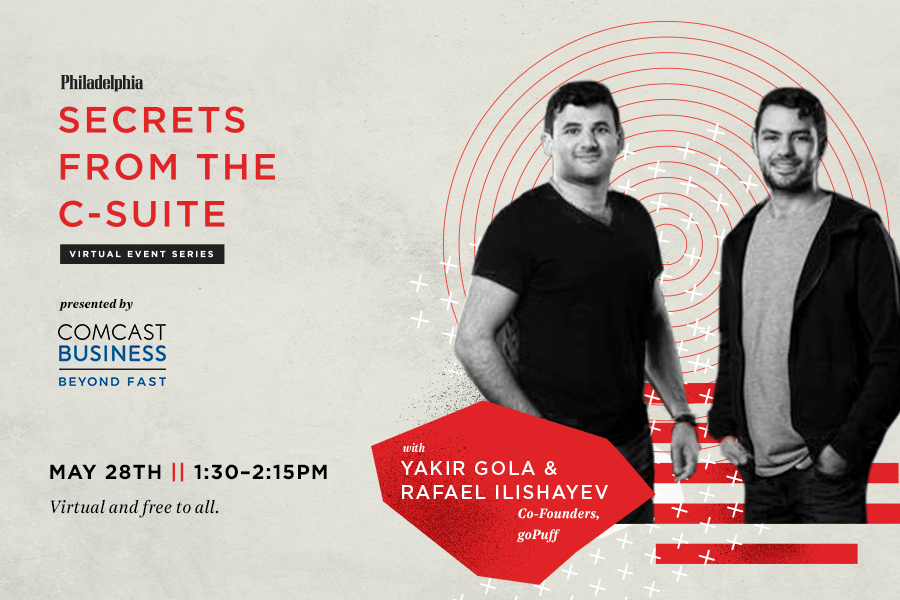 Secrets From the C-Suite Video Library
Secrets From the C-Suite Presented by Comcast Business launched on Thursday, May 14th, with a live discussion between senior editor Fabiola Cineas and La Colombe founder and CEO Todd Carmichael. View the segment below.
On May 21st, Skai Blue Media founder and CEO Rakia Reynolds joined Philadelphia magazine live for a talk about the future of work. In early March, well before many shifted to remote work, Reynolds took her multi-media communications firm completely online and launched various campaigns to help companies add value to the lives of consumers and followers during an unprecedented time. Reynolds discussed what it took to pivot and future proof the agency's work. She also shares some insights on the workplace of the future, from new office rules and benefits to an impending expansion of intrapreneuralism. Watch the discussion below.
On May 28th, the series concluded with a live discussion with goPuff co-founders Yakir Gola and Rafael Ilishayev on what the delivery company has done to handle a huge influx of new business and where it's going next.
---