News
Cecily Tynan Has Had Enough of Your Post-Storm Complaining
Plus, yes, another SEPTA accident.
---
Check phillymag.com each morning Monday through Friday for the latest edition of Philly Today. And if you have a news tip for our hardworking Philly Mag reporters, please direct it here. You can also use that form to send us reader mail. We love reader mail!
Cecily Tynan Has Had Enough of Your Post-Storm Complaining
Philadelphia has a weird relationship with its meteorologists. We are, on one hand, infatuated with them, probably, in part, because we don't have any real celebrities at whom to gawk. And, on the other hand, we are quick to eviscerate them when they get the forecast wrong. Or, perhaps more accurately, when we perceive that they got the forecast wrong. (Hell, meteorologist-turned-realtor John Bolaris was more or less run out of town after he blew his infamous Storm of the Century forecast way back in 2001.) This pattern of evisceration continues to this day, naturally enhanced by our voracious appetite for social media.
You may remember that Monday night brought severe weather to the area. Like so many of you, I tuned into 6 ABC to see what was up. And what was up was constant, wall-to-wall coverage of the storm cells heading from west to east. As far as I can recall, there was no other news reported on. Just the weather. And the 6 ABC storm coverage, which initially ended with the start of World News Tonight, was quick to return, interrupting the most-watched network newscast in the United States.
There stood Cecily Tynan, documenting lots of lightning strikes and persistently warning viewers of the possibilities of tornadoes. She used a cone-like graphic to indicate which areas were, at the moment, in the most danger of tornadic activity. (No, I didn't make up that word!) And, over and over again, she advised viewers what to do in the event of a tornado. Get to the basement! Get in a closet! Stay away from windows! All good advice, of course.
Well, the weather having a mind of its own and, hardly being an exact science, some areas did get positively trounced by the storms while others saw some rain but remained relatively unscathed. As one can expect in this era, some viewers didn't take too kindly to being left out of all the fun that makes up dangerous weather. They complained relentlessly on social media that Tynan and her cohorts had overhyped the storms, choosing ratings over good ol' fashioned science. I'm sure that 6 ABC brass was more than pleased with their ratings that night. But from where I sat, Tynan was just doing her best to keep everyone informed as best she could, potentially saving lives in the process.
"You have no idea!" one source at 6 ABC told me on Tuesday afternoon when I asked about the public's response to Tynan's reports during extreme-weather situations like this. (Tynan herself doesn't tend to respond to press inquiries.) "People just don't get it."
Well, also on Tuesday, after years of being hammered with similar criticisms about her storm forecasts and coverage, Tynan had had enough and took to Twitter to let these whiny viewers know a thing or two.
"I find it incredibly ironic that some people are complaining to me that we 'over hyped' last night's storm when there are three active @NWS_MountHolly storm surveys going on today," she wrote, referring to the National Weather Service's post-storm assessments. "I was also accused of issuing tornado watches/warnings for 'ratings.'"
While her critics might have had just some rain, others among us in the region (you have to keep in mind that 6 ABC serves a large region that includes Berks County and all of South Jersey and the southern Jersey Shore) saw lots of damage and electrical outages due to severe winds and some confirmed tornadoes.
Tynan and her ilk can probably relax a little once Thursday's bad weather passes. The next week looks positively glorious. At least for now.
In completely unrelated Cecily Tynan Twitter news, I couldn't help but notice that Tynan recently took Frontier Airlines to task for a flight that was a long-delayed flight before becoming a completely canceled flight. I feel bad for you, Cecily, I really do. We've all been there. But for the love of all that is good and holy, Cec, what the hell were you doing booking flights on Frontier in the first place?! You should warn your viewers about that.
A Folk Festival Revival?
Made in America was canceled, yes. But now we're hearing that a much different music festival — the Philadelphia Folk Festival — might be on the upswing. The Philadelphia Folksong Society, the group behind the festival, has had its share of financial (and other) problems of late, as we duly documented in this 2022 feature. There was barely a folk fest last year. There isn't one this year. But according to the latest reports, things are looking good (OK, good might be a stretch, but …) for the folk fest to return in 2024. Good luck, folkers!
About that Sixers Arena Proposal…
As controversy continues to brew around the proposed new Sixers arena that the team hopes to build in Center City, we now know a key new detail about the 76 Place complex: You'd be able to live in it.
That's right. On Wednesday, the Sixers announced a $250 million residential tower it hopes to build on the north side of the arena. Here's the proposed design: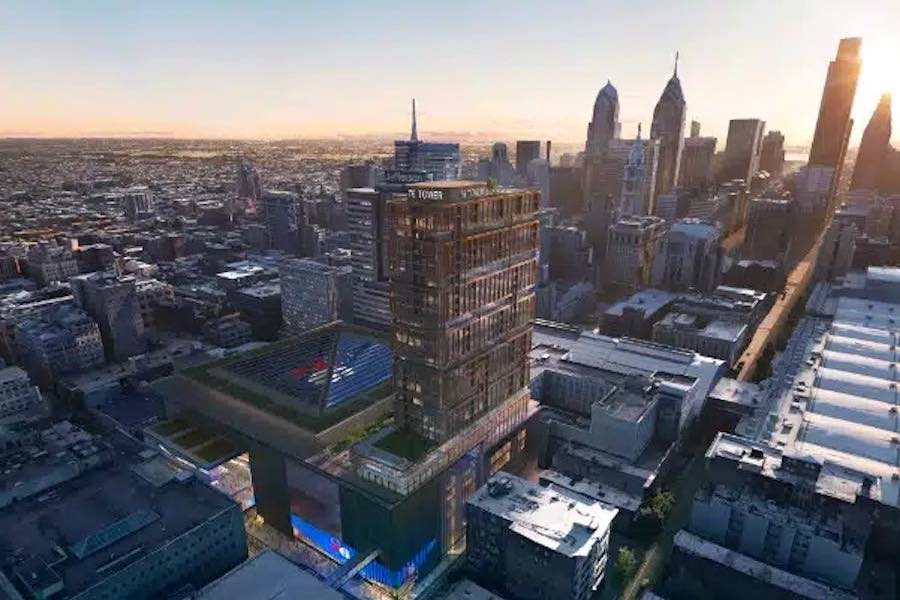 No word on whether the penthouses will come with Sixers season tickets.
Local Talent
Exiled Jackass cast member Bam Margera is once again making headlines for all the wrong reasons. Early Wednesday morning, police arrested Margera — who is out on bail as he awaits trial on assault charges in Chester County — outside the Radnor Hotel and charged him with public intoxication. The whole thing reportedly began when Margera tried to get a hotel room around 3:15 a.m. But the Radnor Hotel has a policy of not registering any new guests after 1 a.m. Who knew? Not Margera, apparently. The hotel said no, things got a little heated and, well, Margera, who has long had his struggles with alcohol and mental illness, didn't come up on the winning end of things.
By the Numbers
8: The number of women this guy is accused of groping while riding his bike in Philadelphia between August 6th and 8th. We've been hearing similar stories about a guy on a bike doing this going back several years, and police are now investigating whether the man they just arrested is connected to those assaults.
$3.5 million: Settlement the Archdiocese of Philadelphia just agreed to pay in a child sex abuse case involving a Catholic priest who died in 2018.
6: People injured in a South Philly accident involving two SEPTA buses on Wednesday. Yes, another crash involving SEPTA. That's the third such incident this week.
And from the City-Loves-You-Back Sports Desk …
New guy alert! Michael Lorenzen was on the mound again for the Phils last night in their game against the Nationals, his second start since trading his Tigers uniform for red pinstripes and his first at Citizens Bank Park. Trea Turner kicked things off for the Phils with a lead-off single in the first off lefty MacKenzie Gore, but Alec Bohm hit a grounder that nipped him at second. Bryce Harper followed up with a double that scored Bohm, and Nick Castellanos whacked a two-run homer. Another great start! And speaking of new guys, a solo homer by Weston Wilson led off our second.
Weston Wilson is the first Phillies player to homer in his first career major league plate appearance since Marlon Anderson, 9/8/98 vs NYM.

— PhilliesNotes (@PhilliesNotes) August 9, 2023
Boom! One more on another Castellanos homer in the third! And one in the fourth, on a Wilson walk, his steal of second, and a Rojas single. Cory Abbott came in for Gore in the sixth and got three straight strikeouts, but in the seventh, he walked Weston, let loose a wild pitch, hit Edmundo Sosa with another, then got a strikeout and a groundout that put runners on the corners. Bohm promptly singled one in: 7-0. Alas, a long fly by Harper ended the fun. Lorenzen came back out for the eighth, and why not? He had a damn no-hitter going. And three up, three down! The crowd went wild.
Number of 8-inning starts for the Phillies in 2023…

Michael Lorenzen: 2 in 2 games

All other Phillies starters: 3 in 113 games pic.twitter.com/TD9UzN3y89

— John Foley (@2008Philz) August 10, 2023
And he got it done: ground-out, strikeout, fly-out. Welcome to Philly, Michael. So glad you're here. I'm not crying; you're crying.
Michael Lorenzen throws the 14th no-hitter in Phillies history. His family's reaction is everything. ❤️ pic.twitter.com/9NARDYMwK0

— MLB (@MLB) August 10, 2023
Another tonight at 6:40. Be there.
All Philly Today sports coverage is provided by Sandy Hingston.
---
---