News
Philly Mag Wins 4 City and Regional Magazine Awards
We took home awards in categories ranging from best food writing to best reader service. Read the award-winning work here.
---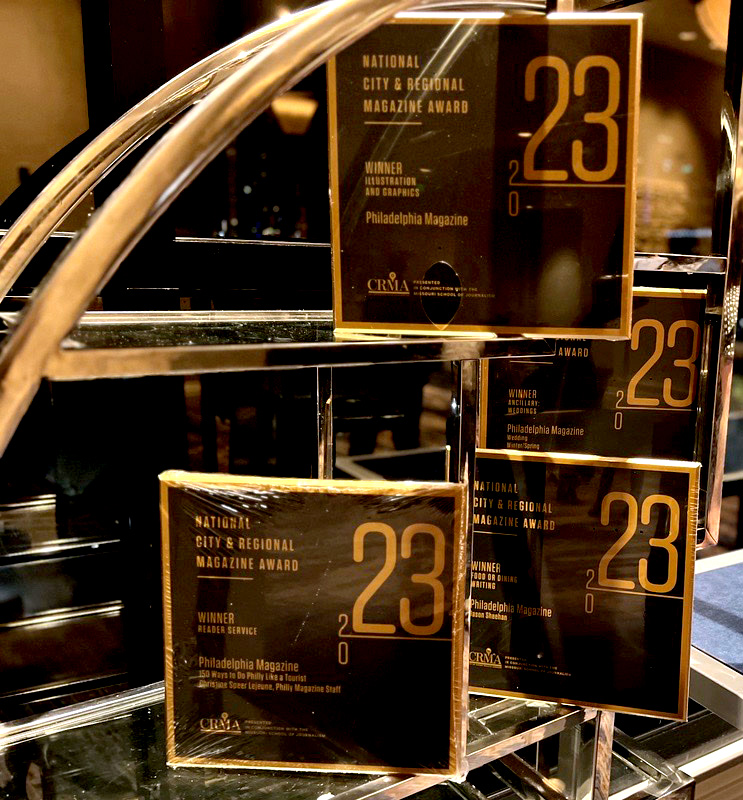 Last night in Baltimore, the City and Regional Magazine Association (CRMA) awards honored the best work to appear in city magazines in 2022. And we are very proud to report Philly Mag took home four awards, out of an exciting 16 nominations. The magazine's achievements were celebrated among peers and recognized with accolades in multiple categories, with wins for Wedding publication, Illustration and Graphics, Reader Service, and Food or Dining Writing.
Jason Sheehan was honored in the category of Food or Dining Writing for his reviews of Kpod and El Mezcal Cantina, as well as for his incredibly moving story on chef Chutatip "Nok" Suntaranon's life, career and expansion to Fishtown ("Finishing What Kalaya Started"). Sheehan's profile traces Nok's journey — from selling shrimp paste alongside her mother to serving caviar as a Kuwait Airlines flight attendant traveling the world — to illuminate a chef who is singular, fearless and confident. (Speaking of which, congratulations are in order all around, as last night Nok took home the James Beard Award for Best Chef: Mid-Atlantic.)
The Reader Service award went to our July 2022 cover package, "150 Ways to Do Philly Like a Tourist." Edited by Christine Speer Lejeune and with contributions from nearly the entire Philly Mag staff, this guide presented a fresh look at the city we call home. In putting this piece together, our team traversed Philly with eyes wide open. We ate new faves and old faves, mined for hidden gems, visited museums at strange times, took tours where we were the only Philadelphians in the group, and shared all our findings and secrets to help readers experience the city to the fullest.
Philadelphia also took first prize in Illustration and Graphics for visually captivating work in "Wooder You Talking About?" and "The Lost Moments of COVID" in our February issue; and for the Helpers and Fixers spread "Home Runs" in August's Best of Philly issue.
Finally, the magazine's ancillary publication Philadelphia Wedding won in its category for the Winter/Spring 2022 issue. Judges called it a "beautiful issue" that "highlights sharp writing, tight editing, smart design, and consistently gorgeous photography." Congratulations to editor Kristen Schott for continuing to provide dazzling and valuable inspiration for couples embarking on their journey to marital bliss.
"We were up against some truly excellent competition," said Brian Howard, who took over as editor of Philadelphia magazine last year and was on hand last night to receive the awards. "I'm excited for our wins, excited for the nominees, and just so proud of our staff for being recognized as among the best at what we do."
Boston magazine, our sister publication, also won four awards, including the night's top honor: General Excellence.
The annual CRMA competition, held in conjunction with the Missouri School of Journalism, honors journalists, design creatives, and staff members at city/regional magazines across the country in 35 categories. Among the 32 publications recognized for their 2022 work, Philly Mag was a finalist in 16 categories, including general excellence.
---
---