Philly Will Soon Be Home to the Biggest Wawa in the World
And it's going to be very, very fancy.
---
It's a great week for Wawa — and for Philadelphia.
We've known since December that the Independence Mall area is getting a Wawa, but now we're happy to tell you that the location will serve as the biggest in the entire world.
That's right: the biggest Wawa in the world is coming to Philadelphia. (Sorry, D.C. — your puny 9,200 square-foot Wawa will have to make room.)
Wawa President and CEO Chris Gheysens announced plans for the new store on Thursday at the opening celebration of Philly's newest Wawa, which is at 22nd and South streets. The chain now has some 790 stores.
The news came as the chain handed out more than 2 million cups of free Wawa coffee to customers across Pennsylvania, New Jersey, Delaware, Maryland, Virginia, D.C., and Florida for its 54th birthday, aka Wawa Day.
The forthcoming Wawa will be a "historic, one-of-a-kind store," according to the company. The 11,300 square-foot space will be located inside the Public Ledger Building near 6th and Chestnut streets. It will offer artisan coffee, specialty baked goods (plus the regular fare, of course) and plenty of seating, as well as some greenery.
Wawa's renderings certainly look …different. (And maybe even sort of hip?)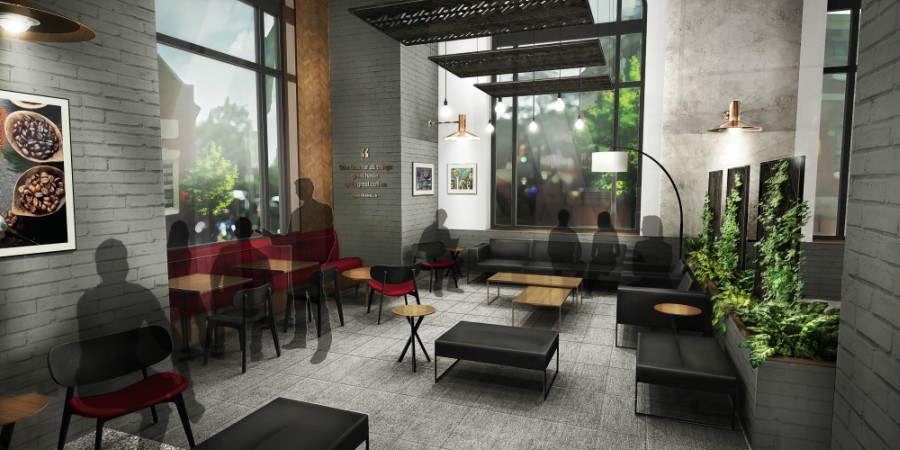 Wawa says the space will feel "familiar to Wawa-goers but reimagined to bring a higher level of sophistication and craft to this unique, spacious location …. Aesthetics weave together industrial and art deco elements with the warmth of copper and beautiful vaulted ceilings."
Plus, the location will feature "large interactive screens" that will "make social media more of a presence in the store" as well as a "one-of-a-kind Mural Arts creation" that will show "the love Wawa has for its hometown." The store is slated to open by Thanksgiving.
First Wawa debuted fancy artisan coffee. Then it rolled out a secret menu. Now it's opening a new location with vaulted ceilings, art deco aesthetics, and …plants? We're very curious about where our favorite convenience store is headed.
---