OPINION: I Hope Amazon HQ2 Doesn't Come to Philly
Housing costs would skyrocket if Amazon came here. The poorest big city in America can't afford that.
---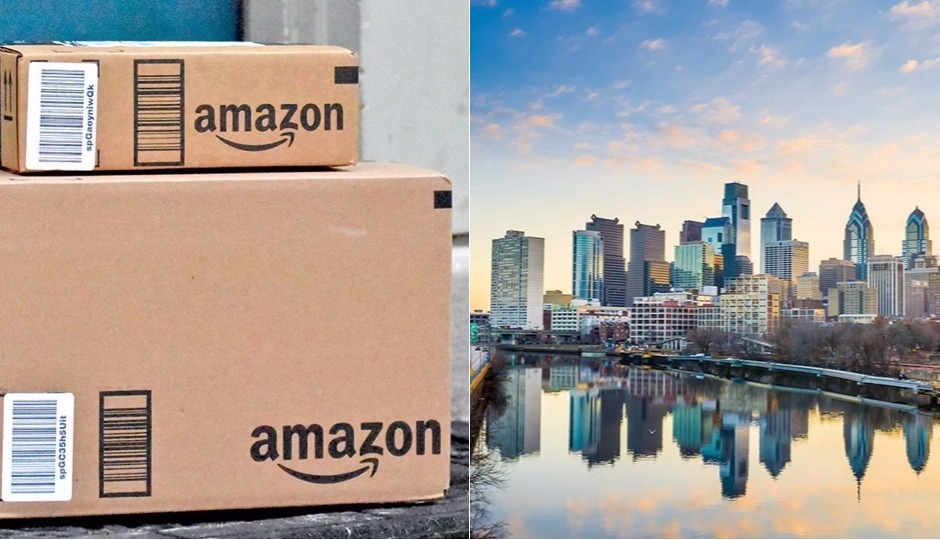 Today is the deadline for cities to place their bids to host Amazon's second headquarters. Philadelphia, along with Chicago, Houston, Boston and more than 50 other municipalities, are taking their shot at convincing the e-commerce giant to enter their city. Amazon claims it will invest $5 billion in the new venture, with hopes that this will eventually provide 50,000 jobs. Predictions for Philadelphia being Amazon's top pick have been very favorable, and the city government is full of optimism and fervor about the possibility.
But I'm not enthusiastic about any of this. I don't want Amazon to colonize Philadelphia and jumpstart massive gentrification, industrial congestion, and cultural erasure. As the poorest big city in the nation, Philly can't withstand any drastic economic changes right now. Instead, we should strive to fix the problems we already have.
In other words, we don't have our shit together, and we need stop trying to bite off more than we can chew.
While many have argued that Amazon's presence will bring new jobs and opportunities to the city, I ask: Jobs for whom? With every new project that comes to Philly, we are promised the same things by the same people — and they often don't deliver. Let's not forget that many people outside of the city would be competing for these jobs, which would limit the amount available for Philadelphians. Also, the bulk of the positions needed at HQ2 are more high-skilled. With our workforce's relative lack of higher education and staggering adult illiteracy rates, many of our own residents likely won't even qualify.
Furthermore, locals of color will most likely be given the short end of the stick yet again: A majority of city-funded construction projects with budgets of more than $250,000 continue not to reach the local government's minority workforce participation goals. Amazon's diversity track record doesn't help ease this concern: The company hires more Black and Latinx people in their warehouses than within their professional ranks.
Amazon HQ2 would also mean gentrification that will ultimately price out low-income communities entirely. The proof for this can be found from none other than Amazon's first headquarters in Seattle, where an apartment downtown cost $42.08 per square foot to rent in 2016, compared to $39.79 in 2015 and $31.38 in 2009. Home values have reportedly increased 11.2 percent in the last year alone. Seattle residents have even gone as far as to describe Amazon's involvement in their city as "Amageddon," with one local columnist stating that an "Amazon-fueled future" will be "more male, even more white, wealthier and less diverse, unaffordable to those with lower incomes, including the firestarters of culture, artists." Philly already has enough of a problem with gentrification and the lack of guilt many newcomers feel about perpetuating it. Amazon HQ2 in Philly would only extinguish any hopes of improving community relations in this regard.
If our city's economy resembled Austin, this would be a different conversation. Even modeling ourselves after something like Pittsburgh wouldn't be such a bad idea. But this is Philadelphia, a stubborn town that likes to indulge in all of the sweets and not eat any of its vegetables. We have become spoiled from hosting so many high-profile conventions, festivals, and conferences that we've ignored our lingering debt, poverty, and urban decay. What's worse is that we've become so dependent on such lofty projects that we haven't realized they've only added to the strife.
It's time for Philly to take a time out and look inward. We should recharge and focus on the priorities that matter most to our communities. If we want to compete for major contracts with corporate juggernauts, we need to ensure that our residents are ready to take advantage of them. That means getting serious about education at all levels: A campaign for free local community college and less regressive solutions to raising more money for K–12 education would be a healthy start. We also must make it easier for poor and working-class people of all backgrounds to be able to open small businesses, whether through better loans, tax breaks, or less systemic gridlock.
Several advocacy groups across the country are now signing a viral open letter to Amazon CEO Jeff Bezos calling on his company to "build a headquarters that works for everyone in our communities." Unfortunately for us, we don't currently have the capacity to sustain a mutually beneficial partnership with a company as expansive as Amazon.
I predict that when it's all said and done, Philly won't make the final cut. Hopefully, all of this Amazon fever will translate into a renewed commitment from our public and private sectors to seriously improve our city as is. That's the kind of bid we should all be invested in.
---
---