Police: Montco Man Wanted for Shooting His Ex-Girlfriend's Mom
Montgomery County officials are offering a $1,000 reward for info leading to the arrest of 30-year-old Gregory Feldman.
---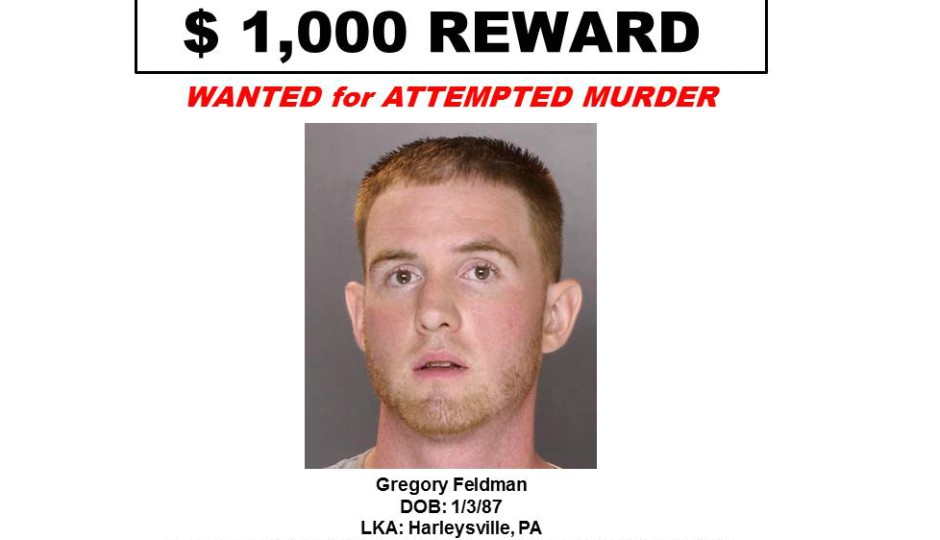 The Montgomery County District Attorney's Office is offering a $1,000 reward for information leading to the arrest of a man who allegedly shot his ex-girlfriend's mom this past weekend.
Police have issued an arrest warrant for 30-year-old Gregory Feldman of Harleysville, Pa. Officials say Feldman shot 48-year-old Amy Hermann, the mother of his ex-girlfriend, Rebecca Hermann, around noon on Friday.
According to court documents, Amy Hermann, 48, said she was at her home on Long Meadow Road in Limerick Township when Feldman rang the doorbell. Amy Hermann said that when she answered the door, Feldman asked to see "Becca," her daughter, and Amy Hermann told him that "he should not be there," per court documents. Feldman then said "I have something for Becca," removed a long-barreled handgun from his pants pocket and shot several times at Amy Hermann, hitting her twice before stepping into the house and taking her cellphone, according to police.
Rebecca Hermann told officials that after the shots were fired, her current boyfriend called her mother's cellphone. Rebecca Hermann said Feldman answered the phone and demanded to speak with her. When Rebecca Hermann took the phone, Feldman said "I wanted you to feel my pain," she told police.
Amy Hermann is in stable condition and expected to survive, according to CBS3.
Feldman is wanted for attempted murder. Police say he was last seen near Royersford and Long Meadow roads in a black 2016 Mazda 6 sedan, with license plate KFC 4605.
Feldman is considered armed and dangerous. Anyone who sees him should call 911. Anyone with information is asked to contact Limerick Township Police at 610-495-7909.
Follow @ClaireSasko on Twitter.
---
---