This South Philly Live Chicken Store Is in Trouble With the Feds
And owner Johnny Wong previously pleaded guilty to animal cruelty charges.
---
Most of us buy our chicken at the regular old grocery store. Whether it's a free-range, no-antibiotics bird from Whole Foods or 69-cents-per-pound leg quarters in the little styrofoam tray from ShopRite, our chicken died well before it got anywhere near the meat department. But at J&B Poultry Market in South Philadelphia, things work a little bit differently.
J&B is a live chicken market. You walk in, pick which chicken you want to eat for dinner that night from one of the cages that fill about half of the store, and the staff brings your chosen bird into another room to be slaughtered and butchered. The smell is, shall we say, distinctive. So naturally, a place like this is of special interest to the people in charge of making sure our food is safe, and J&B hasn't been getting very high grades in that department of late.
On Wednesday, the federal government filed a lawsuit against J&B Poultry Market and owner Johnny Wong, alleging a long series of problems and violations at the tiny shop.
As the suit explains, shops like J&B are granted exemptions from the normal federal poultry inspection process that those ShopRite leg quarters get put through. If a customer is allowed to pick out a live bird in your shop, you may then kill it and sell them the butchered animal. But if you just decide to kill a bunch of chickens and then sell them to other stores, different rules apply.
The government alleges that J&B was mislabeling its chickens, which meant that no point of origin could be determined, and that there were no safe-handling instructions on the packages. On one occasion, the store allegedly transported hundreds of pounds of slaughtered chicken at temperatures of more than 80 degrees. Chickens sat unrefrigerated in bags in the shop, as seen in the photo below, which is part of the government's case.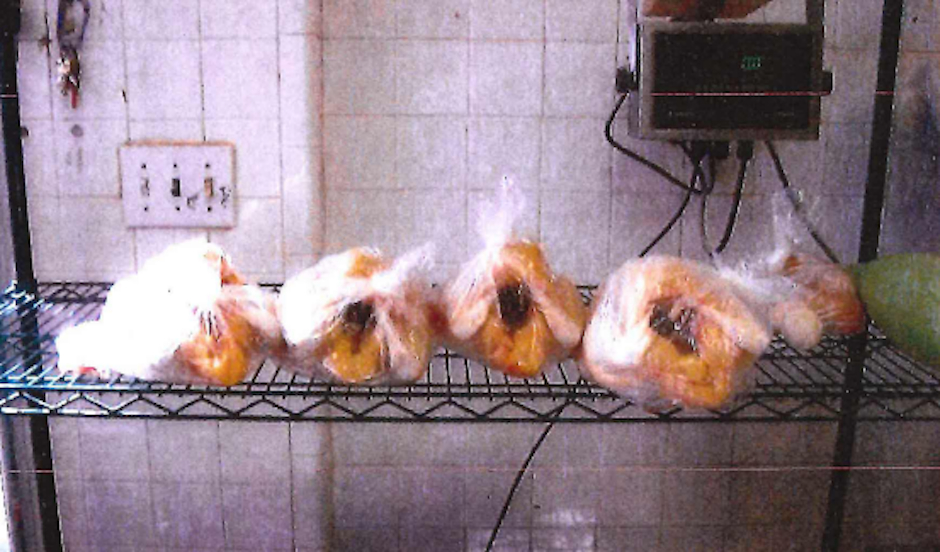 The feds document violations going back to 2009. On multiple occasions, Wong signed statements for inspectors saying that he understood the rules. Last year, he acknowledged to investigators that he had received four USDA warnings. But, claims the government, the activity continued, and now they are asking a federal judge to issue injunctions against Wong and the shop.
The Philadelphia Department of Public Health has also taken issue with J&B over the years. In 2016, it was flies, a dirty shop, and large quantities of raw chicken sitting around at room temperature. In 2015, inspectors found unclean "plucking equipment," cages "encrusted with fecal matter," and "slaughtering equipment encrusted with bird feathers and bird waste."
Is it dinnertime yet?
Wong is also no stranger to the Pennsylvania SPCA, which enforces Pennsylvania's animal cruelty laws. On two occasions, Wong pleaded guilty to animal cruelty charges and paid a small fine.
"The reality of it is that these are minimum standards," says PSPCA director of humane law enforcement Nicole Wilson. "They are minimally restrictive, and Mr. Wong can't even meet that minimum standard."
Wilson says that her officers have found unsanitary shelters and lack of access to food or water for the live birds on multiple occasions.
"But unless the judge includes an order for prohibition of ownership, which hasn't happened, there's nothing that would prevent the illegal behavior from continuing," she explains. "If he repeatedly shows that he can't provide access to food and necessary water and sanitary conditions, this is indicative of a bigger problem."
Wilson says that although her office can only enforce the animal cruelty laws, she regularly loops in the health department, USDA, and Department of Agriculture when she has concerns.
A J&B shop manager told Philly Mag that Wong had no comment but that the store was unaware of any violations.
Fair enough. We'll see you all at the Acme.
Additional reporting by Claire Hoffman.
Follow @VictorFiorillo on Twitter
---
---