It's Always Sunny in Philadelphia Just Filmed Near Franklin Fountain
Don't miss your chance to see the show shot in and around Center City today and tomorrow.
---
---
Claire Sasko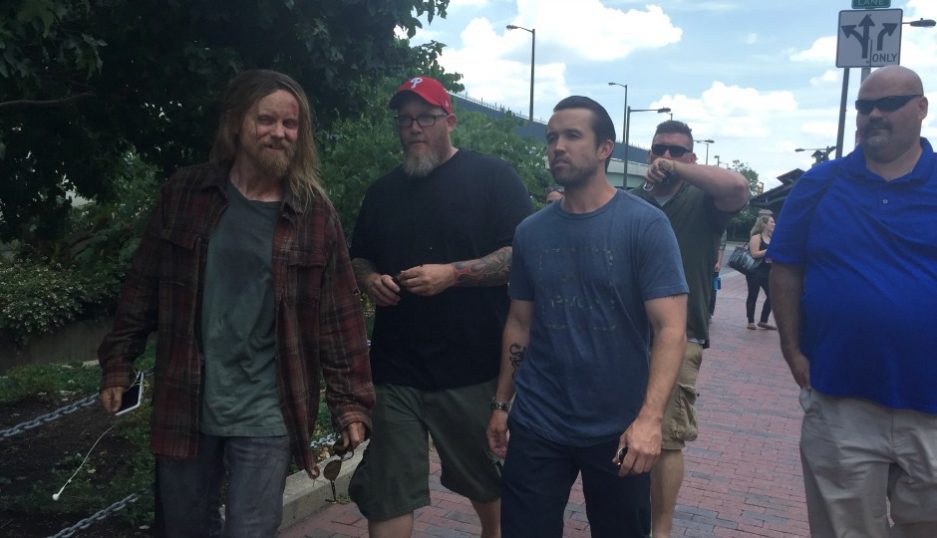 Claire Sasko
Claire Sasko

---
As we told you yesterday, It's Always Sunny in Philadelphia is filming for its upcoming season in and around Center City this week. The cast and crew spent about an hour shooting a scene outside Franklin Fountain near 2nd and Market streets in Old City today.
(Video | HughE Dillon)
https://www.instagram.com/p/BHSPUnMAQ9q/?taken-at=327218
On set were Glenn Howerton, who plays Dennis Reynolds and is a writer and executive producer for the show, Rob McElhenney, who plays Mac and is a developer and executive producer for the show, and Charlie Day, who plays Charlie Kelly. David Hornsby, aka Cricket, was there as well.
Hey Mr. @PhillyMayor– @AniyaWolf looks great, right? Wanna come by and see? pic.twitter.com/2HczksH0UN

— Rob McElhenney (@RMcElhenney) June 30, 2016
Crowds of roughly 50 surrounded the set, flooding nearby sidewalks (and sometimes streets) as security attempted to corral people out of shots and away from passing cars and buses.
The crew appeared to be filming some sort of skit involving a frail, gray-haired woman with a walker who gets ruthlessly knocked down as a vigilante pursues Cricket, who seems to have stolen candy.
Fans swarmed the actors after filming wrapped up at around 1 p.m. As the cast and crew applauded and someone yelled, "It's a wrap!" a perfectly timed passing duck-boat bus blared the show's soundtrack. It was serendipitous.
My man Charlie Day. #AlwaysSunny https://t.co/qUlf5fTTVR pic.twitter.com/URZ3TWQWlr

— Robert McPeak (@RobertJMcPeak) June 30, 2016
https://twitter.com/LyNotLee/status/748559089689497600
Always Sunny is filming at Franklin Fountain right now and Rob McElhenneys reciting hairline is soo much more intense in person

— Sam Viggiano (@samviggiano) June 30, 2016
The show will continue filming today and tomorrow.
Today's sets also include 100 Chestnut St., near Buffalo Billiards, the Race Street Pier and the Logan Circle Fountain, and tomorrow's sets include the Funk-O-Mart at 1020 Market St. and the intersection of Camac and Chancellor streets near 12th and Walnut, according to WMMR.
Look out for the show's next season in the winter of 2017.
Follow @ClaireSasko on Twitter.
---
---