Scenes From an Occupation: The Amtrak Crash Media Frenzy
This is what happens when the 24/7 news cycle lands on Frankford Avenue.
---

Along Frankford Avenue, lined up like antennaed Chiclets, are the white news vans from all over. Some of the names and logos are recognizable — CNN, for instance, and MSNBC. Others are less familiar, like 15up Media LLC from Raleigh, NC. Video cameras, tripods, light deflectors, umbrellas are all set up outside The Clown House Restaurant and Tipsy Bar and Grill across the street. This is where Mayor Michael Nutter and other officials come to give press conferences.
There are reporters everywhere, even on the roof of the Philly Auto Tag building. An enormous NBC News van sits in front of JJW Tires Shop, whose mascot chihuahua/poodle mix, roughly the size of a grown man's outstretched hand, barks at all comers. CBS News This Morning set up early on a resident's porch, where Norah O'Donnell read from a teleprompter. Spanish-language TV and radio stations interview Latino residents, while on-air talent sweats through pancake makeup.
Area residents sit on stoops and get approached by reporter after reporter or open their doors to enormous cameras. Former Congressman Patrick Murphy, who was on one of the derailed cars, spends the morning within the media staging area to answer questions. Current Senator Pat Toomey goes to the home commandeered by CBS News for an interview. A box of Philadelphia soft pretzels sits in front of where the news teams gather for each press conference, like an offering to the gods. "Treat us kindly, please."
Next door to what I'm now thinking of as the CBS house, Bob Ledden, a fifty-something welder by trade, is being interviewed by a young woman with a smartphone. "Will you say that again?" she says, taking video. Bob has long hair in a side ponytail braid and beautiful, green-blue eyes. He's easy to talk to and friendly. "Where are you from?" he asks her. "CNN," she answers. "Actually, I'm from CNN International, but CNN National is here too." He tells her he doesn't like the news, especially the kind that repeats everything over and over. She gives a tight smile. "You sit here long enough," she warns him, "you're going to have a lot of reporters talking to you."
She's right. I climb onto his porch after she's done, as does a Washington Post reporter who listens to me interview him and then fires off questions in rapid succession: What's your name? How old are you? Is this your house? Is that your car?
The last one is especially keen because the car — just one of Bob's many cars that he collects — is a hearse named Blue Moon with plastic skeletons inside. The skeletons have Mardi Gras beads.
One guy with a mohawk is eager to talk to Bob, but presents no media credentials, which is just as well. He asks if Bob saw any fire. He did not. The man with the mohawk is suspicious: How could a train car get so mangled like that unless there was some kind of a bomb onboard? Earlier in the day, there was another man in the media area talking about terrorism and Barack Obama. A resident explained him away. "That's one of those activists," she said. Bob thinks the cause of the derailment is most likely a kid who put a shopping cart on the tracks. "Kids will be kids," he says. He grew up at K&A and used to put pennies on the tracks.
To the dismay of the man asking for more detail, Bob only got within 100 feet of the actual wreckage. Within five minutes of the accident, he says, the street was so heavy with emergency vehicles, "you could have walked on top of cop cars from Torresdale to Castor — that's how many cars there were. They did a very good job."
His buddy got right in close, though. "He said, 'There's bodies everywhere, train's twisted.'" He also told him a woman came up to him and said, 'I can't find my finger." Now he's worried his buddy is going to have nightmares.
Bob lost his own finger in a forklift accident as a teenager. But that's the least of his worries. He's got messed up discs in his back that prevent him from working and his leg was severely damaged when he was shot in a road rage incident about three miles from his house, where he's lived for 25 years. Despite the chronic pain, he talks amiably to all the reporters, for whom he has some advice. "Report on it and let it go. Don't keep harping on it. Nowadays people have weak brains."
---
Media Converges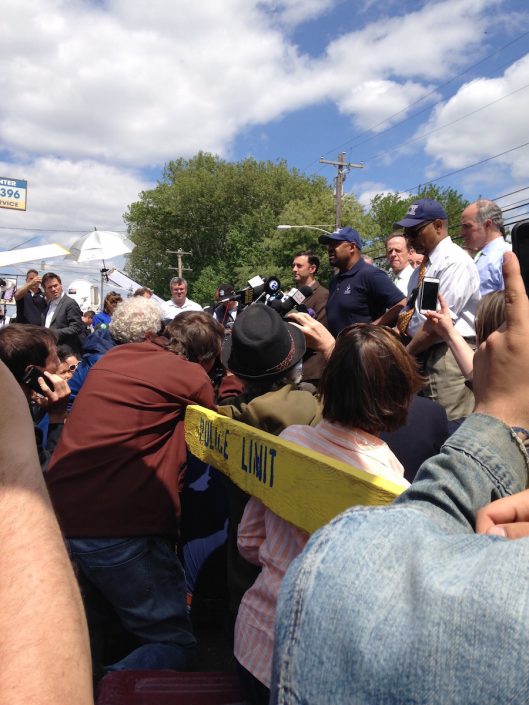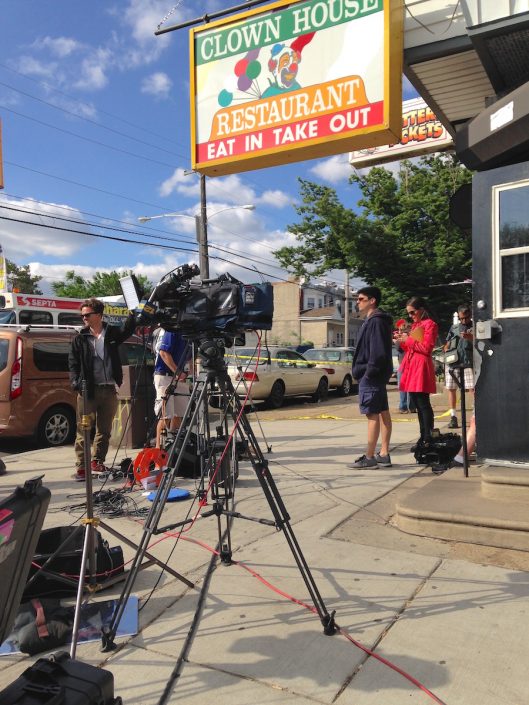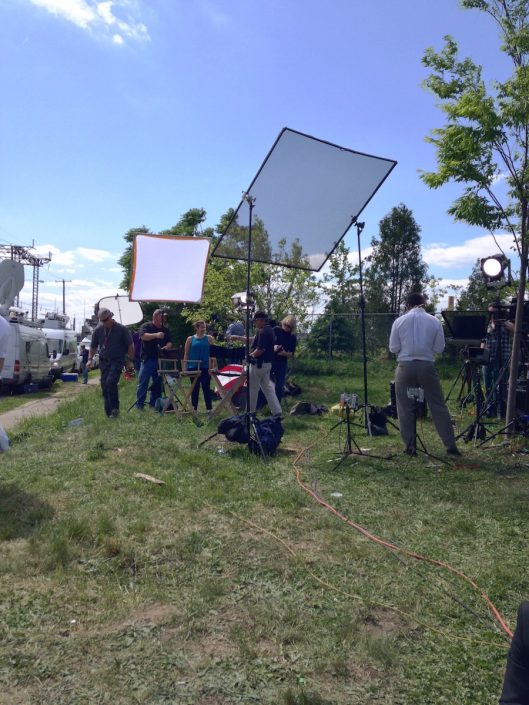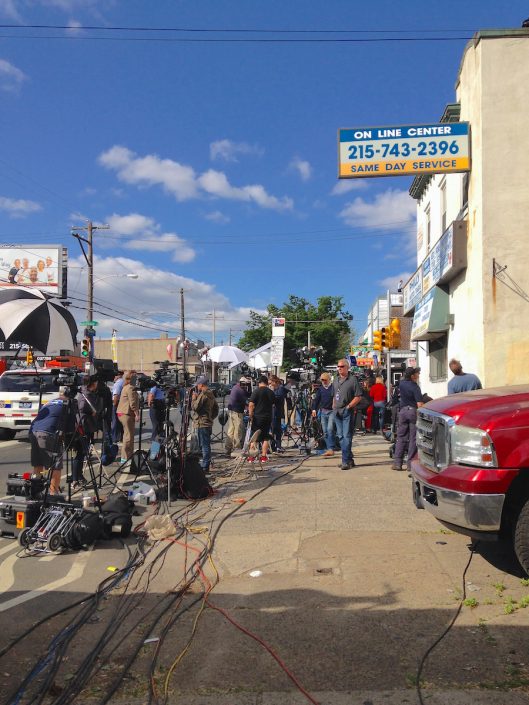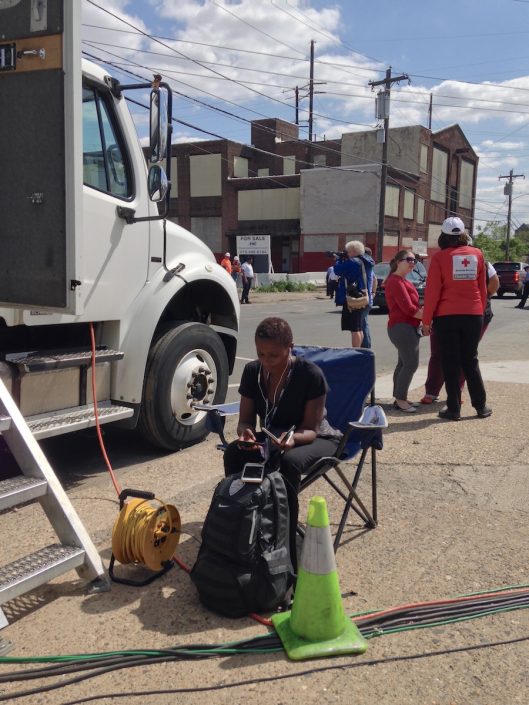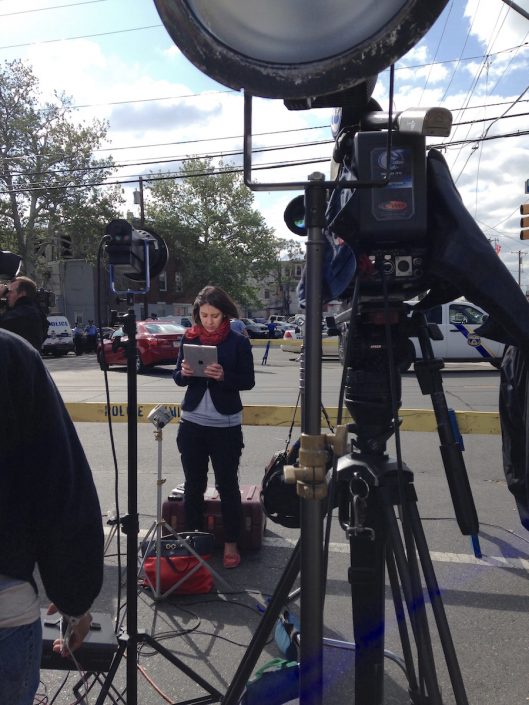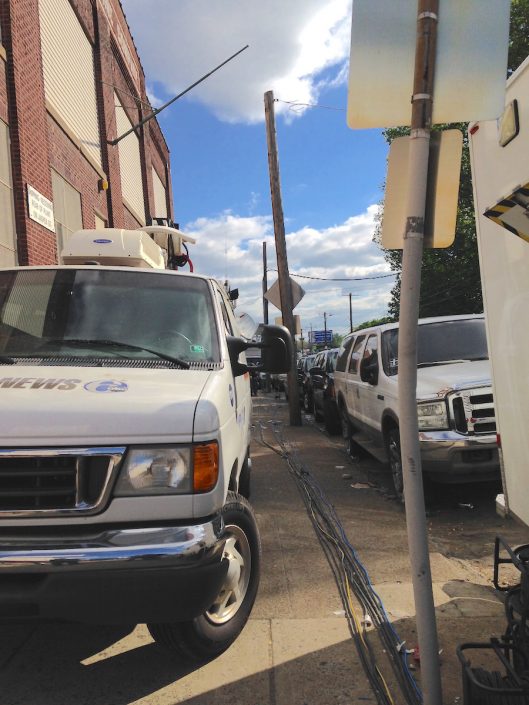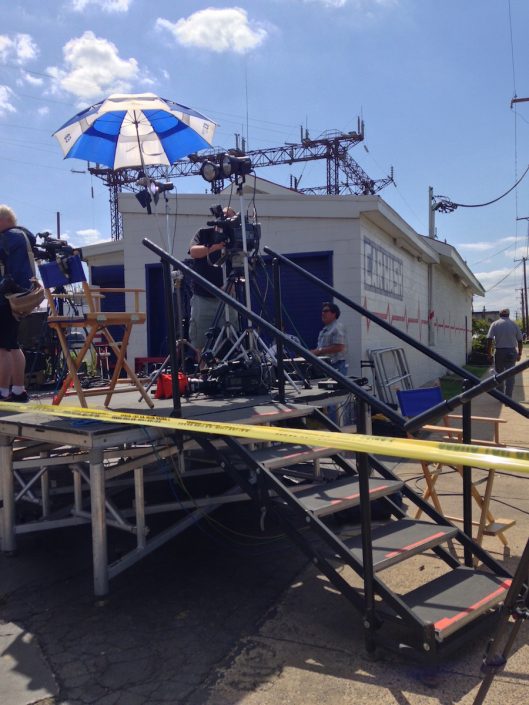 ---
All photos Liz Spikol.
---