Christie Raises Cash, But Jersey GOP Is Poor
While governor raises money around the country, legal fees hurt home state party.
---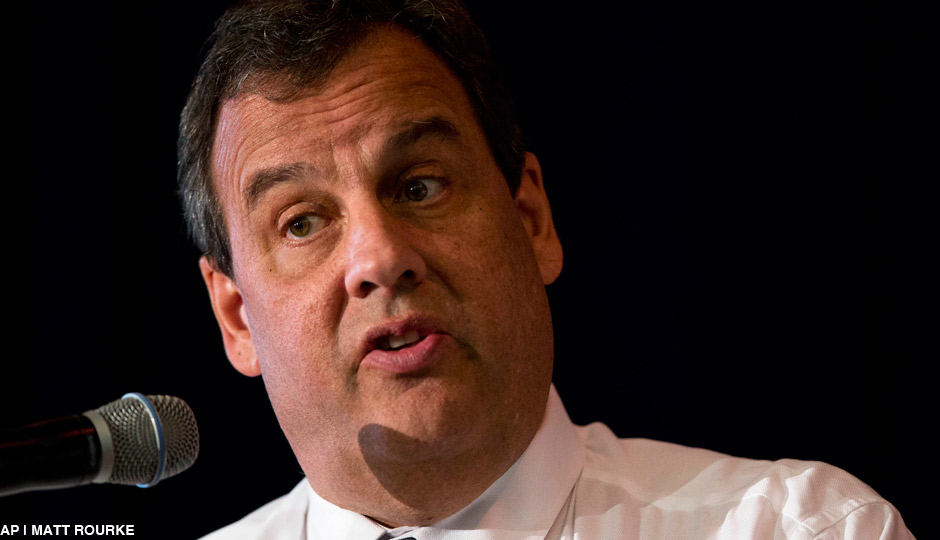 Chris Christie knows how to raise cash. But that's turning out to be of little help to the New Jersey GOP, whose coffers have been depleted by legal fees spent during Christie's "Bridgegate" scandal.
"The net worth of the New Jersey Republican Party is at its lowest point in years as it covers legal bills connected to the George Washington Bridge investigation, according to campaign reports disclosed Tuesday," the Wall Street Journal reports. "The New Jersey Republican State Committee had a net worth of $25,818 at the end of last year, excluding its federal campaign account and when accounting for $527,731 in debt, the bulk of it related to bridge-related legal expenses. That is down from $399,863 in net worth at the conclusion of 2013 and $152,920 at the end of 2012, past reports show."
That poor state of affairs isn't due to a lack of fundraising prowess. As chairman of the Republican Governors Association during the 2014 election cycle, Christie reportedly raised more than $106 million — although the group spent more than that, $130 million, in an all-out effort to win races.

Christie's ability to to woo donors, in fact, is a big reason he's still considered a major contender for the Republican presidential nomination in 2016, despite the likely candidacies of Jeb Bush and Mitt Romney.
"Republican donors say Chris Christie won't be squeezed out of the Republican presidential race even if Mitt Romney and Jeb Bush dive in because there is plenty of money to go around among the three men viewed as the establishment's candidates and the New Jersey governor has advantages the other two don't have," the right-leaning Washington Times reported Tuesday.
In fact, Christie will be attending a dinner later this month hosted by Home Depot founder (and big GOP donor) Ken Langone. (Christie was reportedly in Washington D.C. on Tuesday and today, meeting donors and top Republican leaders as he decides whether or not to formally get in the race — behind the scenes, observers agree, he's already battling Bush, in particular, to line up campaign donors.)
"I think Gov. Christie will connect with the American people as good as any politician has in the last three of four election cycles," Langone told The Washington Times. "Why? Because I think you can shut your eyes, and say this guy could be my next-door neighbor. I think America is so craving for authenticity and for direct talk and candor.
"If he decides to run, he will have enough money to do what he needs to do to win," an anonymous Christie ally told Business Insider. "There's going to be a donor primary for the first half of 2015. So, if Christie decides to get in, you've got to see how he performs early. If the money isn't there, he doesn't have to hit the start button — but I fully expect the money will be there."
None of that, of course, helps home-state Republicans. Christie did attend fundraisers for the party last year, but the Journal reports: "The state committee incurred more than $630,000 in bridge-related legal fees last year, an analysis of its campaign filings show. It has slowly chipped away at the debt, paying off $170,000 in legal expenses through the end of last year."
---