News
Jimmy Gorecki's Iconic Sweatsuits Get the Kelly Green Treatment in New JSP x Eagles Streetwear Line
The collection releases today and spans the different shades of green that represent the Birds' eras: kelly and midnight.
---
"I've shed tears three separate times in my life for the Eagles," says Jimmy Gorecki, the pro-skateboarder-turned-fashion-entrepreneur behind lines like JSP and Standard Issue Tees. In case you're wondering, the first two times the Norristown-born, Temple-made mogul cried over the Birds were their two Super Bowl runs this millennium (2005 in anguish, 2018 in joy). The third? "The day when my dream of merging the worlds of JSP and the Eagles became a reality. From that day forward, I dug deep and committed myself to designing a special collection that Eagles fans of all ages could rock with."
That streetwear collection, JSP x Eagles, releases today and spans the different shades of green that represent the team's eras: kelly and midnight.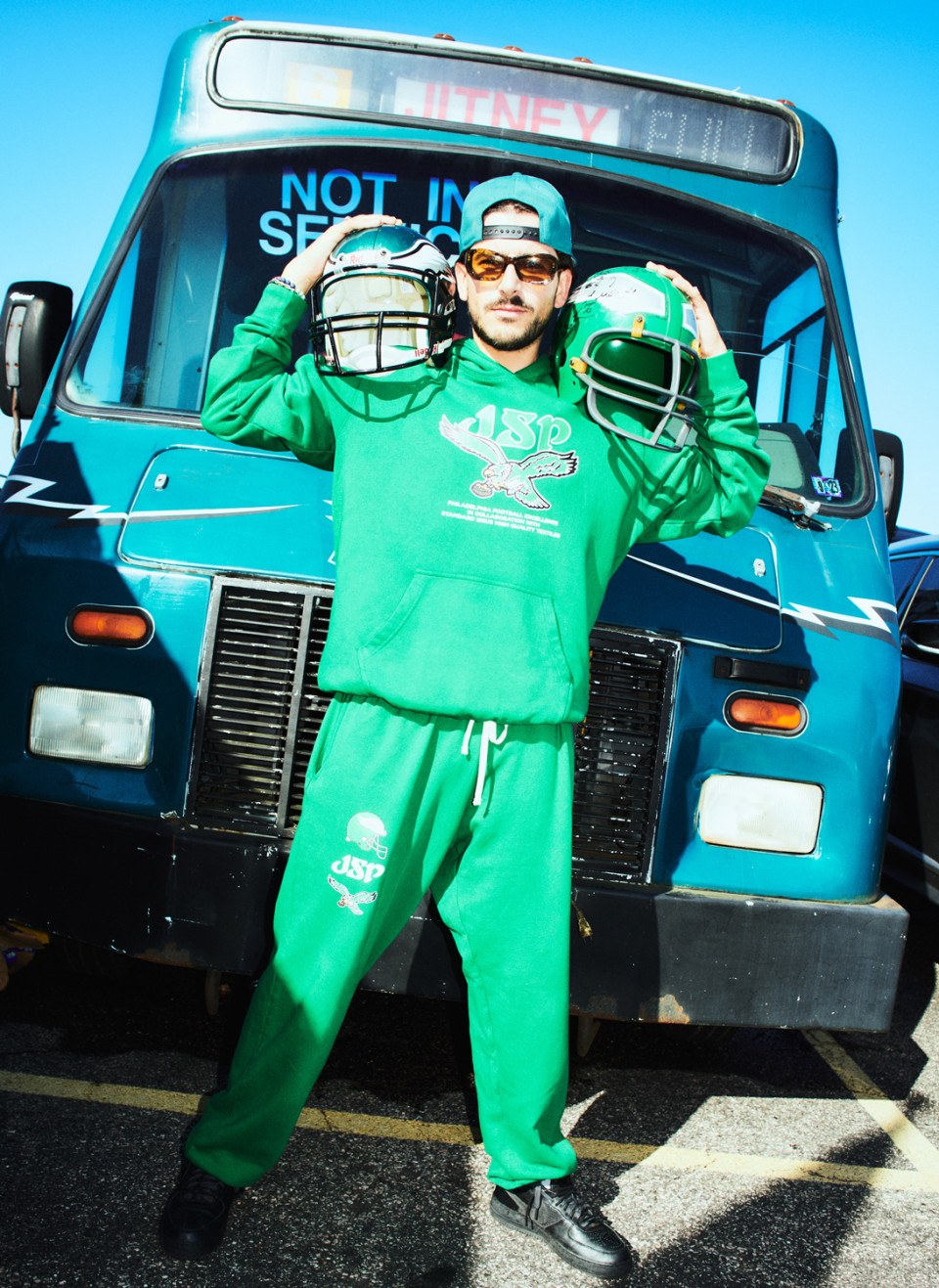 In addition to the iconic sweatsuits Gorecki's line is known for, the JSP x Eagles collection includes fitted New Era hats featuring a lock-up of the JSP and Eagles logo, as well as t-shirts emblazoned with "RENT IS DUE EVERY DAY," in a nod to Jalen Hurts.
Gorecki's Philly roots run deep — his athletic career and aesthetic go hand-in-hand, both born while skateboarding in LOVE Park growing up. He'd go on to become one of the first members on Pharrell's Ice Cream skate team, graduate Temple University, and later launch his own line of sweatpants. (JSP is an acronym for Jimmy Sweatpants.) His signature sweatsuits have fans in everyone from LeBron James to Jay-Z, plus lots of Philly love from athletes like Bryce Harper, Jalen Hurts and Tyrese Maxey.
With this new collab, Gorecki taps back into that hometown love and celebrates the Eagles' legacy and influence. And this time, it's personal: "It was my late great-grandfather who instilled in me a love for this franchise," Gorecki says. "With this collection, I hope fans will see the passion I have for this team through my artistic vision and creativity."
The JSP x Eagles collection is available exclusively at the Eagles Pro Shop, the JSP online store, and Fanatics. Prices range from $40 to $130.
---
---