Guides
PA Road Trip: A Philadelphian's Guide to Scranton
With a Muffler Man, trolleys, and a pizza trail worth every slice, the trip to Dunder Mifflin's hometown isn't just for fans of The Office.
---
A road trip evokes mid-20th-century nostalgia I'm too young to have: drive-ins, jukeboxes and Americana. Novelty sunglasses must be packed. A playlist must be curated. A roadside cow? Of course. So as my husband, our nine-year-old daughter and I embarked on our family adventure through NEPA, I plugged in the aux cord, ready to discover the area that I — like many Philadelphians — only know from The Office.
But first, we grabbed some roadside eats at Vassi's Drive-In in Hellertown.­ The menu lists "ketsup" on its burgers. (Jackpot!) Pro tip: Order fries to stuff into your gyro. Next up was the Inside Scoop, an old-fashioned ice-cream parlor you'll notice thanks to the giant Muffler Man named Chip standing out front. (For those unfamiliar, these fiberglass statues of, well, Everyman were common roadside attractions from the 1950s to the '70s.) The jukebox had lots of Elvis and girl groups circa the 1960s. Finish the 14-scoop smoking Volcano and you get your photo on the wall of fame. (We didn't even try.)
The route has not one but two vintage drive-in movie theaters, including Shankweiler's, the oldest in the country.
It's apt that Country Junction, the world's largest general store, has wonky Wizard of Oz animatronics mixed with its collection of hardware, candy, home goods, puppies and even an arcade — it was a real "not in Kansas anymore" moment.
After detouring to a roadside dinosaur named Stinson, we were off to Scranton, the Electric City. We soon learned the origins of that nickname: This was the first city in the country to have electric streetcars. The Trolley Museum has plenty of Philly transit history, including a vintage SEPTA trolley parked outside. It also houses a model train set of a mini Scranton, with John Oliver's mouth as one of the tunnels. (The HBO host gifted it to a local news station after a little misunderstanding.) Visitors can take a trolley to a ballgame at PNC Field (home of the Yankees' triple-A team) on select Sundays. While kids love climbing around vintage trolleys, parents can finally sit down — tired-parent seating is underrated, kids' museums!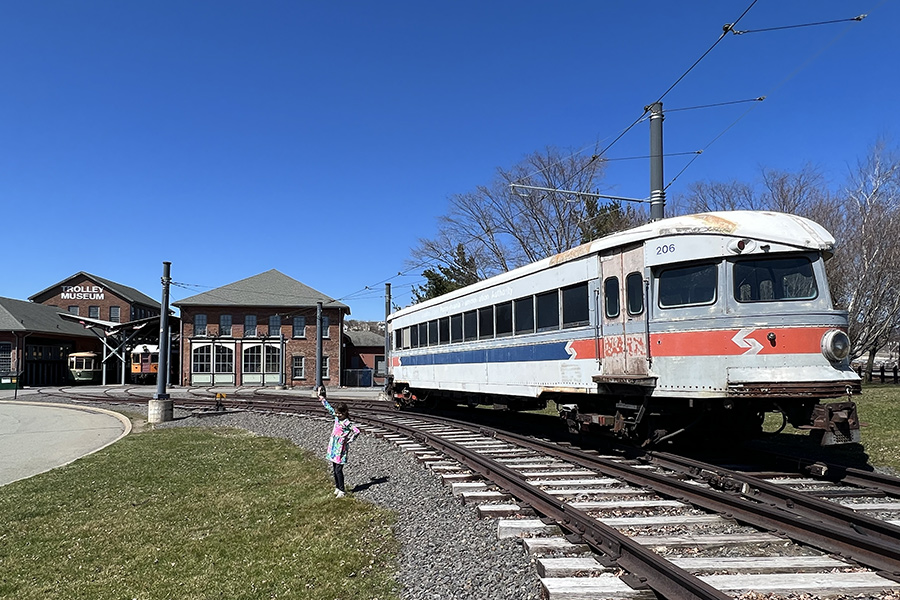 There's more of Scranton's industrial past to explore via the Lackawanna Coal Mine Tour. You'll ride a mine car into an anthracite mine from 1860 and tour the tunnels 300 feet underground.
As fans of The Office, we had to visit the Penn Paper Tower (it has a Dunder Mifflin logo on one side) and Cooper's Seafood House, which embraces its inclusion in the show with an extensive gift shop. Even without that connection, Cooper's is a monument to pop culture — every inch of wall space is covered with memorabilia, and a diorama is devoted to classic TV shows. My daughter's meal came in a paper boat, and her mocktail had a toy shark she could keep. And — oh yeah — the restaurant is shaped like a lighthouse, with a gigantic octopus up top. Distractions aside, the oysters did not disappoint.
Also on theme? A Dwight Schrute mural greeted us outside On&On, which has two floors of bygone goodies — from clothing to an entire record store. Another throwback: Bartari, with a retro-inspired arcade offering Pac-Man, Skee-Ball and more.
We spent the night in a streamside room at the Woodlands Inn (rooms from $119). Don't be fooled by its nightclub-esque Instagram; while there is live entertainment, the place is also family-friendly, with both indoor and outdoor pools.
The staff pointed us to the nearby town of Old Forge, which claims to have the most pizza joints per capita, making it the "Pizza Capital of the World." Try the regional variety — baked on a rectangular pan, with slightly sweet red sauce — along the Lackawanna County Pizza Trail. A banana split at Blue Ribbon Dairy will top things off nicely.
Since NEPA is at the foothills of the Poconos, don't miss out on the views. We headed to Nay Aug Park, walked the trails (and past a shuttered zoo!), and looked out on the gorge from the park's treehouse.
Finally: The Scranton Shakespeare Festival runs from June 22nd through July 29th at the Marketplace in Steamtown. Despite the name, the festival features contemporary shows along with selections from the Bard.
Wander Luxe
Stay
The charming Beaumont Inn in Dallas (rooms from $175) sits on 50 acres, with views of the mountains, gardens and a stream. Traveling sans kids? Consider the historic Frederick Stegmaier Mansion in Wilkes-Barre (rooms from $135), which doesn't allow anyone under 12. The lush old-world decor makes it feel like a true getaway.
Dine
Attached to a flower shop, Matterns Floral Café in Kingston is made for Instagram (think flower walls and neon-script signs), with a menu of botanically inspired drinks (violet lattes, rose matcha), floral cookies and pastel macarons.
Explore
Experience deep relaxation with a float-therapy session at the Giving Tree Wellness Center in Scranton. A float pod surrounds you with skin-temperature Epsom salt water, and you can play music as you drift. Follow up with a smoothie bowl from the on-site cafe.
>> Click here for more PA Road Trips
Published as "Heading Northeast to Scranton" in the June 2023 issue of Philadelphia magazine.
---
---