About Last Night: Masters, Cooking Masterfully
---
The story line of Open Stove XXXIII is an odd one: For the first time, the competition was comprised of two graduates of the COOK Masters Program: Christopher Ritter of The Grubhouse and Kris Serviss of Blue Duck Sandwich Company. For those of you who don't know, the COOK Masters Program is an annual, free instructional cooking series at COOK, taught by some of the country's biggest culinary names, for students who are truly passionate about pursuing a professional career in the restaurant industry. So we took two people who've graduated from the program, put them up against one another, and watched them fight it out.
Weirdly enough, one of them brought an orthodontist as his sous.
Brad Podray, an orthodontist by day, a Philly food rapper by night, and periodically a Master Chef audition-er, was Chris Ritter's sous for the evening. Why him? Why not an actual cook? Who the heck knows. Brad proclaimed, "It's because I'm loud and funny!" And that he was.
Team Grubhouse: Chris Ritter (left) and his sous (right).
Team Blue Duck: Kris Serviss (right), and to his left, his sous.
For Team Blue Duck's amuse bouche (above), Kris made a delightful one-biter: on the bottom, a sliver of Mountain Rose apple topped with buffalo chicken foie gras mousse, with buffalo aspic jelly, Stilton blue cheese sauce, and celery seed.
Team Grubhouse made something a lot less delicate, and a lot more heartier:
---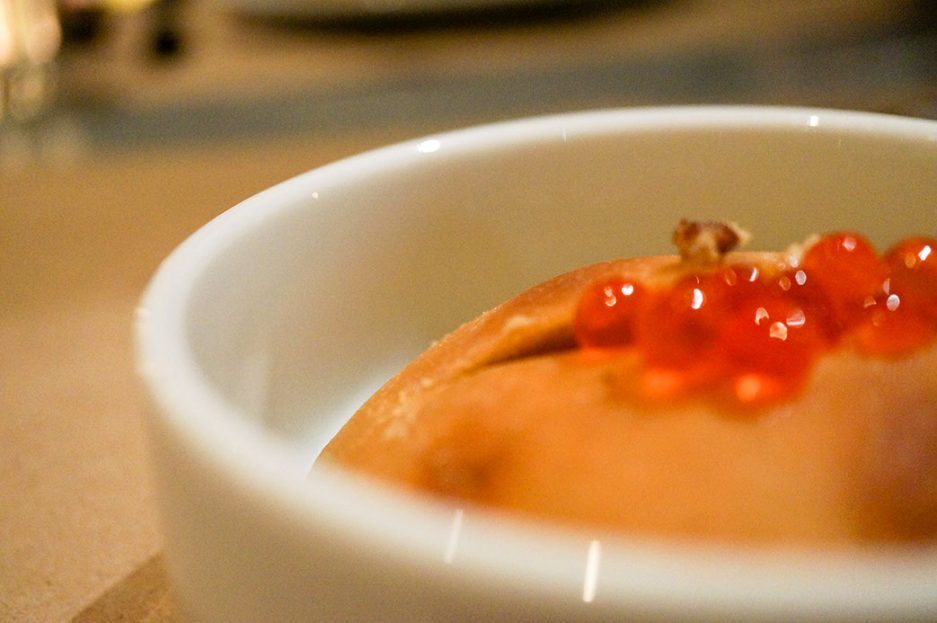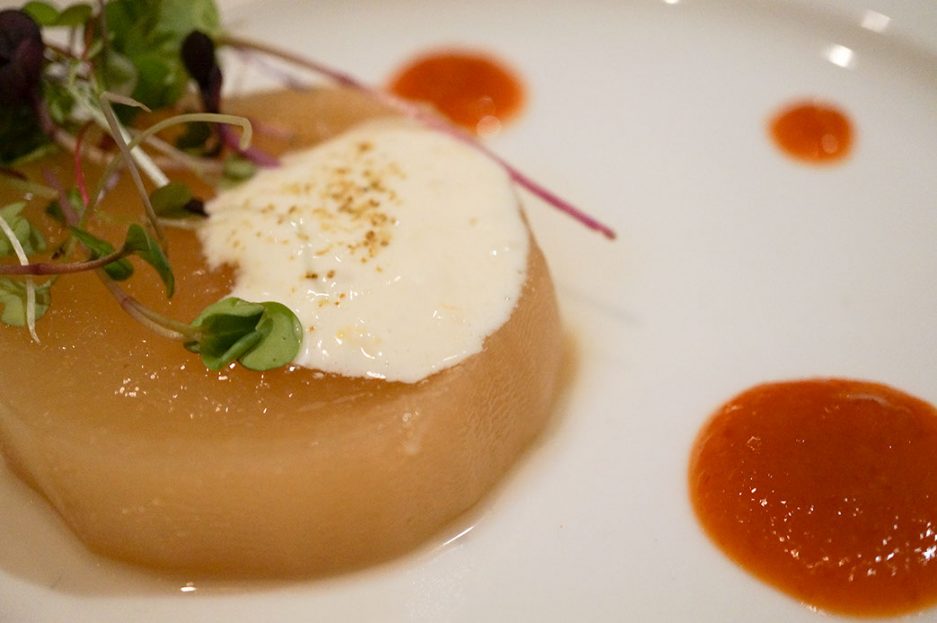 ---
House-made bread, filled with XO cream cheese, topped with salmon roe, along side mirin-braised daikon radish with horseradish mayo, sansho pepper, kimchi gel, and three healthy squirts of good ol' Sriracha.
First Round Secret Ingredients
---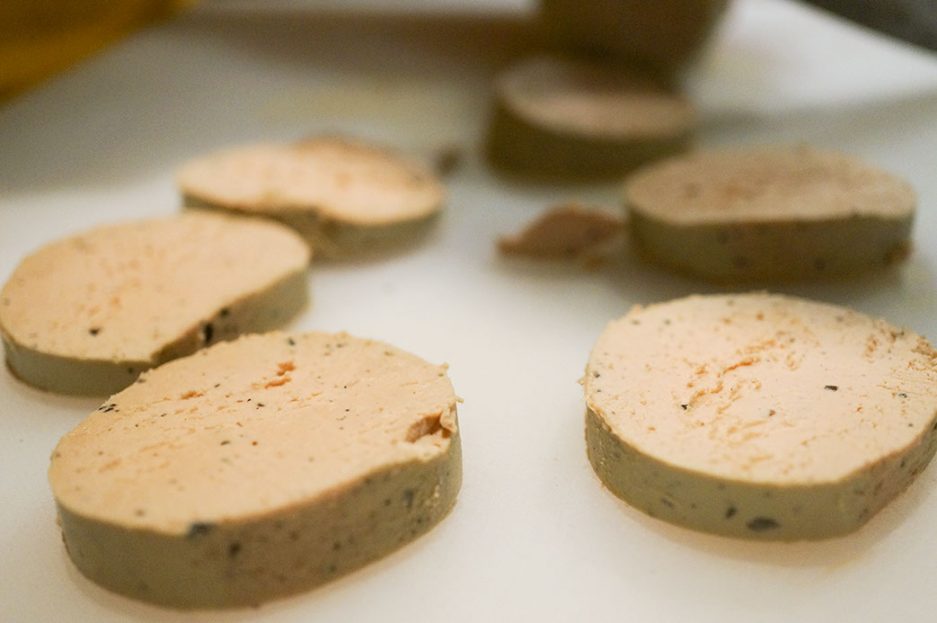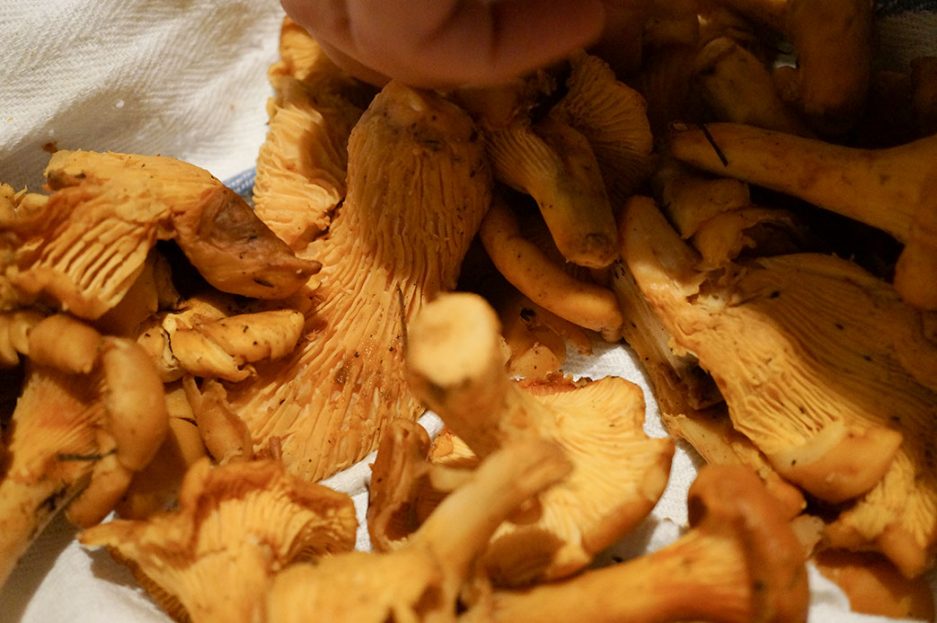 ---
Truffle-spiked foie gras and Chanterelle mushrooms. A gift from Jason and Lily.
Team Blue Duck made pan-seared scallops over seared truffle foie gras, with a Chanterelle-sherry cream 'round the plate.
Team Grubhouse made a mushroom "scrapple" made with Morel, Chanterelle, and Porcini mushrooms, topped with broccoli rabe, alongside sauteed Chanterelles, doused in a foie gras-dijon cream.
Second Course Secret Ingredients
Grubhouse has this sandwich called the Elvis Melt, with all your classic Elvisian ingredients: bacon, bananas, and peanut butter (and bacon fat powdered sugar). Blue Duck won the People's Choice award at the 2014 Burger Brawl with their burger made of a blend of ground pork roll and chuck, fried quail egg, Cooper American, and sriracha mayo.
And so the secret ingredients were given:
For Team Blue Duck, Grubhouse's Elvis Melt ingredients:
And for Team Grubhouse, Blue Duck's Burger ingredients:
And all the while, the sous chefs had to do most of the cooking while Jason quizzed the head chefs with questions from the COOK Master's course.
Team Blue Duck made a plate of seared duck breast, peanut butter pepper sauce, bacon wrapped carrots, and duck fat roasted bananas.
Team Grubhouse made a beautiful breakfast platter of pork belly, mayo-fried rice cake, scrambled eggs, pork roll-creamed Cope's Corn (which needs to go on the Grubhouse menu), with a touch of Sriracha.
And for dessert, Team Blue Duck made a beautifully poached pear next to some fudge-y chocolate ganache, burnt blood orange, and nutella powder.
Team Grubhouse floored us with maplewood smoked persimmon, with a persimmon vinegar syrup, yuzo kosho, chestnut cream cheese cookie, and maple whipped cream.
And the winner of the first Open Stove battle of 2015 was…
Team Blue Duck, winners of Open Stove XXXIII
The battle, always close, ended with the Team Blue Duck on top.
Surprisingly (and excuse the poor quality), the night didn't start, nor end, like this:
---
---