Cheesesteak Rivalry: Campo's Versus Sonny's
---
Back in January, when GQ's Alan Richman ratings of Philadelphia cheesesteaks came out, Old City's Sonny's Steaks was at the top and neighboring Campo's Philly Cheesesteaks was panned for its service. On a recent weekday afternoon, we set out to put the Old City cheesesteaks up against each other, mano-e-mano.

Tale of the Tape: Campo's Philly Cheesesteaks Versus Sonny's Famous Steaks
214 Market Street
215-923-1000
Steak Ordered: Cheese steak, fried onions and American cheese
Roll: Liscio's
Meat: Rib-eye, sliced on site
Onion: Diced
Cheese: American
Price: $9
Pro Tip: An interesting twist on the cheesesteak worth ordering at Campo's is "The Heater," a spicy cheesesteak with jalapeno cheddar and Buffalo hot sauce.
The steak sandwich we tried at Campo's had a reasonable amount of meat on it. Meat that was juicy enough but in what is becoming a trend, under-seasoned. The cheese did mingle nicely with the meat, creating a cohesive experience. We also appreciated that the steak was cooked to order. Unfortunately with no seasoning to note, a mild American cheese and a heavy-hand of undercooked onions, Campo's cheesesteak was just ok.
225 Market Street
215-629-5760
Steak Ordered: Sonny's Famous, steak with whiz and fried onions
Roll: Amoroso
Meat: Rib-eye, sliced on site
Onion: Spanish, diced
Cheese: Whiz
Price: $9
Pro Tip: The steak we ordered is the one recommended to tourists at the counter. The Sonny's Famous includes fried onions and Cheez Whiz. The Whiz saved this sandwich from being very boring. Sonny's skips seasoning the meat, favoring the theory that the fat of the steak provides enough flavor. And that might be true, as long as you go with the sodium-rich Whiz.
Sonny's Cheesesteak had some really excellent flavor, we just wish there was more sandwich in this cheesesteak. You shouldn't eat a cheesesteak and then seriously consider a sundae from Franklin Fountain to fill you up at lunch.
Verdict
Campo's and Sonny's could not be more visually different. In Campo's, every square inch of horizontal space is dedicated to selling something and every vertical inch, is encouraging you to buy something. Sonny's is understated and minimalist. The black and white signage match the black and white photos of historic Philadelphia. After the over stimulation of Campo's, Sonny's is almost zen-like.
As for the cheesesteaks, Sonny's won on flavor but we're not with Alan Richman on this one, it isn't the best cheesesteak in Philadelphia.
---
Old City Cheesesteak Rivalry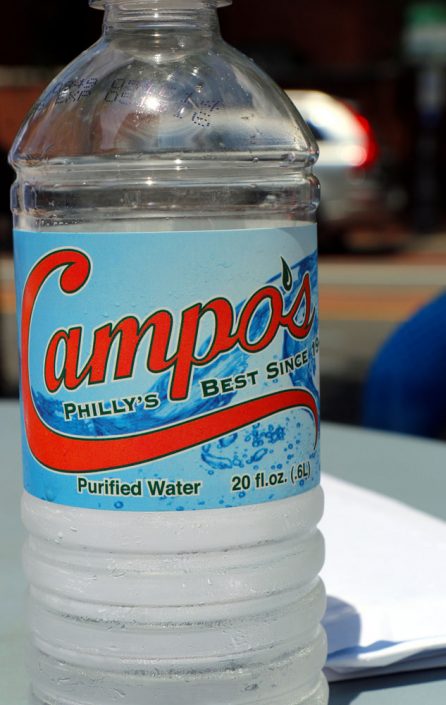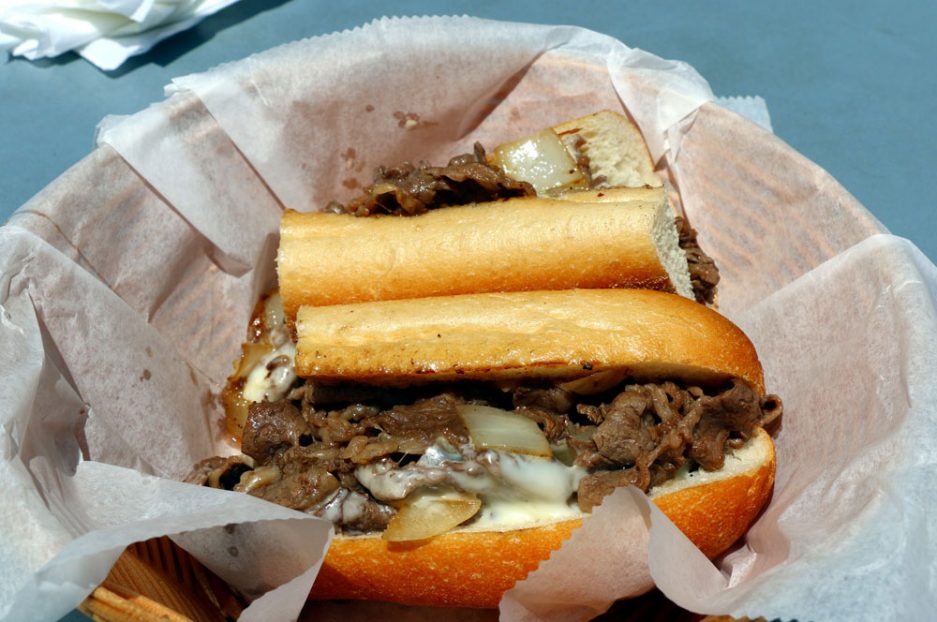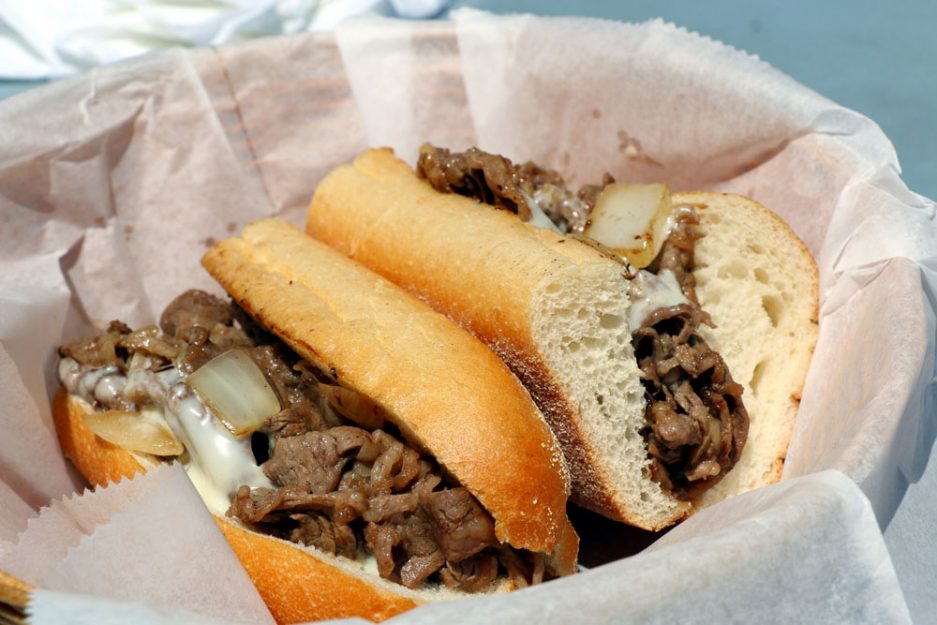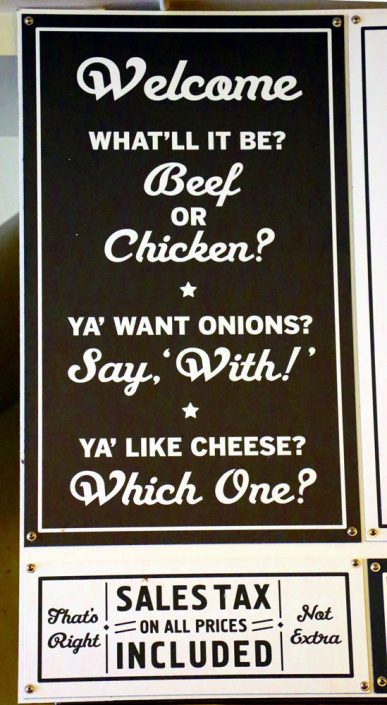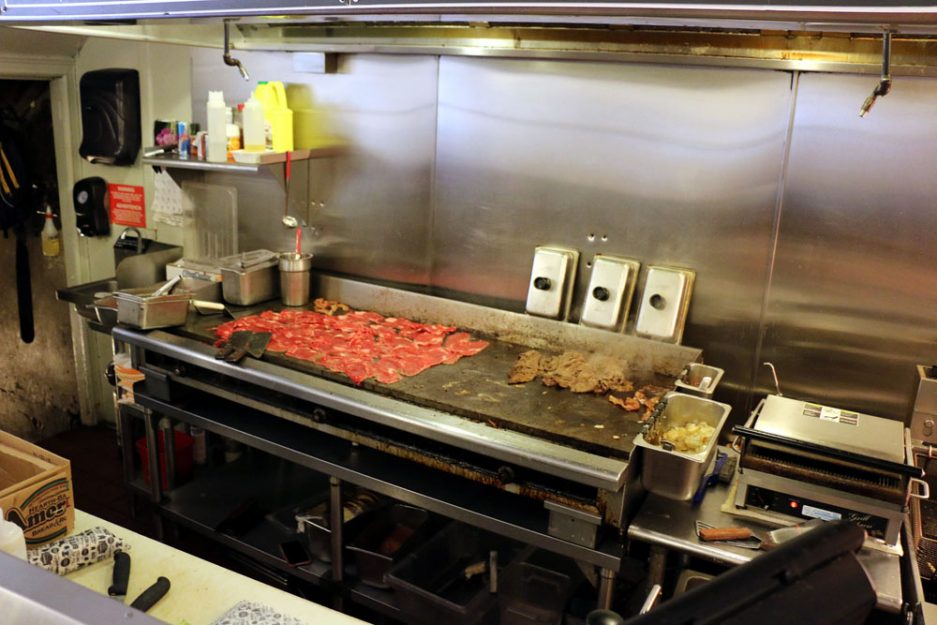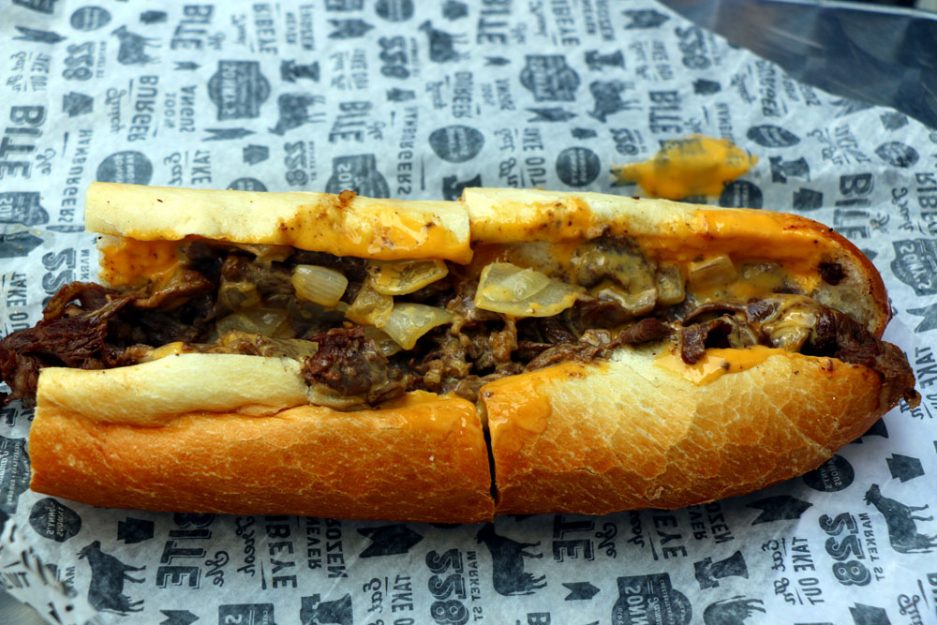 ---
Like Foobooz on Facebook
Follow Foobooz on Twitter
Year of the Cheesesteak [Foobooz]
---