Tale of the Tape: Cheesesteak at John's Roast Pork
---
John's Roast Pork winds up on the top of more cheesesteak lists than any other cheesesteak joint and that's despite the fact that the cheesesteak might just be their third best sandwich. There's no argument that the roast pork is top notch and a recent visit proved what we expected, the new roast beef sandwich belongs in Philadelphia's pantheon of best sandwiches.
Since we were there trying out the new roast beef, we couldn't resist ordering a cheesesteak for the first time in way too long. Here's how the cheesesteak stacks up.
John's Roast Pork
14 East Snyder Avenue
215-463-1951
Roll: Seeded Carangi
Meat: Rib-eye, sliced thin in-house and cooked to order.
Onion: Chopped and grilled.
Cheese: American, sharp or mild provolone
Price: $8.50
Pro Tip: The hours are limited; Monday to Friday – 6:45 a.m. to 3 p.m.; Saturdays 9 a.m. to 4 p.m. But it's always worth a special trip.
The Verdict
John's Roast Pork isn't resting on its cheesesteak laurels. Owner John Bucci intently watches over the process and makes sure the bun is full of well cooked steak and that the cheese truly melts into the sandwich. John's Roast Pork still makes one of the best cheesesteaks around.
---
John's Roast Pork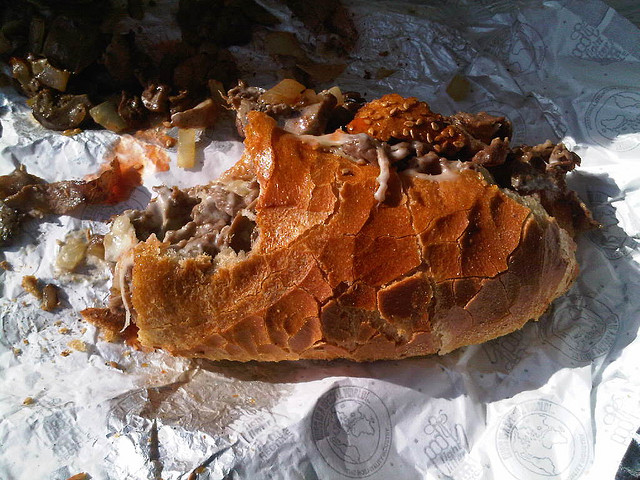 ---
John's Roast Pork [Foobooz]
Year of the Cheesesteak [Foobooz]
---