How to Find a Therapist in Philadelphia
Your guide to navigating the complex world of counseling, with tips from local therapists themselves.
We've reached a strange and wonderful era where it seems like everyone is either a) in therapy or b) has been to therapy.
Of course, that's not actually true. The 2018 National Interview on Drug Use and Health tells us that about 15 percent of American adults received any type of mental health services in the previous 12 months, with less than eight percent treated in the outpatient settings we typically associate with talk therapy.
So why does it feel like "My therapist said…" has crept further into casual conversation? Probably because people have become far more open about their mental health issues, spurred on by celebrity revelations, memes, and TV portrayals (think: Showtime's Couples Therapy) that destigmatize conditions and make them feel more universal.
And that 15 percent doesn't get at the number of people who have a mental illness or simply could benefit from therapy (the latter being virtually everyone). In reality, that statistic should be way higher — but the hassle of finding a therapist as well as the high cost and limited availability of many means that millions of Americans go without the services they need.
We at Be Well Philly are here to help. We talked to seven different experts in the psychology and counseling space, many of them practicing therapists themselves, to guide you through the process of finding a therapist who works for you — whether you have insurance or not, whether you know what you'd like to address or not. Read on to get your pressing questions answered.
Note: This guide is intended for navigating psychological services. If you are in need of a psychiatrist to prescribe medication, you should consult your primary care physician or the American Psychiatric Association (APA).
So, where do I begin?
Many of our experts agree that you should begin with knowing what your budget is. If you have insurance, ask your insurance company if they cover therapy (or if they'll reimburse you for a portion of it) and whether you need a referral from your primary care physician. If you aren't covered by insurance, then you need to determine what you can reasonably afford to pay out-of-pocket for mental health services. Knowing your budget will impact the options you have in the process of finding a therapist.
Then, think about which issue you're looking to manage or treat. Therapists can receive certifications in some subspecialties, like anger management, trauma, and certain phobias, that give them added expertise in certain areas — but not everything. A grief counselor, for instance, should be able to help you navigate loss but might not be as confident managing bipolar disorder.
However, you might not know what condition or challenge you're struggling with, and that's OK, too. While identifying your catalyst for therapy can better tailor your search, know that it's not always necessary. After all, a therapist is there to help you pinpoint as well as manage your issues.
Great, should I start googling?
While Google can be super helpful if you're searching for Internet cat videos or the name of that early 2000s earworm you can't place, it doesn't necessarily provide the answers you might need for finding a therapist. "Just picking a name or practice off an online site [or out of a phone directory] is the least favored method for finding someone who is a good fit for you," says Samuel Gladding, former president of the American Counseling Association (ACA) and a current professor of counseling at Wake Forest University.
Instead, you should contact any of the following organizations, all of which can point you toward finding professionals in your area: American Counseling Association, American Psychological Association, National Association of Social Workers, National Board of Certified Counselors, or American Association of Marriage and Family Therapy. (If you're going through insurance, that narrows the pool down to in-network therapists, but you can look them up via these sites to get more information about them.)
You can also consult free online directories and resources. Psychology Today advertises therapists, psychiatrists, support groups, and treatment centers in and around your area and allows you to sort by insurance, demographic, your particular issue, and type of therapy. The Mental Health Hotline includes numbers for everything from alcohol treatment to panic disorders, including suicide prevention, eating disorders, domestic and child abuse, and drug and alcohol problems. PA residents can turn to the Pennsylvania National Alliance on Mental Health (NAMI) for additional resources and those on the city of Philadelphia's Medicaid program can see a list of approved mental health providers here.
A third option is to ask for recommendations from family and friends. This is not easy for everyone to do, as it requires a good amount of vulnerability. If you're going to go this route, be mindful of the fact that not everyone seeks therapy for the same issues, and a therapist who helped your loved one might not be the right fit for you. And, in fact, some therapists will not see close friends or children of existing clients. But most are happy to provide referrals to other psychologists with similar approaches.
My insurance doesn't cover my therapy, and I need to be budget-conscious. What options do I have?
Many practitioners offer a sliding scale for payment, which should be included on their website or in the database where they're listed. Deana Davis, a licensed social worker practicing in Mt. Airy, also suggests finding out what's available in your local community. "There are programs, such as Black Men Heal, that will service individuals for free," says Davis. "You should also check with colleges and universities to see if they have a counseling center that provides services to the public, not just their students." In the Philadelphia area, Drexel University, Temple University, University of Pennsylvania, and West Chester University have mental health centers — which serve as training clinics for doctoral students — that provide psychological services at affordable rates to area residents. And the Black Brain Campaign provides free therapy to high school students.
Additionally, Open Path Psychotherapy Collective is a nationwide directory of therapists who offer services for no more than $60 a session for individuals and a maximum of $80 per session for couples. If you enter your zip code, you can see all Open Path therapists within as little as five miles from you (the maximum radius is 100), with optional filters such as specialties, modality, age, and language. Note that there is a one-time membership fee for Open Path, so your first session will feel more expensive than the rest.
If you can't meet with a therapist in person, there's always the option of therapy by video, phone, or online. Our experts had varying opinions about the efficacy of remote therapy options. Josh Zlatkus, a therapist with a private practice in Center City, says he thinks phone is a better alternative to Skype, although he ultimately prefers in-person therapy. "There are usually fewer connection issues, and a lot of people will Skype and their kids or dog will be running around," he says. "Phone isn't visually distracting to either the therapist or the client. And people might be more willing to reveal embarrassing details over the phone." Jennifer Schwartz, director of Drexel University's Psychological Services Center, says online therapy "can create therapy opportunities that some individuals might not be able to receive normally [due to location, access, and budget]" but recommends doing additional research, especially for text-based apps where you won't be able to get eyes or ears on your therapist.
What questions should I ask to make sure my therapist is a good fit?
Many therapists offer free phone consultations or discounts on initial visits to give you both the opportunity to see whether you gel. Vaile Wright, director of research and special projects at the American Psychological Association, suggests asking about the therapist's approach. "Your issue, personality, and level of comfort can impact the kind of approach that you need," says Wright. "Do you want a therapy session that is super structured or do you want one that is more open-ended? Do you want talk therapy or inquiry-based therapy [i.e., answering questions provided by the practitioner]?"
Additionally, Schwartz encourages questions like, "Can you explain the intervention and how it's useful to my need?" and "How long might the intervention take and how would I implement it?" so that you know the kinds of treatments being used and how they'd help you in your journey.
If you're meeting in person, you can also watch out for some qualities that are a sign of a good therapist. "Effective therapists might be accepting or warm," says Jennifer Yalof-Tufenkjian, a licensed clinical psychologist with a practice in Rittenhouse. "They will have empathy, but they wouldn't make the session about themselves, for example, or how their week went. The client is the focus. Even if you're entering therapy because you feel like, 'Wow, I really have difficulty trusting somebody and I might not trust this therapist,' you can still look out for does this therapist have good boundaries? Do they have a framework they're working in? Do you feel safe, not judged, by them?"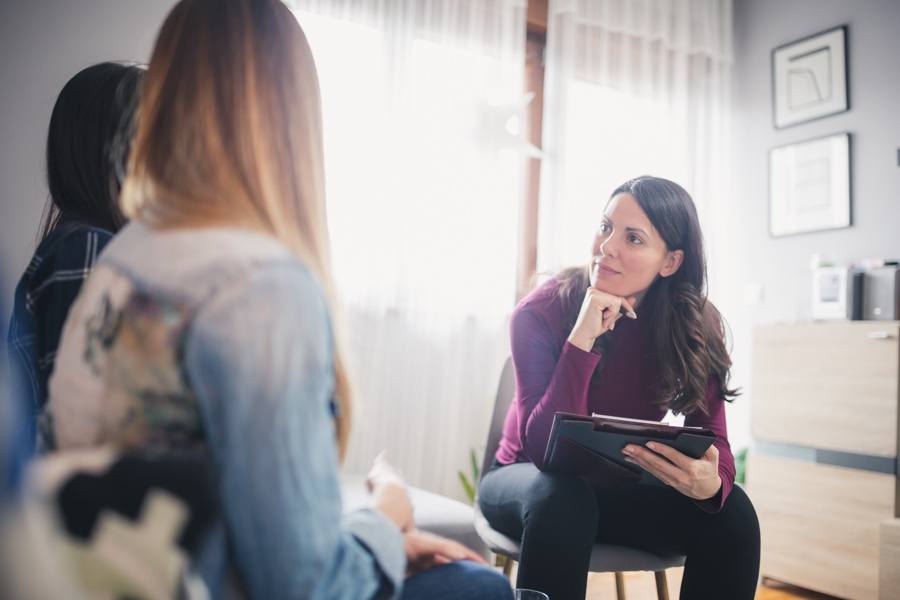 Does my therapist need to be a social worker to be legit?
No. While you should certainly research your potential therapist's credentials and make sure they have some kind of counseling training, there are a lot of different degrees psychologists and therapists can get — a PsyD, LPC, LCSW, MFT. So far, research has shown that which letters are attached to a mental health provider's name don't seem to matter as much as fit. As long as you jive with your therapist, that's all that matters.
The therapist I was hoping to choose just told me she isn't accepting new clients. Argh! Why is that?
This can be a frustrating reality; however, it has nothing to do with you personally. Practitioners with specialized training — especially those who take insurance — are in high demand, meaning they likely don't have room in their schedule to take on any more clients. Davis reminds us that in order to be effective at their practice, "therapists must set realistic client quotas to prevent [their own] burnout and to sufficiently meet the needs of current clients." It's unethical for a practitioner to accept more clients than their schedule allows.
Can I try out multiple therapists?
Absolutely! When you initially meet, you're essentially interviewing your therapist like you would a potential friend or partner. "The first one you find is not necessarily going to be your lifelong therapist," says Jamica Cropper-Pam, a full-time marriage and family therapist at the Center for Families and Relationships in Northeast Philly who also runs a part-time private practice. "It's similar to having a hair stylist. You don't go to just anybody to get your hair done — you have to try out a few people until you find one who does it the way you like it."
The therapist may even tell you it's not a good fit and provide a referral to someone else. Ultimately, it's less about bruising feelings and more about finding a successful long-term partnership.
What if I've been seeing my therapist for a while? Can I "break up" with them?
If something is not working out for you, you have every right to cut ties. "Sometimes no matter how careful you are or how sincere or competent the therapist is, the relationship you had hoped for does not work," Gladding says. "In such cases, there is no blame or shame in moving to another therapist. The fit is just not right." Of course, if you feel unsafe in any way, then end your sessions immediately. Otherwise, be upfront with your therapist instead of trying to pretend like nothing's wrong and seeing others on the side. Essentially, don't cheat on a therapist you have an established relationship with.
This process seems really daunting, and I don't have time for it. Isn't there an easier way?
Finding a therapist does take time, given all the boxes you need to check. But prioritizing your mental health is worth the investment. "We often say to ourselves, 'I don't have time for this' and act as though mental health can take care of itself," Wright says. "We need to prioritize mental health in similar ways we do our physical health."
---