The Ultimate Guide to Staying in Yurts and Cabins in Pennsylvania State Parks
Everything you need to know to have the best woodsy getaway in 2021.
With the warm weather upon us, you've probably been looking at your calendar, hoping to plan a getaway. I have a suggestion: Stay in one of many cabins in Pennsylvania. As my family has discovered over the past decade, the Pennsylvania state park system offers affordable cabin and yurt options that are comfortable, nostalgic and wonderfully woodsy. (Yes, you can bring your dog to some.) Plenty are within an easy drive of the Philadelphia area. And with high elevations, swimming lakes and waterfall hikes, there are plenty of options for cooling off. Here, a guide to how to do it best.
PLANNING YOUR TRIP
Where are these state parks?
Pennsylvania offers more than 40 state parks that have cabins, yurts or both.
The map below shows you the locations of these parks, with each green tree indicating a state park with overnight lodging (meaning something more than a place to pitch your tent):
The closest to the Philadelphia area are Nockamixon State Park in Bucks County and French Creek State Park, which straddles the counties of Chester and Berks. So, just over an hour from Center City.
If you want to extend your radius to, say, about two hours, you can head north and a bit west and book a cabin or a yurt at one of our favorites, Tuscarora State Park, which offers a great swimming lake and an elevation of more than 1,000 feet. Or proceed due west from Philly to Gifford Pinchot State Park, which is just south of Harrisburg. Lots of amenities there. But also lots of people.
If you're looking to get away from it all, consider traveling further. Get closer to the "wilds" of Pennsylvania.
I can personally recommend the yurts at scenic Bald Eagle State Park in Centre County, a little less than three and a half hours from Philadelphia. And I'm a big fan of the cabins at the very wilderness-y Parker Dam State Park, in the middle of Pennsylvania's elk country. That will cost you just under four and a half hours of travel time, but there's plenty of payoff. (Did I mention the elk?)
How far in advance do I have to book?
In most cases, booking for cabins in Pennsylvania state parks opens 11 months prior to your desired date. There are people who have been staying in the same cabins for the same weeks for years and years and book 11 months in advance.
Then there are also people who book a cabin just to put a hold on it — they aren't sure if they'll be able to use it — since the cancellation fee is only $10 if you opt out seven days or more in advance of your stay.
So the booking game can be a little intense.
The place to start is the state's Reserve Your Spot tool. We usually leave the location field blank to see what's available on the date (or date range) that we're looking for.
I checked for some popular dates like those around Father's Day, the Fourth of July and Memorial Day, and there are still some good finds. Far more if you can go at other times. And don't forget about dates later in the year. The fall foliage is gorgeous.
For last-minute travel, try the Camping This Weekend option. This is updated weekly, taking into account cancellations and cabins that haven't been rented. Just click on that option, and you'll get a list of state parks with availability in the coming days.
Are all the cabins in Pennsylvania state parks the same?
No. Far from it.
There are a few things that all of the lodging options come with, so let's get that out of the way first. No matter what level you choose, you'll have lights, electrical outlets, an outdoor fire ring, an outdoor picnic table, and some number of beds.
Now for the differences.
For the most comfort, you'll want to look at what the state classifies as modern cabins, which are all log cabins. These are the only cabins with bathrooms inside them, so if you don't fancy walking outside to a bathroom at three in the morning, the modern cabin is for you. The bathrooms in the modern cabins also contain showers.
The modern cabins in Pennsylvania state parks also come with electric heat, sleeping for up to eight people (varies by park and cabin) in a combination of full-size beds and bunks, a dining and living space with seating and tables, and a full kitchen. That kitchen comes complete with a full-size refrigerator, a sink, a stove, a microwave and running water. (Modern cabins are the only cabins with running water inside.) So, yeah, really "roughing it."
The bad news: Most Pennsylvania state parks that offer overnight lodging don't have modern cabins. The good news: Three of the aforementioned nearby ones — French Creek, Nockamixon and Gifford Pinchot — do.
The next level down, though still quite comfy, is the rustic cabin. These were built way back in the 1930s and are either log or  stone cabins. Depending on the park, your heat might come from a fireplace, a wood stove or agas heater. Your rustic cabin will contain a stove and a refrigerator and sleep anywhere from two to eight people.
You'll need to leave the rustic cabin to find a bathroom and running water, though these are always very close to your cabin. The nearest state parks with rustic cabins are more than a couple of hours away: Black Moshannon, Worlds End and Promised Land.
Then are deluxe cottages, which as far as I can tell are pretty much the same as rustic cabins in Pennsylvania state parks but were built much more recently. Heat is always electric. The closest park with deluxe cottages is Hickory Run, near the Poconos.
Yurts in Pennsylvania state parks are essentially rustic cabins but in the form of a yurt, which is an enclosed circular structure with a domed roof. Fourteen state parks offer yurts, including French Creek, Tuscarora, Gifford Pinchot and Bald Eagle.
And then there are oh-so-quaint camping cottages, which are really lovely in an absolutely minimal way. (That's a camping cottage at the top of this article.) You've got your beds, a porch, some chairs and maybe a table. No heat. Gifford Pinchot, Tuscarora, French Creek and Hickory run are the closest state parks with camping cottages.
What does it cost to stay in a cabin?
Prices for cabins in Pennsylvania state parks vary depending on the season, park and length of stay. You'll get a discount as a resident of Pennsylvania. (Hey, your tax dollars are at work here!)
These are nightly price ranges based on PA residency:
Modern cabin: $55 to $140
Rustic cabin: $20 to $105
Deluxe cottage: $52 to $104
Yurt: $35 to $85
Camping cottage: $35 to $54
Depending on the season, park and cabin, there may be a minimum stay of anywhere from two nights to a full week.
Can I bring my dog?
In some cases, yes. But only dogs. Leave your cat, potbelly pig, lizard, etc., at home.
The Pennsylvania state park system operates a "Dogs in Cabins" program. The offerings and availability change from year to year.
For 2020, there are 26 state parks participating in Dogs in Cabins, including nearby Tuscarora, Nockamixon, French Creek and Gifford Pinchot. But only some of the cabins at those 26 parks allow dogs, and in some cases, it's only one cabin. Take, for instance, French Creek, which only offers the dog option at one of its camping cottages.
Here is a list of the participating parks for 2021: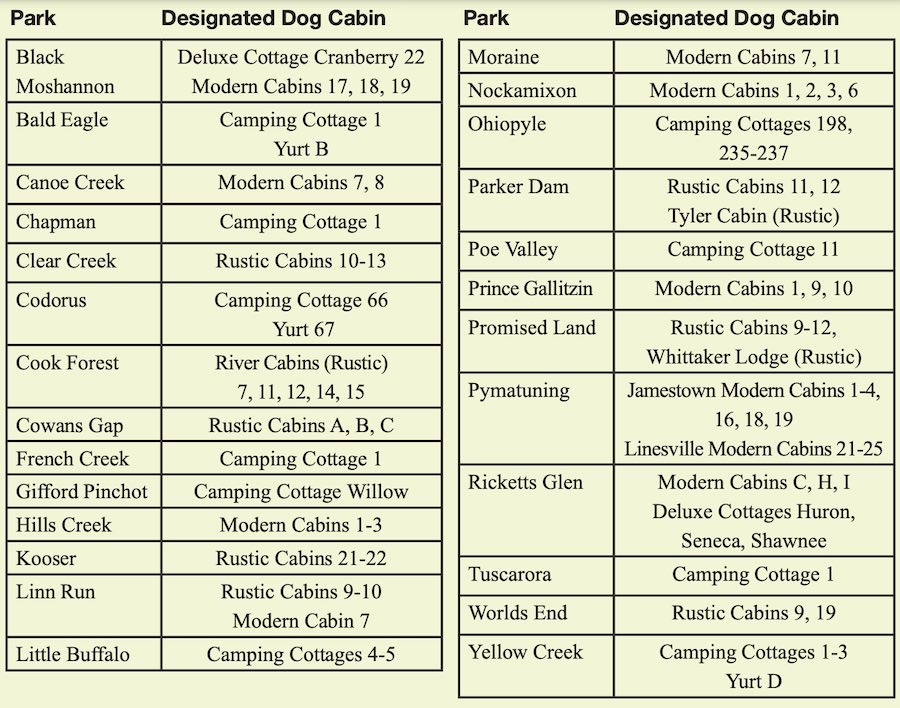 And here's a list of the Dogs in Cabins parks for 2022, since that season is already open for booking:
You're limited to two dogs per cabin. There's a $3 per dog, per night fee if you're staying in a camping cottage and $5 for any of the other listed properties. Naturally, you're expected to clean up after your dog. And if your dog won't stop barking (state parks are pretty hard-core about noise complaints), you may be asked to leave.
What should I pack?
This will, of course, depend on how long you're staying, what you're planning on doing (fishing? mountain biking?), and what your personal needs are. My packing list when I go to Bald Eagle by myself is much different from when I'm taking the family.
It also depends on whether you're planning on doing all of your cooking over the open fire (which sounds great until it rains) or using the kitchen, if you're staying in a cabin that has one. No cookware is provided, so you'll have to bring your own. We usually do a mixture of kitchen cooking (whatever we want, from lasagna to meatloaf to minestrone), campfire cooking (we usually stick to hot dogs, kielbasa, s'mores, and things like that, as opposed to trying to make the perfect campfire coq au vin), and the occasional meal "in town" or even takeout, if we're staying for a longer period of time.
Here's an exhaustive — and I do mean exhaustive — packing list published by the state:
Pennsylvania State Park Camping Supplies Checklist by philly victor on Scribd
All that said, it seems to me there's a Walmart within 15 or (maximum) 30 minutes of every single Pennsylvania state park. I like to check in, unload the car, and have my wife and kids unpack and set up while I run to the store to buy groceries. (There's no reason to bring groceries from home except for perishables on their way out.) By the time I'm almost done shopping, my wife calls me to tell me to get that thing we forgot. There's always a thing. Or three.
So don't get too insanely stressed about packing. You're not going on Naked and Afraid or Survivor here.
YOUR CABIN EXPERIENCE
How do I check in/check out?
You used to go to the park office and check in, but during COVID, the rangers started leaving keys in lockboxes or elsewhere at your cabin. Just call the park office the day before your stay to find out what the current procedure is. For checkout, you leave the keys in a dropbox at the park office. Check-in and checkout are both easy and straightforward.
Is there air-conditioning?
If air-conditioning is a deal breaker for you, stay in a hotel. There are no cabins or yurts with air-conditioning in Pennsylvania state parks.
But the rustic cabins and yurts we've stayed in all had fans. Plus, as I mentioned earlier, all of the lodgings have electrical outlets, so you can bring your own fan as well. I've also heard of people bringing those portable air conditioners.
You can also consider staying in a state park when it's not peak summer heat. (After all, we're only talking about a month or two of real heat in Pennsylvania, and many parks are open year-round, or at least most of the year.) Or pick a cabin that's in the mountains, where temperatures are cooler.
Should I be scared of those communal bathrooms?
Our experiences at the Pennsylvania state parks have shown us that these communal bathrooms are well-maintained and that the showers inside are nice and hot and have good water pressure. That said, they are communal bathrooms, so take that for what it's worth. There are toilet stalls as well as shower stalls. This isn't going to be like reliving the nightmarish showers in your high-school locker room.
Is there wi-fi in the cabin?
Alas, there is no wi-fi or internet service in Pennsylvania state parks. I download movies to my phone and iPad in case we get a seriously rainy stretch, but we've almost never had to resort to that. The whole idea is to unplug and get off the grid.
What about cell-phone service?
It varies. Check with your provider, who should have a cell-phone map that tells you what type of coverage to expect at a specific pin on the map. It can change depending on what section of the park you're in. (Some of these parks are quite large.) Up at Tuscarora, we've never had an issue, and I was once able to set up a hot spot there to take care of an urgent work issue. But when my wife and kids went tent-camping at gorgeous Ricketts Glen State Park (waterfalls!) last year, they had to get in the car and drive 10 minutes to get cell service.
Where are the cabins with indoor fireplaces?
You may be thinking that you have an outdoor fire ring, so why would you need an indoor fireplace? Two things: The ambience it creates is incredible. And rain. There's nothing that cures a rainy day like a game of Scrabble or reading by a real fireplace inside.
The following parks have cabins with indoor fireplaces: Black Moshannon, Clear Creek, Cook Forest, Cowans Gap, Hyner Run , Kooser, Laurel Hill, Linn Runn, Ole Bull, Parker Dam, Promised Land, Raccoon Creek, Simon B. Elliott, Sinnemahoning and Worlds End.
PSA: Never bring firewood from home to a Pennsylvania state park, for reasons of ecological impact (think: lanternflies). Use only local firewood, whether from a nearby store (very easy to find firewood at gas stations, convenience stores, etc., in rural PA), the local firewood guy (there's always one — look for signs on telephone poles near the park or ask at the office), or harvested by you from the woods. Just don't cut down any standing trees. That's a no-no.
Is it true that I can't bring beer?
When you enter a Pennsylvania state park, one of the first things you'll notice is a sign that reads: Alcohol prohibited. And it is. Remember, this is Pennsylvania. It wasn't that long ago that you couldn't even buy wine on a Sunday.
But once you walk around and talk to people, you'll realize that many of them quietly and discreetly enjoy some beer or wine. Rangers don't take kindly to a party atmosphere (nor do most campers), so those rule breakers who decide to drink a fifth of bourbon and howl at the moon at midnight are going to get cited and kicked out.
What do I do if my "neighbor" is blasting Iron Maiden at 11 p.m.?
When you enter your cabin, you'll find a welcome packet with all sorts of information in it. Included is the phone number for the local park ranger dispatch. They're very responsive to complaints.
OUTSIDE YOUR CABIN
What do we do in the park other than sit around the fire?
Activities at the parks vary. Some have awesome swimming lakes with sand beaches, like the one at Tuscarora. There's always hiking, and the grandeur of the sights you'll see will depend on the park. One of the most popular relatively close parks for hiking is Ricketts Glen, thanks to its 22 waterfalls, including one that's almost 100 feet high. Plenty of fishing options. Just check the web page for the park you're going to for a list of popular activities.
Are there lots of wild animals?
You're in the woods, and the woods are home to plenty of wild animals. Depending on where in the state you choose to go, some of the "scarier" wild animals you might see are bears, bobcats, bats and snakes, among others. Problems between humans and these animals are few and far between. But bears are plentiful enough that you should probably familiarize yourself with what to do when you encounter a black bear, since what you should do is probably not what your instincts will tell you to do.
Other animals you might see: wild turkey, deer, elk (elk-spotting is a huge thing out near Parker Dam), coyotes, eagles, osprey. The list goes on. Bring binoculars, and don't get too close.
Is it buggy?
Again, you're in the woods, and there are bugs all around you. As for whether you'll see them, that's a little bit like asking if there will be those biting flies on any given day at the Jersey Shore.
But in all our Pennsylvania state park stays, we've never had bugs ruin our trip. It might get gnatty at certain times of day, depending on the weather, so this might be a good time to take a dip in the lake or read a book indoors. We've never been overwhelmed by flies or bees, though they're obviously out there.
If you have a spider phobia, I feel obliged to tell you that you'll probably see spiders.
Should we venture outside the park?
I've never taken a trip to a Pennsylvania state park without venturing outside of it. Research the area around the park you're staying at before you go, and make a list of some spots you want to check out.
If you go to Tuscarora, take a day or half-day trip to Jim Thorpe. And if at Tuscarora on a Wednesday, you've just gotta pay a visit to the Wednesdays-only Hometown Farmers' Market, which is filled with all sorts of curious objects and curious people. Oh, and lots of good food.
If you visit Bald Eagle, you can't miss strolling around the charming Victorian town of Bellefonte, just 15 minutes away.
And if you go way out to Parker Dam, drive the long winding roads to Benezette for prime elk viewing. There's also a 100-mile yard sale out there each July.
These are just a few examples. Each park has its own nearby attractions, oddities and restaurants worthy of a trip. All you have to do is find them (just like those elusive elk).
---