Free Outdoor Yoga and Lots of Walking: How I Stay Fit on a Budget in Philly
Pharmacist and wellness blogger Lindsay McDonnell takes us through a week in her life.
---
Welcome to Sweat Diaries, Be Well Philly's look at the time, energy, and money people invest in pursuit of a healthy lifestyle in Philly. For each Sweat Diary, we ask one Philadelphian to spend a week tracking everything they eat, all the exercise they get, and the money they spend on both. Want to submit a Sweat Diary? Email ccunningham@phillymag.com with details. 
Who I am: Lindsay McDonnell (@theapothecarylilac), 30
What I do: Infectious diseases clinical pharmacy specialist, part-time MBA student, and part-time health and wellness blogger at The Apothecary Lilac.
What role health and fitness plays in my life: I've always been drawn to health, wellness, and fitness. Although I am a clinical pharmacist, I am always seeking heathier alternatives to just popping a pill to alleviate illness. I strive to maintain a healthy lifestyle by eating a mostly plant-based diet and have been a vegetarian for ten years. I firmly believe in letting "food be thy medicine." Fitness has always been a huge component of my life as well. My goal is to constantly move my body. I love changing up my routine weekly and trying new things, so I never get bored and exercising remains a fun, positive outlet.
Health memberships: My goal is to pay as little as possible for my healthy lifestyle, to show others that it's possible to live a healthy lifestyle on a budget. I try to take advantage of all the free fitness classes offered in Philly.
Monday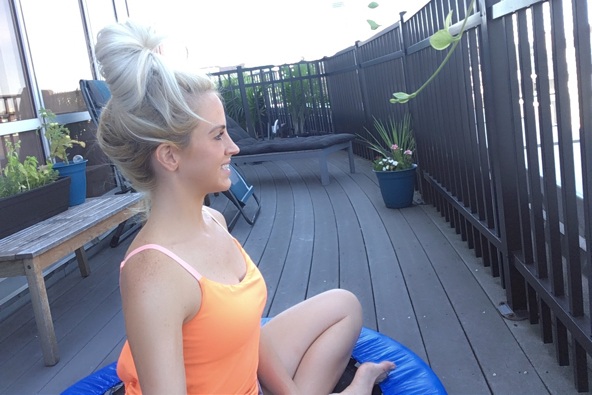 5:50 a.m. — Wake up and chug water, take multivitamin and B12. Sip on espresso while reading e-mails and working on my blog
6:20 a.m. — Jump on my rebounder (a mini trampoline) and bounce for 40 minutes on my balcony since it's gorgeous out. I usually rebound daily. I finish up with some light stretching and meditation outside.
8 a.m. — Walked to work, check emails, and dig into my breakfast of homemade sugar-free oatmeal muffins with PB2 and more coffee. The muffins are an easier way to transport my oatmeal to work. They're a combo of oats, bananas, raisins, and flax seeds baked in small muffin cups.
11:30 a.m. — Work up until lunch time. I eat my typical lunch of red peppers dipped in my homemade hummus. I brought some cut up strawberries as well.
1:30 p.m. — Walk time. I like to get out in the afternoon to walk for at least 30 minutes during my lunch break so I can get some more steps in. I stop at Whole Foods on South Street to pick up some baby carrots, almond milk, and a yogurt to have at work this week ($5.23).
3 p.m. — Eat my Fiber One bar and make an unsweetened almond milk chai while finishing up the rest of the work day.
6 p.m. — Dinner at R2L for a work-related event ($0). I had the vegan pea tortellini which consisted of peas, spinach, and radish in a sake-basil broth and two glasses of chardonnay. The food was okay — it was the views of Philly that really took my breath away!
8:45 p.m. — Walk about 1.5 miles home.
10 p.m. — Chug water and take a magnesium supplement. I like taking magnesium to relax my muscles before bed.
Daily total: $5.23
Tuesday
5:50 a.m. — Wake up and chug water, take multivitamin, probiotic, and B12. Sip coffee while reading e-mails, checking social media, and working on my blog.
6:20 a.m. — I rebound for about 40 minutes.
8 a.m. — I arrive at work and read more e-mails while eating breakfast. Breakfast consists of my oatmeal muffins I made this weekend with some PB2 smeared on top.
12 p.m. — Lunch provided by the hospital for our pharmacy residency graduation. I had half of a veggie sandwich with mozzarella, tomatoes, and spinach. I also indulged in a small piece of their graduation cake.
2 p.m. — Coffee from Good Karma ($2.16).
6 p.m. — Walk to Race Street Pier Yoga ($0). Such a beautiful day outside. I really needed this to unwind from the day and stretch my body.
7:15 p.m. — I don't feel like making dinner, so I nosh on the Texas caviar that I made for the week with my boyfriend. It's a super easy and healthy recipe consisting of beans, peppers, onions, corn, and celery drizzled with olive oil and apple cider vinegar (recipe here). We usually dip tortilla chips in it or eat it with a spoon.
9 p.m. — After showering and taking a magnesium supplement, I hop into bed to read for at least 20 minutes. I am a self-improvement book junkie and try to read different books every night. I am currently readying Dare by Barry McDonagh.
10 p.m. — Lights out.
Daily total: $2.16
Wednesday
5:50 a.m. — Typical wakeup, water, vitamins, coffee, and jump on the rebounder for 40 minutes. I incorporate some resistance bands into my work out for some more toning.
8 a.m. — Work, work, work and some coffee, PB2, and oatmeal muffins I batched this week.
11 a.m. — I have some of my carrots I got from Whole Foods earlier in the week and homemade hummus since I'm already getting hungry. I nosh on my Fiber One bar as well while finishing up some work at my desk.
12:30 p.m. — Time to take a break. I walk for 30 minutes and get some vitamin D outside.
1:30 p.m. — Dig into a leftover homemade oatmeal muffin from this morning with sugar-free almond-milk hot chocolate. I was definitely craving something sweet so this helped curb it while I get through the rest of the work day.
4:30 p.m. — Walk over to The Bar Method in Rittenhouse for my first class. I got a freebie coupon at Be Well Philly Boot Camp, so I've been wanting to try it out. I have a handful of pretzels before leaving work since I have a feeling I will be hungry.
6 p.m. — Class is over and my legs are jelly. So worth it, though!  The studio was chic and clean.
6:10 p.m. — I walk home, which is about 1.5 miles.
7:30 p.m. — Again, I don't feel like making dinner when I get home. After showering, I pour a glass of sauvignon blanc and snack on my Texas caviar while catching up on e-mails.
8:45 p.m. — I am exhausted and sink into bed with my book. I think I probably fell asleep 15 minutes later.
Daily total: $0
Thursday
5:50 a.m. — Typical wakeup, water, vitamins, coffee, and jump on the rebounder for 20 minutes. I then do a 20-minute glute workout from Popsugar Fitness. This is one of my favorite sites for free workouts — they have different celebrity trainers that can work you out from the comfort of your own home.
7:30 a.m. — My stomach is growling before I leave for work so I have a 2 tablespoons of PB2 before heading out the door
8 a.m. — Walk to work, then eat breakfast while I settle in catching up on e-mails. Breakfast today consists of Greek yogurt topped with strawberries. I am not a huge fan of dairy, but I do have it every once in a while. I usually only do Greek yogurt and cottage cheese for the high amount of protein it contains.
11:30 a.m. — After working all morning, I start getting hungry and snack on my carrots and hummus with some trail mix I made from home. It consists of goji berries, raw almonds, and dried edamame. I like throwing in big chucks of Himalayan sea salt too.
12:30 p.m. — I decide to go outside for my lunch break and stop at Whole Foods. I picked up farm-raised, hormone and antibiotic-free smoked turkey legs for my boyfriend for dinner tonight. I am vegetarian but I don't mind making him meat.
1:30 p.m. — Work, work, work. I make an almond chai tea and have my Fiber One bar for my afternoon treat.
6:30 p.m. — Run on the Ben Franklin Bridge to enjoy the sunshine! Well more of a run, walk, run. I like to run for intervals of fives minutes then drop my heart rate and walk for five minutes. I track my heart rate on my Apple watch.
7 p.m. — Whip up some dinner. I make roasted asparagus, mashed potatoes, and the smoked turkey legs for Jon. I have the vegetarian version of asparagus with a scoop of the mashed potatoes.
Daily total: $0
Friday
7:30 a.m. — Wake up late because I'm off today! I try to schedule a vacation day once every few months and have my own mini "wellness day." I think it's so important to take a break once in a while to pamper yourself to avoid burnout. I have espresso and some cottage cheese before I leave.
9:30 a.m. — Walk over to CKO Kickboxing in Rittenhouse. I won a free trial at the Be Well Philly Boot Camp, so I decided to try it out today.
10:45 a.m. — I am dripping in sweat, but loved every second of the high-intensity workout. I am thinking about actually becoming a member.
11:30 a.m. — Walked home, and now I am starving. Cut up a cold baked potato (I love them cold, I know it's weird), scoop on some Texas caviar and add a dollop of my homemade hummus for lunch. Down multiple bottles of water.
2 p.m. — Walk to Starbucks to order a small dark roast since I feel like I'm getting tired.
2:30 p.m. — Wellness day continues, so I head over to Old City Nails for some pampering. I love sitting in the massage chairs there while getting a pedicure and manicure ($45). It's so relaxing and my feet need some extra loving since I walk so much.
4:30 p.m. — I catch the train to Bucks County to visit my family. I catch up on my one of my favorite podcasts on the way up, Glambition Radio by Ali Brown.
6:30 p.m. — My family and I head over to New Hope for dinner. We decide on the Logan Inn for dinner. I order a glass of pinot grigio and the French onion soup for dinner (I always have to get it if it's on the menu). My mom and I split some Brussel sprouts too.
8:30 p.m. — After walking around New Hope for a bit, we head home to hang out by the fire pit and listen to the crickets (I love getting away from the noise of Center City Philly).
11 p.m. — Lights out.
Daily total: $45
Weekly Totals
Money spent: $52.39
Workouts: 8
Average total steps per day: 21,353
Cups of coffee: 8
Fiber One bars: 3
Glasses of wine: 4
Like what you're reading? Stay in touch with Be Well Philly—here's how:
---
---