Shirt Corner Lives On in New Murals at 3rd and Market
---
It may have stuck out like a sore thumb, but we all mourned the loss of the Shirt Corner when it collapsed in the midst of a proposed restoration process in March of last year. The iconic Old City building on the corner of 3rd and Market streets was replaced by the Shirt Corner Apartments, a slick new living space with 59 rental units, and a couple street-level commercial storefronts housing a CVS Pharmacy and healthy take-away joint Snap Kitchen.
As sterile as it now looks on the outside, the gaudy men's department store lives on via a series of tasteful wall murals that decorate the building's lobby and some elevator walls on the upper levels. Local artist Julia Blaukopf created the black-and-white murals after researching images of the original Shirt Corner at City Hall. There she dug up photographs and blueprints that dated back to the 1800s.
"I worked with photographs that depict the corner during three separate time periods, spanning from the mid-19th century to the present," she says. "My goal was to preserve the evocative nature inherent in the original images, while at the same time re-imagining the separate time periods into one cohesive, contemporary design."
She took pictures of her favorites and printed them out, piece by piece, on a wide-format printer. She then placed the pieces together to make one continuous mural that was applied to the wall with CanvasTac, an adhesive-backed canvas typically used for such projects. It took her two-and-a-half days to complete the 624-square-foot project that now serves as a museum of sorts for the original, gone-but-not-forgotten Shirt Corner. Check out some photos below.
---
Julia Blaukopf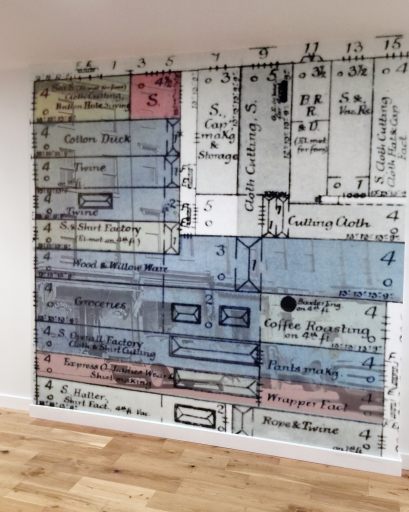 ---
---