You Can Have It All—Suburban-Style Living in an Urban Setting
You've probably heard about the opening of the new Sprouts on Broad street (who hasn't—it's amazing) but what you might not know is that it's part of a larger residential building project, completely reshaping the once barren land between Center City and South Philly. Despite its central location, the development, known as Lincoln Square, is perfectly designed to appeal to graduate students, young professionals and families, without leaving Center City. If you're in search of suburban-style living in an urban setting, we found your new home.
Here's what makes the Lincoln Square lifestyle stand out:
Close and Convenient Shops
It's not only Sprouts that's steps away from Lincoln Square's doors. There's also a whole set of new shops being added to Philly's newest square. Stop in for your morning cup of joe at Starbucks, stock up on supplies at PetSmart and Target, or treat yourself after a long day with a stop at Fine Wine & Good Spirits, Chipotle or Insomnia cookies. It's all right at your fingertips.
Incredible Outdoor Spaces
It's not often you think of plentiful outdoor space when you see a city-based high-rise. But Lincoln Square has a rooftop that does not disappoint. Covered in lush greenery, and a lounge with fire pits, grills and an 85" TV, it's hard to believe this space exists in the middle of the city. There's also a running track and something for your furry friend—an outdoor dog run, slated to be ready by the end of October. Oh, and did we mention the views? They give the Observation Deck a run for its money. On one side, you'll see the city skyline and on the other, an unobstructed view of one of Philly's favorite sites—the stadium complex.
Fun and Functional Spaces
There's a communal kitchen, perfect for hosting dinner parties and get-togethers. As for the other amenities—they allow you to access all of the comforts of suburbia without ever leaving the building. How does a movie theater, onsite pet groomer, a game room, a yoga studio and gym with on-demand classes sound? And let's not forget about the golf simulator. You can play a full round without stepping foot onto a course.
Quick Commute Times
Amenities aside, one of the biggest advantages of living in Lincoln Square is undoubtedly the commute times. Hop on the subway, take an Uber, ride your bike or stroll into the City. It's a 9-minute drive to Rittenhouse Square, a 14-minute drive to the Parkway and a 10-minute drive to the Convention Center.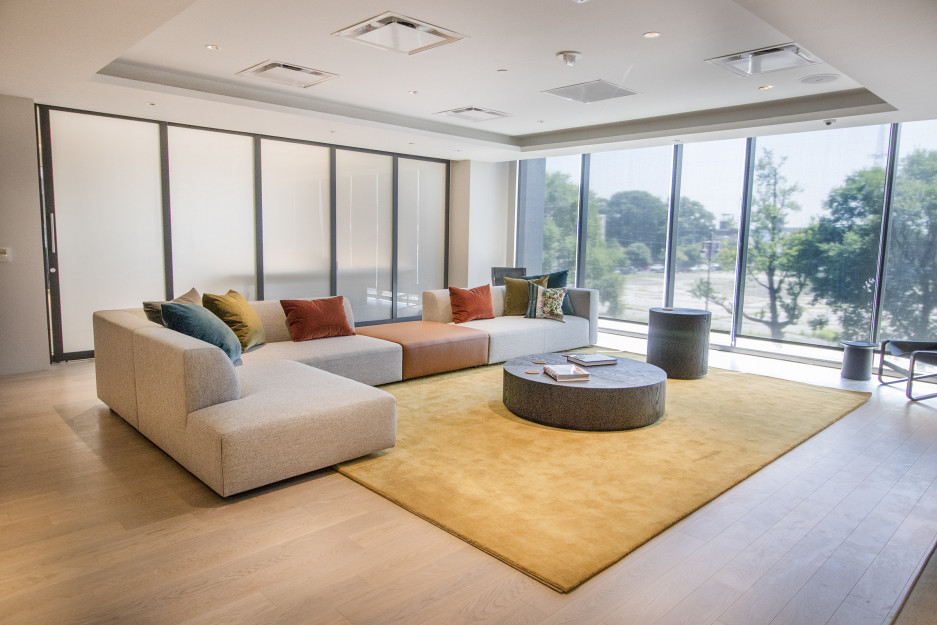 Experience Philly's newest square today by booking a tour at lincolnsquare.com or by calling 215-621-8946.
This is a paid partnership between Lincoln Square and Philadelphia Magazine's City/Studio
---