Here's the Ultimate Place to Watch the Eagles Kick Off on Game Day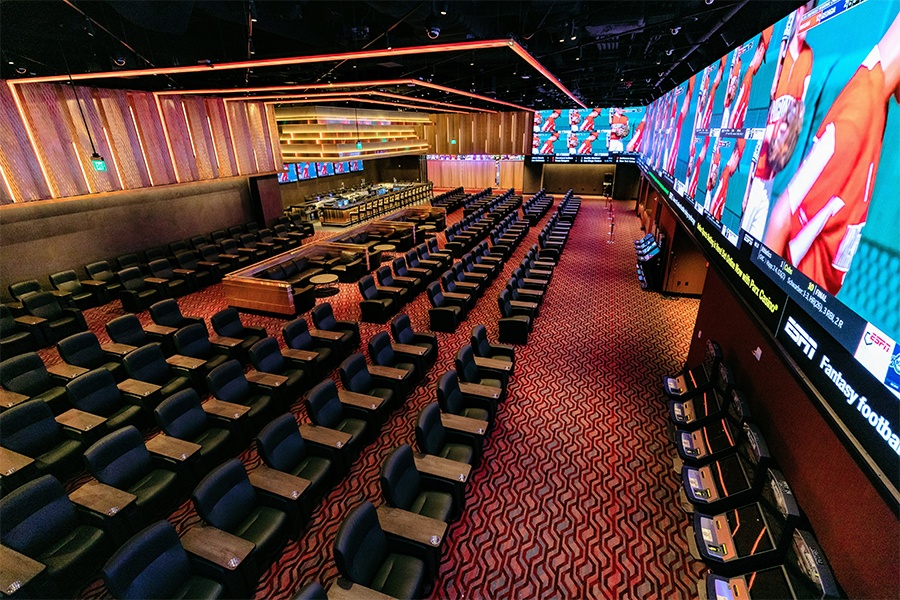 This season, Eagles games are even more exciting. Sports betting is legal in Pennsylvania, and Parx Casino just opened the country's largest sportsbook, right in Bucks County—so you can bet every green-blooded fan in the region is headed there on game day. Whether you're a die-hard who's been counting down the days till the regular seasons kicks off, or just someone looking for a fun time, here's an inside look at the new sports mecca.
A Game Day Like Never Before
Carson Wentz scrambling into the endzone will be even more thrilling when it's broadcasted on a 156-foot HD media wall. The multi-screen setup can also broadcast multiple games at once so, fingers-crossed, you can watch the Cowboys lose as the Eagles win. Plus, the 7,400-square-foot Sportsbook has space for up to 422 fans, so the team spirit will be running strong on game day—there's nothing like listening to 400 people sing Fly Eagles Fly.
Place Your Bets!
This season, when the Eagles win big, they won't be the only ones. The Sportsbook and casino are host to six live teller windows and 18 self-service sports betting kiosks, and offer betting favorites like moneyline, spread, total, props, parlays and teasers. Of course, you can bet on teams other than the Birds, and across a wide range of sports, including basketball, baseball, hockey, tennis, golf, MMA, boxing and several college sports.
Always a Great Time
When it's not game day, you can still have fun at the Parx Sportsbook. Open 24 hours a day, seven days a week, the space features a nearly 40-foot-long, 38-seat bar that offers beer, wine, spirits and cocktails, and a kitchen that keeps you in the game day mindset with favorites like cheesesteaks, chicken wings and plenty of burger options. The Sportsbook can even supply an upscale experience for a special night with three VIP areas—say, the ultimate Eagles Super Bowl party? But even if the Eagles don't get that undefeated season you're dreaming of, with a decked out Sportsbook right in Bucks County, this football season is going to be a blast for every Philly fan in the Philly area and beyond.
Pumped for game day? For a perfect gaming experience, click here.
This is a paid partnership between Parx Casino and Philadelphia Magazine's City/Studio
---