Looking for an Innovative Way You Can Help Migrants and Refugees?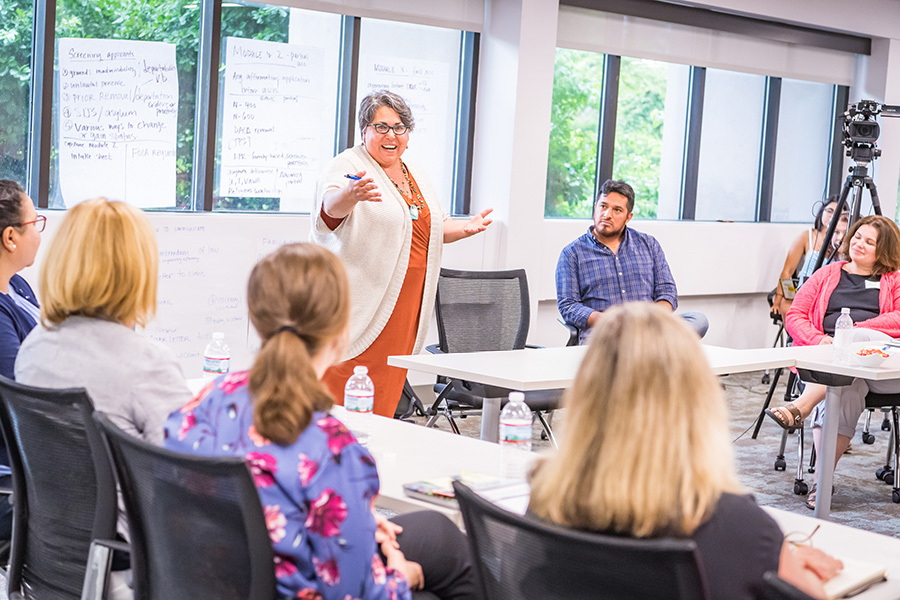 Although defendants in criminal proceedings have a constitutional right to representation, about six out of 10 migrants face immigration hearings without a lawyer. The lack of counsel greatly affects outcomes: Just about 5% of unrepresented immigrants win relief, whereas represented immigrants are about 10 times more likely to obtain a successful outcome, according to the Vera Institute of Justice.
"When someone doesn't have an advocate, they're confronting a legal system that they don't understand," says Michele Pistone, a professor at the Villanova University Charles Widger School of Law. "People have a basis for relief, but they just don't know how to articulate it … Even children aren't entitled to an advocate or a guardian in these procedures."
Addressing this imbalance of justice does not require a law degree, though. The Department of Justice (DOJ) allows "accredited representatives" to provide low-cost representation to migrant and refugee families. And now for the first time, there is a university-based online certificate program to become just that. The Villanova Interdisciplinary Immigration Studies Training for Advocates (VIISTA) will enroll students for its inaugural session this fall.
The holistic program aims to teach practical advocacy skills that will make a meaningful difference in migrant and refugee cases. Students will complete up to three, 14 week-long modules, with the ability to become partially or fully accredited representatives.
Pistone, who founded VIISTA, compares this non-lawyer role to the legal equivalent of a nurse practitioner or physician's assistant in the medical field. Along with 25 other professors and immigration experts, she designed the program to accommodate a wide range of prospective students: recent college graduates, retirees, pastoral workers, paralegals, social workers, policy advocates and prospective law students, to name a few examples.
Since the online program does not require students to attend live classes, it remains accessible to people with other jobs or commitments. Enrollees will watch short videos, complete readings, participate on discussion boards, listen to podcasts and practice articulating their ideas aloud through recorded assignments.
After completing the modules, representatives must then affiliate with a recognized immigrant-serving or faith-based organization to become DOJ-accredited. Local examples of approved groups include HIAS Pennsylvania, the Pennsylvania Immigration Resource Center, Legal Services of New Jersey and Immigrant Justice Corps in New York City.
Right now, there are only about 1,200 full-time equivalent staff members providing legal representation to low-income immigrants, according to a report by the Committee on Immigration Reform Implementation. The hope is that with more trained advocates, fewer families will face losing their homes, businesses, and even each other through deportation orders.
"This program can really make an immediate impact on people's lives," Pistone says, "and because it's online we open the door to all those passionate people out there who want to become part of the solution, regardless of where they are geographically."
The VIISTA program begins Fall 2020. Learn more about VIISTA and apply today through the Villanova University College of Professional Studies
This is a paid partnership between Villanova University College of Professional Studies and Philadelphia Magazine's City/Studio
---