5 Easy Ways to Upgrade Your Bar or Fireplace for the Holidays
With the holiday season and guest entertaining right around the corner, we asked the experts at Colonial Marble for five easy ways to revamp your home's most popular spaces. We bet you didn't realize how easy it is to update your fireplace or bar (and how doing so can increase your home's resale value, to boot). Keep reading for five simple fixes that will have you, your friends and family cozying up to a brand new fireplace — or bar — in no time.
Give your fireplace a stone facelift
Sometimes, a little layering goes a long way. When you don't have the time (or the budget) to completely recreate your fireplace, consider giving it a facelift to match the season's style. If you're looking for something classic and cool, opt for square-cut, sealed limestone. (Bonus: The natural surface also ensures a scratch-resistant surface with easy cleanup!) Another traditional option for a more serene, rustic feel is slate, one of the strongest and most durable stone options. If you're looking for a dramatic, yet elegant statement-making fireplace, marble — a crystalline derivative of limestone — is undeniably the way to go (and there are more than 50 styles to choose from). Looking for a sleek update sans the marble price tag? Consider antique white glazed tiling for the best of both worlds!
Boost your bar space with natural wood countertops
For a smoky, moody scotch bar, consider a full-rail natural wood countertop in a dark hue, like black walnut or warm cherry. You'll want to choose a texture and style that bodes well for the room and the atmosphere you're trying to create. If bright and airy is more your style, a hickory, beech or zebrawood would be a good choice. Wood countertops can also be finished with mineral oil, giving them a gorgeous sheen and water-resistant seal for chopping limes, lemons and other cocktail accouterment.
Update your countertops with timeless marble
Consider installing new marble countertops. This is a stone that can take the heat of the fire or the warmth of toasty bar snacks. The low-maintenance and temperature-controlled stone is available in many different hues and styles, from the stormy Confusion Dark to the viridescent Vermont Green Polish or earthy Eramosa Marble. Marble is a functional and classic beauty that will give your bar or fireplace a clean and refined look that will last for years, and it's timeless enough that it will never, ever look dated.
Or, opt for a vibrant semi-precious stone
Bring the elements of the outdoors into your space by adding semi-precious stone countertops, like Crystal Quartz or Amethyst. For an even warmer fireplace, choose the fiery Tiger Eye, or cool down your bar's aesthetic with the calm grey and blue ripples of the raindrop-like Wild Agate stones. Adding natural stone is a way to show off your personality through an ultra-luxe look (and it's rumored to have healing properties.)
Tap the experts for advice and inspiration
The team at Colonial Marble knows exactly what it takes to create your dream fireplace, bar or counter — and when you need a little help dreaming, they can handle that, too. Visit their website to pull inspiration from their beautifully crafted commercial and residential installations and explore countless stone and wood colors and textures. Or, visit their South Philly or King of Prussia location to get a tour of their massive inventory of raw stone and materials.
For more holiday inspiration, see some of Colonial Marble's latest projects below.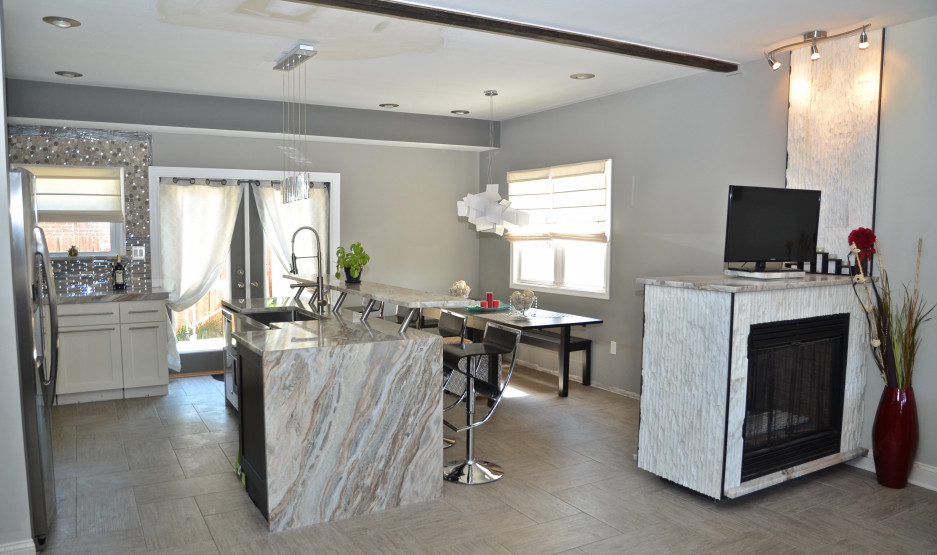 Now that you have your holiday upgrade how-to's, visit Colonial Marble & Granite for information, samples and quotes for your next home project.
This is a paid partnership between Colonial Marble & Granite and Philadelphia Magazine's City/Studio
---