A New Robotic Surgery Is Giving Patients With a Rare Condition a Second Chance at Life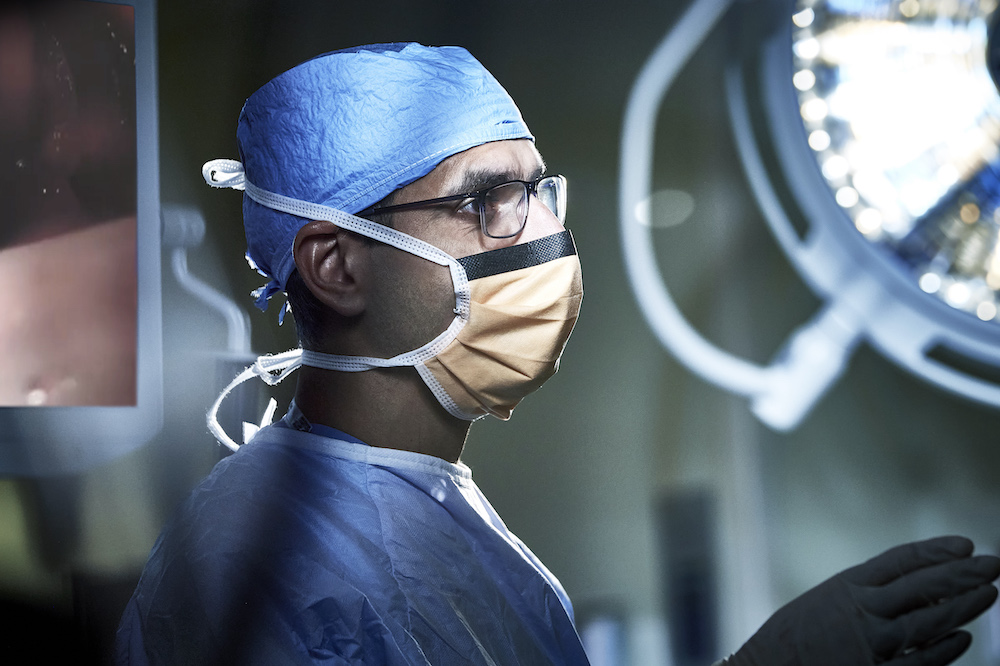 Imagine if every time you took a breath, your airway almost completely collapsed. For patients suffering from an elusive condition called tracheobronchomalacia (TBM), this sensation of struggling to breathe can not only feel frightening, but make exercising, coughing or even laughing incredibly difficult. Even more seriously, many people struggle with it without knowing why or receiving the correct treatment as it's considerably underdiagnosed.
"If you were to look carefully in patients who have respiratory symptoms and other conditions, you would probably find TBM in at least 10–20% of them," says Charles T. Bakhos, MD, MS, FACS, a Temple thoracic surgeon specializing in diseases of the airway.
At the Temple Lung Center, he and his colleagues are using new, innovative treatments to help more people suffering from TBM. The center now stands apart in its field.
People from across the U.S. are seeking out Temple for TBM.
For Danielle Hong, this condition had long prevented her from getting through her workday, cleaning her house or even walking her dog without feeling short of breath. The New Jersey resident went through a series of hospitalizations and referrals before finally receiving TBM as a potential diagnosis.
Her local pulmonologist advised her the Temple Lung Center was "the place to go" for expert TBM care from Dr. Bakhos. Using advanced imaging and diagnostic techniques, the Temple care team confirmed her diagnosis: Every time Hong took a breath, her windpipe collapsed in on itself.
"The collapse of the airway is very normal. That's how we cough. That's how we sneeze," Dr. Bakhos explains. "It's the amount of collapse that makes it a disease. In Danielle's case, her collapse was pretty much complete."
Patients like Hong frequently come from across the country to seek the rare expertise of the Temple Lung Center because of its familiarity with complex conditions like tracheobronchomalacia. Since TBM is often mischaracterized as asthma or bronchitis, years can pass before it's correctly identified. Its symptoms—coughing, shortness of breath, wheezing, mucus buildup and recurrent respiratory infections—can mimic many other conditions often resulting in misdiagnosis. Patients will often seek third and fourth opinions before receiving a TBM diagnosis.
"It takes a certain level of experience with the disease and a certain threshold of investigating further to get the patient the diagnosis and the appropriate referral to somebody who treats the condition," Dr. Bakhos says.
It's one of the only hospitals in the country to treat TBM with robotic surgery.
To treat TBM, doctors can try inhalers, medication, CPAP therapy or in more severe cases like Hong's, surgery. The procedure, called a tracheobronchoplasty, reinforces the back wall of the windpipe and prevents its collapse by inserting a stabilizing stent.
The Temple Lung Center is one of the only centers in the country to perform this surgery robotically, an approach that allows for more precise sutures, shortens the length of the hospital stay and reduces postoperative pain for the patient.
The expert care of the Temple TBM program is changing patients' lives.
"Ten years ago we knew very little about TBM and now we're curing it with advanced robotic surgery," Dr. Bakhos says. "The specialized expertise required to effectively treat patients with TBM is only available at a handful of places in the U.S., and Temple is right there at the top of that list. Our multidisciplinary approach ensures a comprehensive evaluation of the patient, and with the utilization of the robotic platform, we're confident that for any patient who is suffering from this issue we can give them options that can literally change their life."
After seeking specialized care from the Temple Health team a year ago, Hong has since regained 25% more function in her lungs and started working again. "I've come such a far way because of this surgery," she says. "I have a life again."
Learn more about how Temple Health is using sophisticated technologies and personalized treatments to alter the course of serious disease and change patients' lives.
This is a paid partnership between Temple Health and Philadelphia Magazine
---