The 21-Minute Daily Practice That Could Change Your Life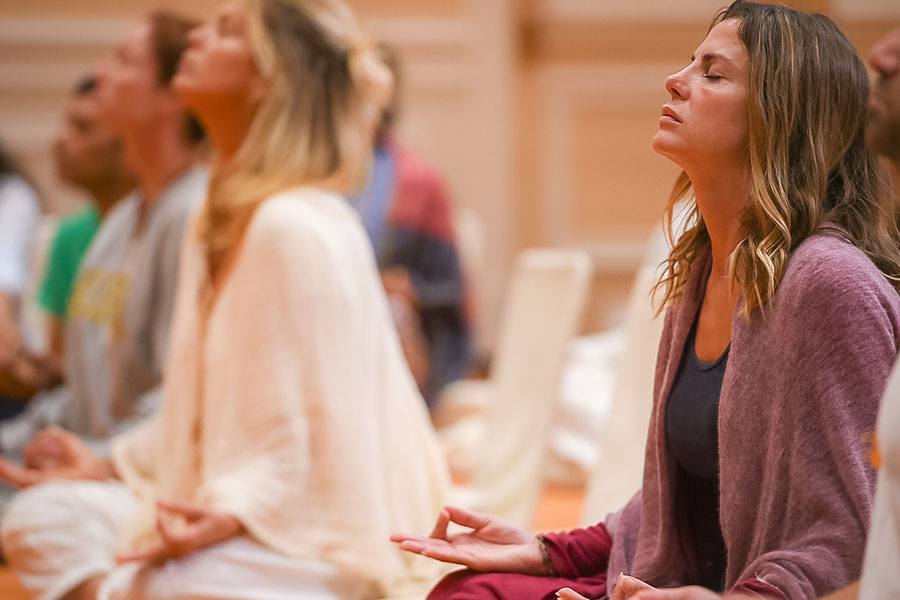 Everyone knows the mental and physical benefits of yoga. But it's not just a way to make up for an indulgent lunch or de-stress after a hard day at work. According to Sadhguru, the New York Times bestselling author of Inner Engineering, A Yogi's Guide to Joy, yoga can do much more than repair and maintain your health. If you treat yoga as a scientific and spiritual practice, it can bring your mental and physical health to a whole new level—in just 21 minutes. In preparation for Sadhguru's upcoming Inner Engineering program in Philly (April 27th and 28th at the Pennsylvania Convention Center) it's worth taking a Zen-filled moment to find out how you can become a happier, healthier person in no (or at least only a little) time.
For Sadhguru, happiness isn't some magic state of being that everyone needs to chase with self-help plans. A lack of happiness is something we treat chemically all the time with antidepressants—which means it's just a particular chemical combination. Sadhguru teaches his students how to change that internal balance or imbalance of chemicals to find inner peace with a meditation called Shambhavi Mahamudra Kriya. This meditation takes a holistic approach in helping you manage stress and the ailments that come with stress. They've also proven to improve sleep, reduce anxiety and depression and relieve asthma, migraines and hypertension.
According to Dr. Naveen Pathak, a 55-year-old physician living in Long Island, New York, Sadhguru's teachings fundamentally improved not only his work but also his relationships. "My life is transformed," he says. "Sadhguru's teachings made me far more productive and efficient." Pathak started practicing Shambhavi Mahamudra Kriya in 2001, after a few of his medical colleagues suggested he give them a shot. After attending one of Sadhguru's events he was sold. He was astounded by the inspiration and passion kindled within Sadhguru's followers. "It amazed me how he was able to energize the whole place with hundreds of people," he says. "He kept their undivided attention for hours on end. I had never seen anything like it before."
Attending a single event might sound like an easy enough way to transform your life, but you can't casually show up like it's a session at your local yoga studio if you want to get the most out of the experience. Sadhguru requires participants to complete his Inner Engineering Online Course before attending in order to get the full impact. For Naveen, the key to benefitting from Sadhguru's teachings is to wholly give yourself over to the experience."Put your reservations aside. Go into it as an experiment," he says. "There is not much to lose, but there is potential for a lot of gains."
If all this sounds like a little too much to handle, just breathe and relax—for Sadhguru, yoga doesn't come with the excess baggage of a philosophy or a religion. It's something better than dogma—it's a tool that you can apply for wellbeing. "One does not have to believe or disbelieve, just has to learn to use it," he says. "Yoga is a technology used to bring the body and mind to the peak of their capabilities, allowing one to live to the fullest." All that, and for just 21 minutes a day.
Ready to find your inner joy? Start your online sessions today and register to learn directly from a world-renowned yogi on April 27th-28th.
This is a paid partnership between Isha Foundation and Philadelphia Magazine's City/Studio
---