Patients Across the Country Are Coming to Philly for Robotic Surgery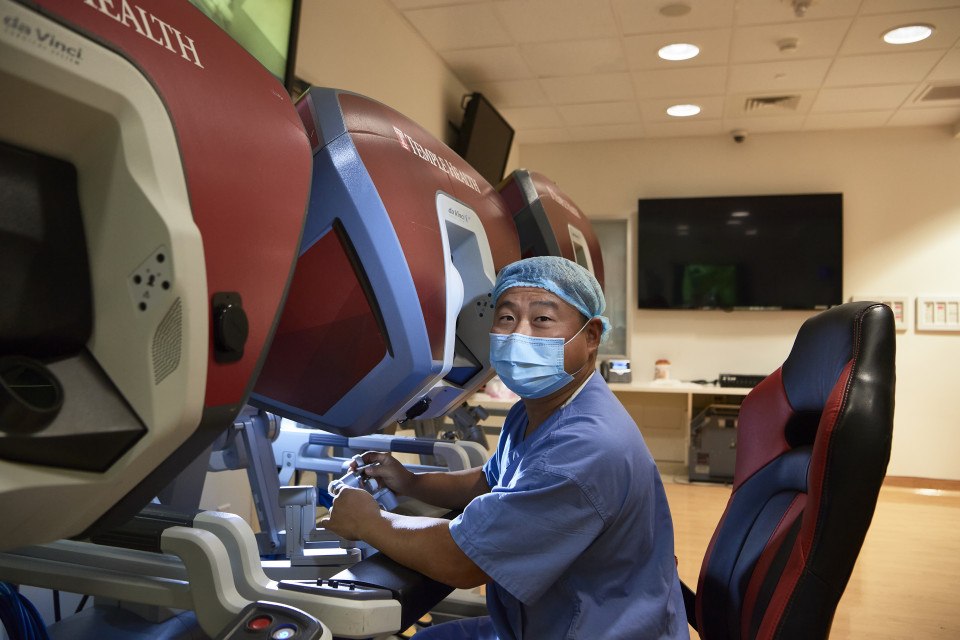 An 82-year-old Floridian and avid tennis player who'd sought treatment everywhere from the University of Miami to Johns Hopkins University. A 16-year-old girl from Texas with an increasingly limited lifestyle due to a mysterious illness. A young man suffering from cancer treatment-related complications who traveled from Oklahoma as a last resort.
While three unconnected individuals, they all found themselves in Philadelphia for the same reason: They'd been told by multiple doctors that their urological problem couldn't be fixed, but had heard about a team at Temple Health who was solving the unsolvable.
That team is led by Dr. Daniel Eun, one of the world's leading robotic surgeons. He returned to his medical school alma mater to start a urologic robotic surgery program about a decade ago, and quickly began changing the idea of what's possible through urologic surgery. Eun likes to say his team at Temple fixes problems for patients who have been told their problems can only be managed.
"It's a lot of pressure to operate on patients that nobody else wants to operate on, but you know what, I'm looking forward to the stories that change their lives," Eun says. "That they can travel again, play with their grandkids. That is the quality of life that really makes it worth it…I've been blessed with the incredible ability to do things that most people aren't able to do, so it partly is my duty to take on those difficult cases."
Many of the patients who come to Temple are living in pain and with permanent hardware, often stents or tubes, which can lead to regular infections and constant hospital visits. The team primarily sees two types of patients: those who have suffered injury and trauma to the urinary tract, particularly after cancer surgery or radiation, and patients suffering from ureter obstruction.
For eligible patients, Eun says his Temple team can reconstruct their ureter by using grafting from the inside of their cheek or their appendix. If successful, the patient is able to remove hardware and get back to a more normal life, often within a matter of months.
"We have so many remarkable stories of people that have had very complicated surgeries, and we've been able to come up with a solution and change their life," Eun says.
One of those patients was Stanley, the tennis enthusiast from Florida. Prior to meeting with the Temple team, he hadn't been able to play for more than a year after he'd had a ureteral stent put in place.
"Every other doctor I saw said they could only put in an even larger stent, but once I found Dr. Eun, he said he could actually reconstruct my ureter," Stanley says. "It was just fantastic news."
After a 2.5-hour surgery, Stanley was free of his stent and only a few months later, was back to playing tennis.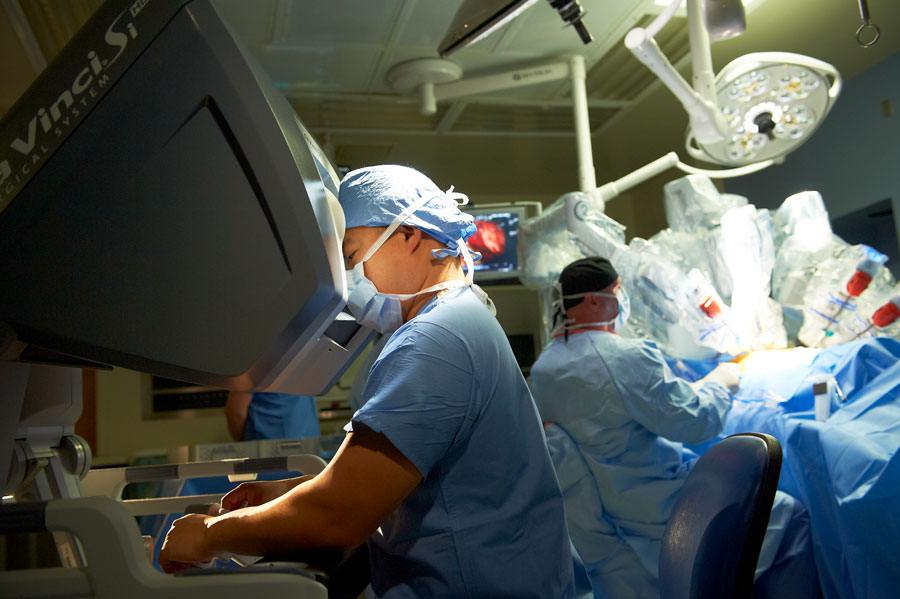 Earlier in his career, Eun says he was proud of being able to perform highly technical operations few surgeons could. These days, however, his focus is on developing both oncological and urologic reconstructive procedures that can be more easily replicated, including ideas as simple as injecting a medical dye into the ureter that lights it up, making it easier for surgeons to see amidst scar tissue.
Surgeons will flock to his training sessions hosted at Temple or at medical conferences around the world, where he'll show videos of his robotic procedures and explain what he does, step by step. He frequently gets messages from surgeons who use the techniques he has developed at Temple.
"​​I think that's really the way that you change the field, move the ball forward, and really make a true contribution as an academic surgeon to your community that will last for ages," Eun says.
While not appropriate for every operation, robotic surgery comes with a number of benefits. The system has a camera with 10x magnification and 3D vision, allowing the surgeon to zoom in to work on mere millimeters of tissue. This means they're often able to cause far less tissue damage. They also operate through small ports, rather than opening up the body through a large incision. In addition to being less invasive, this reduces the chances of infection and excess bleeding.
When Eun started the program at Temple, most robotic surgeons were recreating the usual methods used by "open" surgeons, but using the da Vinci Surgical System. Eun turned that on its head, instead developing whole new ways to perform surgeries best suited to the ever-evolving robotic technology.
"I was always naturally inclined to innovate and invent new procedures," Eun says. "To look at the way we're doing things and say, 'can we do this better?'"
Today's Eun's drive to always seek to "do this better" benefits not only Temple patients like Stanley, but patients across the United States, Europe and around the world whose surgeons are using techniques he developed at Temple.
"For me it was a miracle," Stanley says. "They gave me my life back."
This is a paid partnership between Temple Health and Philadelphia Magazine's City/Studio
---