Philly Has an Air Pollution Problem. These Researchers Think Its Neighborhoods May Hold a Solution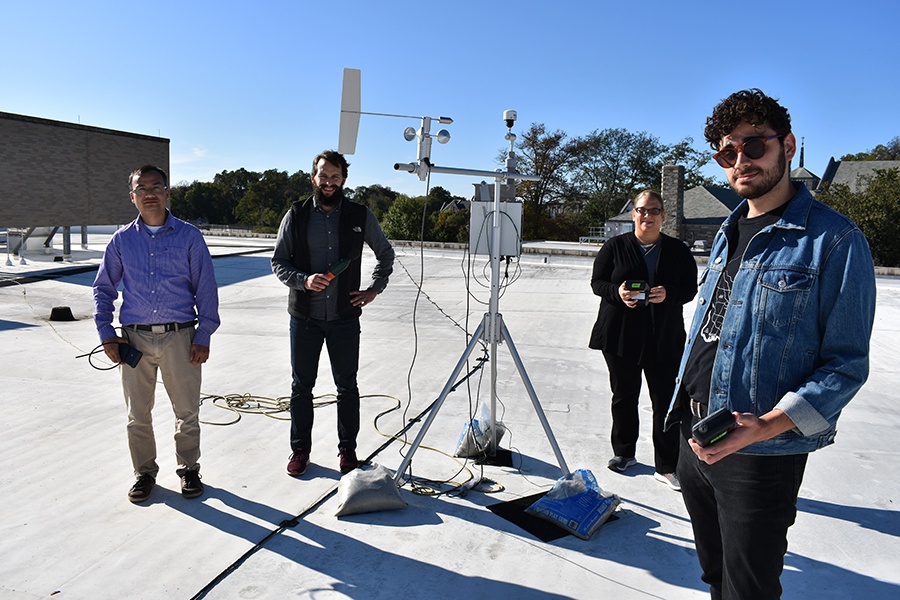 Philadelphia ranks as one of the nation's 25 worst metro areas for ozone and year-round particle pollution, according to the American Lung Association, but it's not exactly easy to stop those health hazards from accumulating in our city.
"These two pollutants are what is also known as secondary pollutants," says Kabindra Shakya, PhD, an assistant professor of geography and the environment at Villanova University. "They're not directly emitted from emissions sources such as tailpipes but formed in the atmosphere. They have multiple formation pathways, and particles also have primary sources.."
The city's individual neighborhoods, however, can vary widely when it comes to air quality. Their different make-ups may shine a light on how to mitigate the problem, according to ongoing research from Villanova's Environmental Science program. In Northern Liberties, for example, nearby I-95 traffic and compact townhouses may contribute to more lingering soot and smog — especially at rush hour.
"Pollution varies at a very fine scale," says Peleg Kremer, PhD, an assistant professor in the same department. "You can walk on one street, and then 500 meters away, the situation with air pollution will look very different."
Drs. Kremer and Shakya's research team is measuring this hyper-localized air quality data against factors such as surrounding vegetation, building height, building materials and demographics. They hope their work will influence future urban design. "We can offer a lot to the city planners," Dr. Kremer says, "if we can figure out changes in urban configuration that will contribute to the reduction of air pollution."
To identify potential takeaways, the team conducted extensive field research this summer, driving 300 miles around Philly on 12 separate occasions to hit nearly every possible urban configuration. Each two-day road trip followed 35 pages of turn-by-turn directions. And as Philly residents already know, navigating this city is no leisure drive. "Sometimes the streets aren't labeled," says graduate student Radley Reist. "Sometimes what the map has listed as the street name is not actually the right street name anymore. Sometimes it's just an alleyway that you can't get down."
With a public policy background, Reist enrolled in Villanova's Master of Science in Environmental Science program to build his scientific analysis skills. "It really helps me to see how this information is gathered — how do we actually know what we know? — and how that influences how we think about building the city," he says.
Fellow graduate student Justin Stewart brought his own training in microbial ecology to the table. "I'm really interested in what bacteria, archaea and fungi are in the air and how they might be affecting the health of individuals living in Philadelphia County," he says. "There's never been a study looking at the atmospheric microbiome at the county level."
As the team builds on its past published research and works on analyzing the massive data set they collected, Reist and Stewart have already gained more than just a hands-on scientific education. Their summer-long, citywide road trip may lead to important information that will help Philly residents breathe cleaner, healthier air in the years to come.
Get involved in impactful research and make connections with world-class faculty by applying to Villanova's Master of Science in Environmental Science program today.
This is a paid partnership between Villanova University College of Liberal Arts and Sciences and Philadelphia Magazine
---