Home or Hotel? These Luxe Upgrades Make It Hard to Tell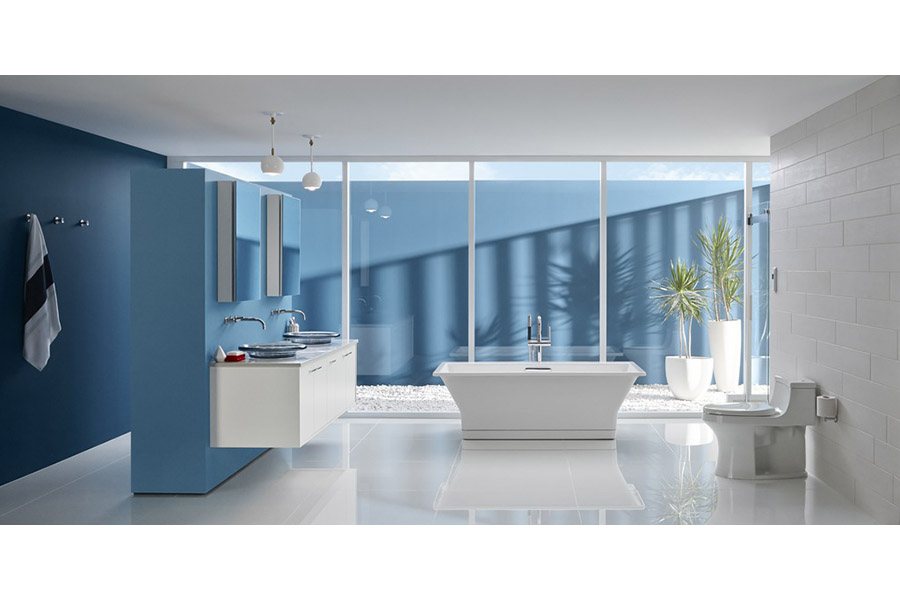 Remember that amazing bathtub in the resort you stayed at last summer? You've dreamt about having that tub in your own home pretty much since your plane landed back in Philadelphia. Good news—we browsed Kohler showrooms and found a few products that can make that dream a reality. Soon these upgrades will have your home looking like a luxury spa.
Rainwater Shower
Rainwater Showers are a luxurious edition that you will never regret installing. They're designed to simulate the feel of actual rainwater, so now you can start or end your day relaxing to the sounds and sensations of nature. This rainwater shower by Kohler mimics rainfall down to its infinitesimal drop. It's built with a water reservoir that relies on gravity to shape the individual raindrops, which results in varying raindrop sizes, angles and velocity to recreate a summer rainstorm in the comfort of your own shower.
Contemporary Bathtub
A new, luxury bathtub is sure to be your favorite addition to your home renovation project. These tubs are the epitome of serenity and relaxation – exactly what you need after a long day. It's the perfect place to curl up with a great book or soothe sore muscles in style.
Sleek Sink Bowls
The right sink bowl can elevate an ordinary bathroom to a sophisticated and modern space. It's the kind of detail that shows off your eye for design and quality.
Pay Attention to Detail
Small, subtle changes can make a big impact on your space's aesthetic. Little things like switching out the knobs on your drawers, hanging a new mirror or installing sleek faucets for your sink can take your bathroom to the next level.
Make a (Back)Splash
When you're upgrading your bathroom, don't forget about the walls. A unique backsplash or wall decor will add personality to your space. An accent color or pattern will brighten up the whole room.



Ready to treat yourself? Visit the Kohler Signature Store at King of Prussia or their website today to start planning your dream bathroom.
This is a paid partnership between KOHLER Signature Store by Hajoca and Philadelphia Magazine's City/Studio
---