Here's What Powers Heather Mitts on and Off the Field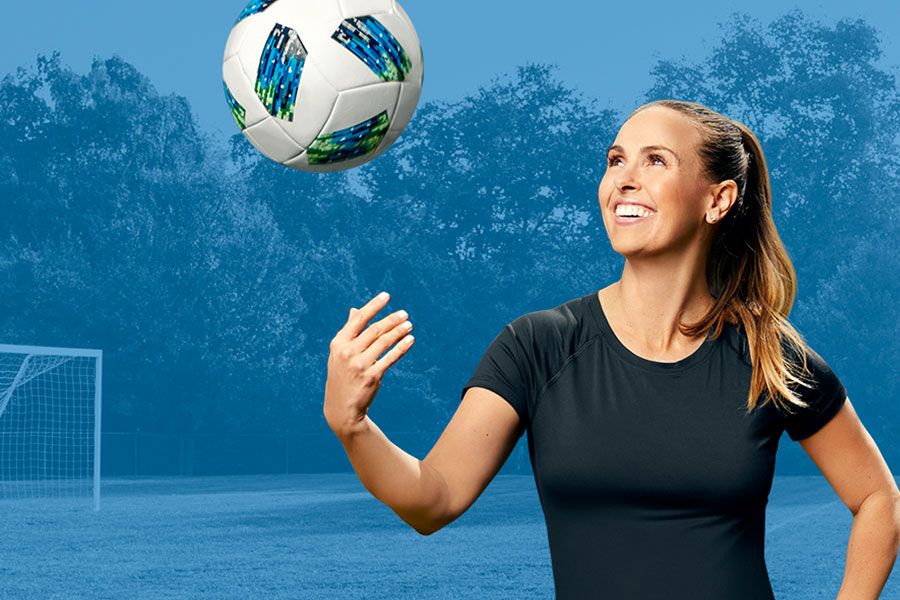 "Seeing my own kids and how impressionable they are, has completely changed my perspective on everything," says Heather Mitts, mother of three and three-time Olympic Champion soccer player. "There's a lot of negativity in the world and I want to be a positive, kinder person for all kids, not just my own."
Which is how the soccer star spends most of her days now. As the co-founder of two companies, Ceres Platinum Group, and Empowered pregnancy, she works to mentor female athletes and businesswomen on their financial success and career growth, and expectant moms on how to maintain a healthy lifestyle. Add to that her passion for running soccer camps for the next generation of athletes, and it's easy to see that being a source of positivity is kind of her thing. "Being able to teach little soccer players what it takes to be the best is pretty great," she says smiling.
We sat down with Mitts to learn more about her hopes for the sports stars of tomorrow and how she's managed to score goals (on and off the field) time after time.
Who is your biggest inspiration?
I think my power and dedication comes from my parents and the balance they provided. My mom was my cheerleader, always so supportive and my dad was the one that always wanted us to out-work everybody else. If we were going to do something, we were going to do it to the best of our ability and never give up. That's why I am who I am today.
When did you realize you had "made it"?
I realized that my dreams were becoming a reality when I got named to the first Olympic roster in 2004. It wasn't until that point that I realized what I was capable of. I won my first gold medal at those games and it was just so surreal—I went from having 1v1 battles in the backyard with my brother to standing on the podium, wearing the USA jersey. It was a dream come true and the best feeling possible.
You've faced some physical setbacks in your career, how did you power through them?
I tore my ACL a month out from my first World Cup in 2007 and wasn't able to play. I was devastated. But throughout that time, I used one quote to fuel me and prove my doubters wrong; "Tell me I can't, then watch me work twice as hard to prove you wrong." It worked—the next year I was back on the field and won my second gold medal.
What do you consider your biggest success?
My career and playing for the US Women's National team and in the Olympics was an amazing chapter of my life but I honestly don't think anything compares to being a mom. This is the happiest I've ever been.
What piece of advice do you want to instill in your own kids and the kids who look up to you?
Life is tough, but so are you. Obstacles are put into place to see how hard we want something, how motivated we can be and how much more we can achieve.
Why are you so passionate about Big Brothers Big Sisters?
I didn't have any female role models growing that were athletes. I had a bunch of pictures of male athletes in my room. So, once I was playing on the women's national team and able to step into a position where these little girls were looking up to me, it was such an honor. It's one of my favorite parts of being an athlete and a mentor.
Click here to learn more and don't forget to visit Delaware Valley Honda Dealers at the Philadelphia Auto Show to meet Heather Mitts (February 2nd), Patrice Banks (February 9th), and Jakub Voracek (February 10th), to find out how they've powered their dreams and how you can help drive local kids towards successful futures by volunteering with Big Brothers Big Sisters.
This is a paid partnership between Delaware Valley Honda Dealers and Philadelphia Magazine's City/Studio
---