How the Pandemic Is Accelerating the Most Important Trend in Healthcare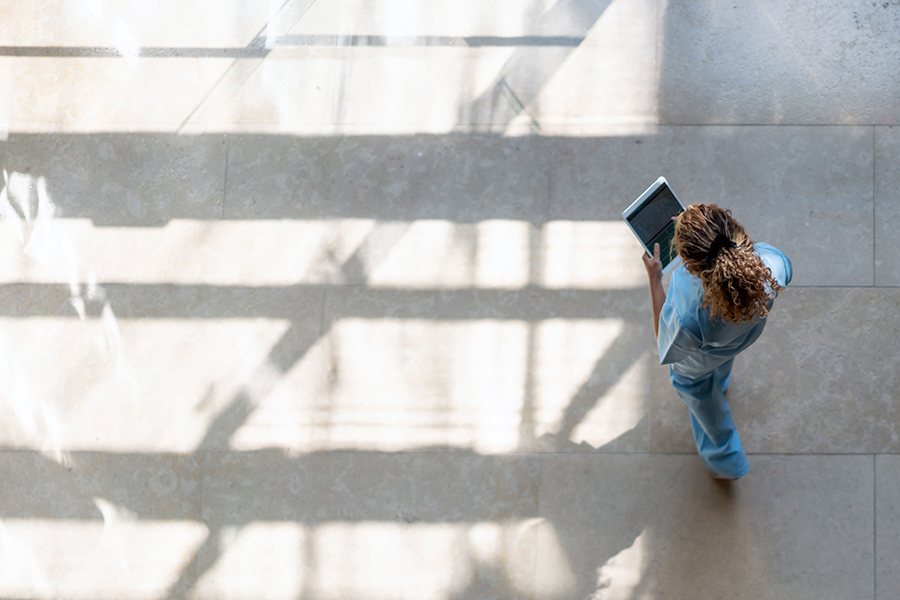 The Health Informatics program at Saint Joseph's University had already started growing before COVID-19, but its expansion into a master's and certificate program couldn't have come at a more critical time. Technology and data have stood at the crux of the pandemic response and stand to fundamentally alter the future of healthcare going forward.
"COVID-19 has been a great exemplar of how healthcare organizations have to quickly think about, adopt and deploy technology to overcome barriers of time and space," says Thomas Martin, Ph.D., an assistant professor in Saint Joseph's School of Health Studies and Education.
"Health informatics fosters the ability to engage in decision-making based on data-driven findings, and that is such a key component of being successful in today's healthcare environment." Health Informatics addresses the intersection of healthcare and information technology that enables students with the skills needed to analyze health data and improve patient care.
The integration of technology into patient care has only accelerated during the pandemic. "Two or three years ago, a healthcare organization might still be trying to get its arms around what is telehealth and how do we do it," Dr. Martin says. "COVID has really pulled a lot of this to the forefront." Here's what's coming next:
Health Informatics Can Expand Telemedicine Offerings
As shutdowns restricted in-person appointments, telemedicine emerged as an essential way to receive care. "When we're being asked to engage in physical distancing, telehealth and the ability to deliver healthcare virtually or remotely is a profound opportunity," Dr. Martin says.
Going forward, legislative bodies will need to work together to increase access to telemedicine, he predicts. Right now, a patient living in New Jersey would run into issues seeking virtual care from a Philadelphia-based doctor, for example. "There's still a tremendous amount of policy setting that needs to occur around a lot of this," he says. "That's a really interesting space to continue to watch going forward."
Health Informatics Can Lower Healthcare Costs
Health informatics may also help streamline care and, in turn, reduce costs. "One good example here in our region are health information exchanges, which aggregate data across all of the institutions in the Philadelphia region," Dr. Martin says. "Research has shown that healthcare providers that actively use health information exchanges conduct fewer redundant tests." A patient who received an X-ray at one hospital, for instance, could then have a doctor affiliated with a different system see the same results.
Health Informatics Can Improve Clinical Algorithms
Population-based algorithms already inform the care that patients receive, but a research-backed program like Saint Joseph's trains graduates on how to best use them. "We have to understand the quality and importance of data that we're placing into these systems so that we can make better predictions — or interchange predictions with diagnosis or recommendation for treatment," Dr. Martin says.
For example, some clinical algorithms have historically incorporated racial biases, influencing patient outcomes. But by studying the upstream and downstream effects of data entry, healthcare workers can recognize faults and improve these tools for more equitable care.
"Understanding the social influences of health and having data allows us to hopefully make better decisions," Dr. Martin says. "When you think of healthcare organizations as pillars within the community, having that information allows those organizations to understand the health of populations is paramount."
Want to be a part of the future of healthcare? Learn more about Saint Joseph University's Health Informatics master's and certificate program.
This is a paid partnership between Saint Joseph's University and Philadelphia Magazine's City/Studio
---