Pro Tip: Here's How to Make the Most Out of Your Annual Health Checkup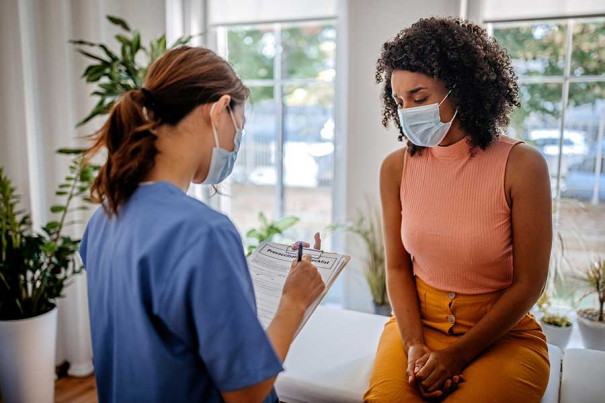 Taking care of your mental, physical and emotional health is an everyday responsibility. In order to live your best life, it's important to know yourself and your body and recognize when it might be necessary to go to the doctor to address an issue.
This idea has taken on new meaning over the past few years, as the need to look out for ourselves and others has grown even greater in importance. However, research shows that necessary screenings like colonoscopies and mammograms saw a large dropoff due to the pandemic. Now, as we return to normal, it's time to prioritize routine health checkups once again.
"In the height of the pandemic, a lot of things people would have done on a regular basis in normal times, they couldn't do," says Dr. Sandra Brooks, Executive Vice President and Chief Community Health Equity Officer of Thomas Jefferson University's Center City Division, a part of Jefferson Health, which has 18 hospitals across the region. "In a lot of cases, people may have had other things on their mind or needed to take care of others, but if we don't protect our own health, we can't do anything else."
Here are the different factors and considerations you should think about when preparing to see your doctor — and what you need to do to get the most out of your visit.
Think About Your Age
Consider your age as a health benchmark. If you're young and in good shape, you might not need to see a family doctor every year. But as you age, your risk for disease and health problems can increase, which is why it's important to be vigilant in detecting these symptoms and signs.
"The value of coming in to the doctor to get a physical comes from talking about the things that are important to you," says Dr. Angela Nicholas, a practicing family medicine physician and Chief Medical Officer at Jefferson's Einstein Medical Center Montgomery. "These things are vital because it helps detect potential diseases early on."
Dr. Brooks recommends scheduling your annual physical around your birthday so it's easier to remember. For women under 40, she says it's important to have gynecological exams as well as routine blood pressure and cholesterol checks on a timeframe that makes sense for you. And for screenings like colonoscopies and mammograms, age 40 is a marker for women, while men should seek out screening for colorectal cancer at age 45 and continue on a 10-year basis.
Consider Your Family History
Genetics isn't only about the color of your eyes or your hair shade. In the same way your DNA determines your physical traits, it's possible your family will pass on particular conditions or health risks.
For example, if high cholesterol or heart disease runs in your family, you should let your physician know during a health checkup. Coming prepared with this information can help your doctor work with you to mitigate any potential issues.
"It's not enough just to say a family member had cancer — you should know the kind," Dr. Nicholas says. "With your mom and dad specifically, ask them about the medicines they take and why and any surgeries they've had. These are the things that can provide additional context for your visit."
Communication is Key
When it comes to getting the best care possible, your relationship with your doctor is a two-way street. You can have the best physician in the world, but if you're not upfront and honest about your lifestyle, your physician isn't going to be able to properly identify your health risks.
"We encourage our patients to make a list of what their concerns and questions are to cover different topics during their visit," says Dr. Anna Flattau, the Chair of the Department of Family & Community Medicine and Vice President for Primary Care Services at Jefferson Health. "Knowing each other as human beings is core to practicing best health measures — it allows our primary care doctors to understand what's important to patients and form a plan together for staying healthy in the future."
Of course, establishing this relationship requires trust on both sides, which is why finding a physician you feel comfortable sharing with can help this process run smoothly. If talking to your doctor feels like talking to a friend, you'll be more at ease and focused on the task at hand: ensuring you're as healthy as you can be. That's the key message as you start to think about scheduling a visit with your trusted physician.
"We're ready, willing and able to take care of patients," Dr. Brooks says. "We want patients to come back and we want to see them. We want everyone to understand that it's time to get back to their healthcare routine."
For more on getting your wellness checkups and health screenings at Jefferson Health's 18 locations across Greater Philadelphia, head here.
This is a paid partnership between Jefferson Health and Philadelphia Magazine's City/Studio
---