Free Screenings Could Significantly Reduce Cancer in Philly. But Experts Say We Have a Long Way to Go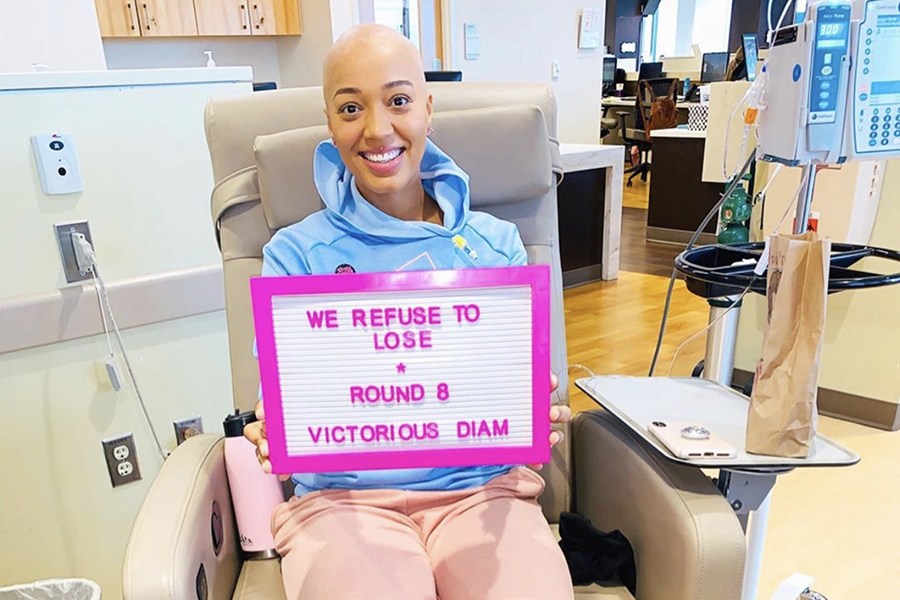 In July of 2019, Diamonique Valentine went in for a routine breast exam and was told she was clear. In August, she found a lump.
"I thought what the heck, what is this? I just went and got a breast exam last month," she says.
At 27, Valentine, a health and fitness coach known for her workout videos on social media, wasn't concerned about breast cancer. But when she returned to her doctor after finding the lump, she was recommended an ultrasound and a mammogram.
She attempted to schedule the screening immediately. But she was told there was a lock on her insurance. As she and her husband had tried to get their health coaching business off the ground, she had fallen behind on her payments, and would need to come up with a thousand dollars just to get the screening—money she didn't have. Then her friend recommended a free screening program at Cooper.
"Whether my insurance helped me or not, they would find a way to make sure I got some kind of screening done," Valentine says. Within a few weeks, she had the mammogram, the ultrasound and ultimately the biopsy done. By October, she was diagnosed with Stage 3 breast cancer, and rushed into treatment.

The Screening Solution
The program that screened Valentine was developed by Evelyn Robles Rodriguez, director of outreach at Cooper University Hospital. For her, screenings represent one of the most important and transformative tools in battling cancer. If the cancer is caught early, survival rates go up and the cost and time of treatment goes down. Supported by organizations like the American Cancer Society and public funding, she offers free screenings for uninsured and underinsured women.
But offering the screenings is just the start. For many of the people Rodriguez seeks to treat, particularly in disadvantaged communities, going into the doctor's office to receive the screening can be difficult. The healthcare system can be complicated, and there is skepticism as to whether there will be hidden costs, or whether they'll be mistreated in a racially motivated way. Undocumented immigrants, especially in the past few years during the Trump administration, are often afraid of revealing their status.
More practical considerations result from the economics of care. Many underinsured individuals live in medically underserved areas (MUAs) that lack a healthcare provider within a reasonable distance. Caught up with work or the need to care for their child or parent, making a limited window for screenings can be difficult. Many have to make stark calculations, asking, "If I can't afford the treatment, then what good is knowing I'm at risk?"
As in Valentine's case, people often don't realize they can or should receive free screenings, especially younger individuals who may not believe they're at risk. A lack of standardized screening guidelines complicates the problem, with little consistency between doctors on the age at which women should start getting screened.
African American women especially bear the brunt of this. They are diagnosed with breast cancer younger than white women, but receive fewer screenings, are diagnosed at later stages, and are 40 percent more likely to die of the disease.
Continued Healthcare Struggles
Rodriguez has made strides in availability of screenings by expanding appointment times into early and late hours, offering free transportation for patients, and educating the community through native-language healthcare navigators, educational games and cooperation with local media. Their annual event with the American Cancer Society and Telemundo, Amate a ti Misma, is critical to reaching the Latino population. But funding remains a challenge—their mobile mammography unit, which allowed them to bring screenings into neighborhoods, drew a large following, but was discontinued due to cost many years ago.
"What we found was that people were coming out when we went into their community. There was no transportation issue, there was no fear that they would be going to a place where they were going to be treated differently because they didn't have insurance, or if for some reason you've developed a mistrust of the healthcare system, this was coming to you and your community where you live, work and play," Robles says. "The mobile health units where you can do these screenings right on the spot, are something that, if the funding were available, would be extremely helpful…We want to try to go more into the community, going to them rather than them coming to us."
The screening was critical for Valentine, but it's important to remember it was just the start. After her diagnosis, Cooper helped her sign up for Medicaid, and she began chemotherapy two weeks later. She experienced struggles, having to choose from the limited doctors, treatments, and tests covered by Medicaid, and had to change pharmacies due to the prejudice she experienced while trying to purchase medication.
Her lack of experience with the healthcare system made her feel she needed to accept the treatment plan without a second opinion, and she didn't always know what was standard procedure or when she should ask for a change. Altogether, though she trusted her doctor, her experiences made it harder for her to feel sure of her treatment process.
"Black women have a 40 percent chance of dying from breast cancer, and we're not even the ones who get diagnosed the most," Valentine says. "Is it because we're not getting the best tests? Is it because we're getting double the tests because we can't afford the more effective ones? Is it because we haven't had access to all of the therapies? Is it because we're not offered them, or is it because our hospitals don't provide them? Is it because we don't have the best hospitals in our neighborhoods? There's so many different things that you don't really know, so you don't want to criticize your doctor."
Ultimately, the financial strain she and her husband had to take on to pay for anything outside of coverage, coupled with the emotional toll of cancer, meant they had to shut down their store.
Care in Your Neighborhood
If part of the problem for medically underserved communities is the lack of accessibility and familiarity with the healthcare system, one promising solution has been to move the provider itself into the community. Federally Qualified Healthcare Providers are general care providers funded by the national government that are specifically targeted to cover MUAs, providing treatment regardless of the patient's ability to pay. They address many of the fundamental issues of preventing cancer and getting care to patients—geography, the risk factors determined by that geography (which can range from increased rates of smoking to lack of nutrition), and cost.
In North Philly, Congreso Health Center serves the Kensington neighborhood and surrounding areas, a portion of the city where average life expectancy is about a decade less than in Center City. Importantly, they don't just provide care: While patients from MUAs can feel lost when engaging with the healthcare system, Congreso provides a behavioral health consultant to guide patients through their treatment, and address social risk factors through holistic programming, such as lessons on healthy eating. They staff bilingual healthcare providers who make a point of understanding local cultural needs. If necessary, they assign case managers to help patients with obtaining employment, housing and nutrition. Patients who come in for a simple check-up or family planning develop a relationship with and trust in the center's staff and are introduced to the necessity and availability of screenings.
"We really work as a comprehensive team to provide a holistic approach to care for these patients. The work that we do here isn't quite typical of a regular primary care clinic. We have a team of people who really kind of surround this patient," says Judith Emmons, director of primary care at Congreso Health Center. "What we find our community is often looking for is getting care in their native language or getting care by someone who understands them culturally and who they can relate to, somebody who has cultural competence."
Through its bond with the community, the center saves lives. Emmons points to the story of one of her patients, a Brazilian immigrant with few connections in the city, who came to the center because of the recommendation of another Brazilian expat. They developed a relationship with the patient, providing her with a mammogram, and a year later during a follow-up exam, a lump was detected. But because the cancer was caught early, the woman was able to receive surgery to remove the cancer, and completed her radiation treatment in 30 days.
Still, it can be difficult work—these neighborhoods are home to severe health conditions and patients who are particularly at risk, including people struggling with addiction and homelessness. According to Emmons, there's a lack of bilingual providers in general, and the challenging work can steer away qualified health professionals. By nature of being located in an MUA, FHQCs are geographically separated from the resources of other healthcare providers, and even with their broad focuses, FHQCs themselves are not cancer treatment centers. While Congreso's medical staff can perform clinical breast exams and direct patients to cancer specialists, just like the center at Cooper, they depend on the limited availability of a mobile mammography unit for screenings in the neighborhood itself.
Hope for the Future
And yet, despite the larger challenges in supplying cancer care to all, Valentine herself is grateful for the screening program and the care she received. She was diagnosed with triple negative breast cancer, a form of cancer whose rapid growth makes every day matter. After 16 rounds of chemotherapy and a double mastectomy, the road ahead is still tough. She is done with treatment, and has a 12 percent chance of recurrence in her lifetime.
Still, she is hopeful. At the beginning of her treatment, Valentine didn't tell her followers about her condition because she didn't feel able to talk about it positively, and she didn't want to send negativity out into the world. But once she began posting about what she learned through her journey, offering encouragement and advice on getting care and getting through chemo, she found an outpouring of support. Now, in addition to posting about her experience with cancer, she has also returned to posting videos about working out and healthy living of her daily life.
"My cancer journey will always be a part of my story," Valentine says. "But it's only one part."
This is a paid partnership between Think Pink and Philadelphia Magazine's City/Studio
---