New Yoga Program Comes as an "Angel in Disguise" for CHOP Families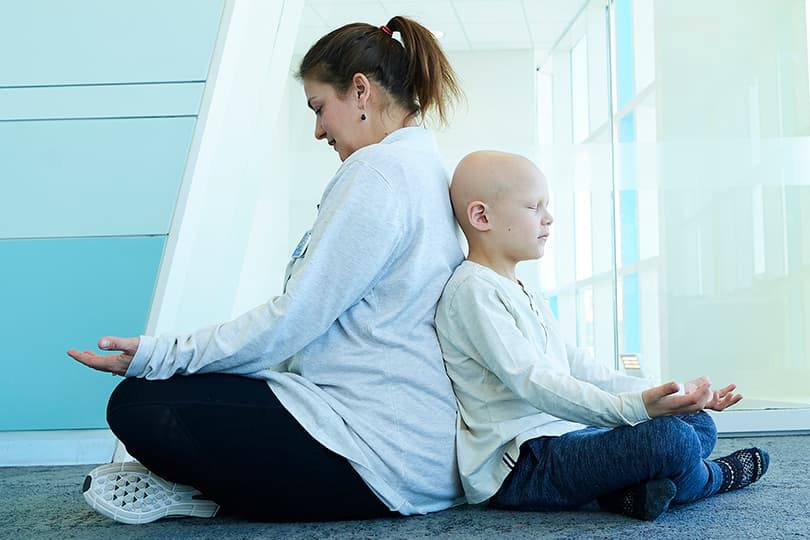 After receiving a rare bone cancer diagnosis at age 6, Cameron needed chemotherapy. Receiving the treatments, however, made the Children's Hospital of Philadelphia patient so anxious that he didn't want doctors to examine him.
"He would get sick before we even started because he was so afraid," says his mom Kristina Wakeley. "He didn't want anybody to touch him."
That changed after starting yoga therapy through CHOP's Integrative Health/Oncology Program at the Specialty Care and Surgery Center in King of Prussia. Working with certified yoga instructor Tonia Kulp, Cameron learned several techniques including breath work that made treatments for his Ewing sarcoma easier.
"She was like an angel in disguise," Wakeley says of Kulp. "She was the only person that was able to get through to Cameron at that moment."
This patient-centered yoga doesn't use the same asanas you might move through at the local studio. Kulp adapted the instruction to Cameron's specific needs, teaching him more comfortable positions for his hospital sessions and simple stretches that could increase the flexibility in his cancer-afflicted leg. One particular technique prompted Cameron to "buzz like a bee" and hold the pressure points behind his ears, quelling his nausea enough that he could complete chemotherapy, Wakeley says.
Cameron, now 8, still uses these methods as he adapts to life outside the hospital once again. The second-grader felt a lot of social anxiety about returning to school after a year away, but the breathing exercises help manage those feelings, his mom says. "He actually will go and tell his teacher, 'Can I have a minute?' and will try to calm himself down," she explains.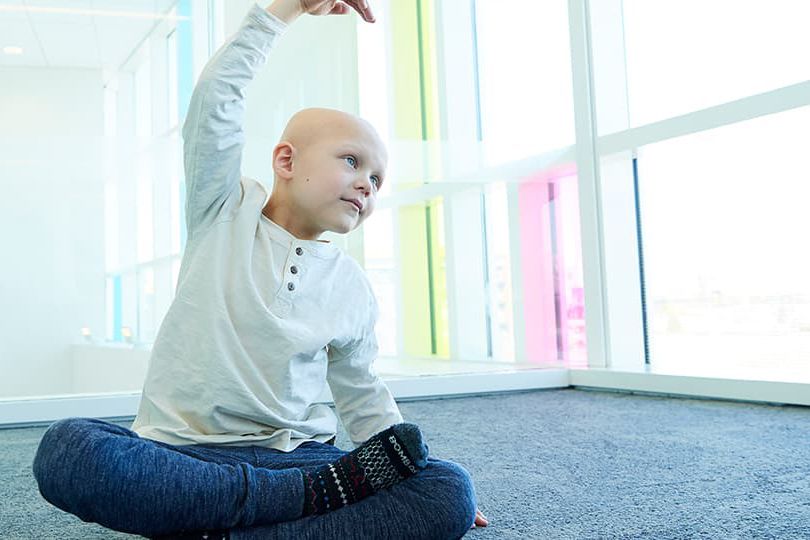 In addition to yoga, CHOP's Integrative Health program offers therapies such as integrative nutrition, acupuncture, aromatherapy and massage. Research is still exploring their exact benefits in pediatric oncology but CHOP oncologist and director of the integrative oncology program Dr. Tracey Jubelirer has already seen the positive impact when used in conjunction with conventional medicine.
"Integrative therapies such as yoga, when incorporated with conventional cancer care, can promote healing, improve symptom management and provide holistic care," she says. "If it can enhance the quality of life for families and patients, we should be offering it." Since the integrative oncology program is still in its infancy, it is entirely donor-funded at the moment. Dr. Jubelirer hopes future philanthropy will provide the funds needed to expand the program, conduct additional research and assist more children and families through their cancer journeys.
In Cameron's case, the Integrative Health program supported both him and his family. Wakeley often practices breathing exercises right alongside her son. "Being more mindful and using these different techniques, it really helps everybody calm down — not just the patient," she says. "The parent of a sick child is just as anxious as the child is. It was comforting for all of us."
You can help CHOP patients and families by funding the programs that make a difference. Give now to make tomorrow's breakthroughs possible.
This is a paid partnership between Children's Hospital of Philadelphia and Philadelphia Magazine's City/Studio
---