The 11 Local Deli Hoagies Every Philadelphian Needs to Try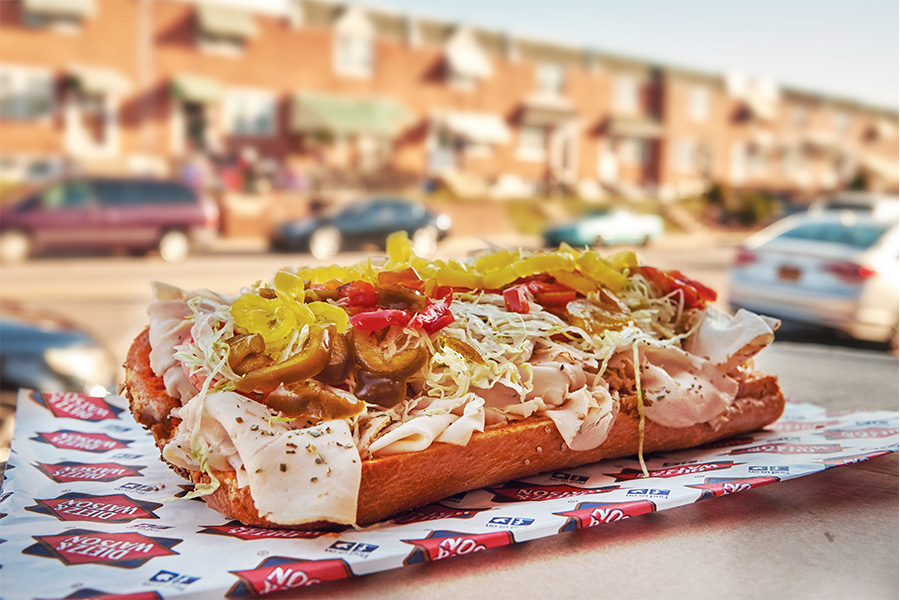 For a great Philly deli hoagie, you need, of course, the perfect selection of ingredients, perfectly arranged and proportioned. But a Philly hoagie is also about where it comes from. In our city, family-owned delis have been honing their craft for decades, passing on legacies of excellence from generation to generation, so you can enjoy brilliance in even the most casual afternoon pick-me-up or late-night bite.
That's why Dietz & Watson created their Real Philly Deli program, to make sure that the larger Philly family of hoagie-makers can make it through these challenging times. Dietz & Watson are themselves one of Philly's most beloved family-owned businesses, established by founding great-grandfather Gottlieb Dietz. Every generation since, they've focused on a tradition of quality in their beloved meats and cheeses and giving back to the community—something each deli assisted by their Real Philly Deli program shares.
Thanks in part to that program, many of Philly's favorites have weathered the past year and continue their craft in service of the city. We've selected eleven of those incredible delis and their top Dietz & Watson-driven hoagies to help you find the finest examples of one of Philly's greatest culinary contributions. Best of all? Each of these delis will be featuring a secret, must-try menu item when you go to visit. The password: Gimme the Dietz.
1098 West Bridge Street, Phoenixville
With humble beginnings and rich family history, Foresta's is a gem with some of the freshest, most finely curated meats in the area (which means it's all Dietz & Watson, of course). Their expertise in meats all started with their founder, John Foresta, a butcher who opened the storefront in the 1930s.
The family has maintained his commitment to freshness and flavor, which is well-captured in their signature Bridge Street Bully: It's a Dietz & Watson lineup of Gritty Sauce, Bacon Lovers Turkey Breast, pepperoni, sharp provolone, roasted reds and spinach on a seeded Corropolese roll. Foresta's is a consistent destination for locals, so if you're looking for something authentically Philly, you've come to the right place. forestasmarket.com, 610-935-1777
To order: call or send them a message on Facebook for curbside pickup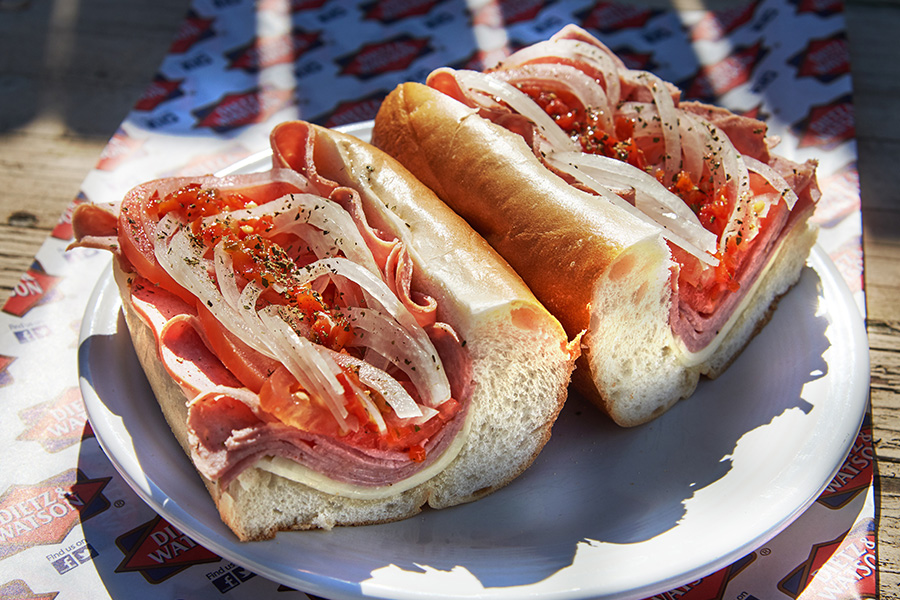 3310 North Wales Road, East Norriton
When you come to Ana's, you'll see Ana and her brother working hard to run the show in the tradition of their father, Alfio, who started the deli and the family's reputation for outstanding food. That work ethic (plus their skill with stacking Dietz & Watson meats and cheeses) has landed them the title of "Best Deli in Montgomery County" since 2011.
Their signature sandwich is what they call a Picklewich—it's a sandwich built between fresh pickles instead of bread, with your choice of Dietz & Watson meat. Ana's also allows you to keep it fresh with a special $6.50 large hoagie of the month deal always on rotation. anascornerstore.com, 610-279-3100
To order: try delivery through Grubhub, DoorDash, and Uber Eats, or for curbside pickup just call
202 Market Street, Philadelphia

If you want your non-Philly friends to have the best 'first hoagie' experience possible, Olde City Food Market has your back. Their signature take on the Italian hoagie, which they have perfected over their many years in business, is an authentic but never boring choice. The winning formula? A full stack of Dietz & Watson meats, with Genoa salami, capocollo, pepper ham and cooked salami. One more tip for your non-Philly friends: Olde City Food Market says the right way to eat a Philly deli hoagie is sitting on the curb out front. oldcitydistrict.com, 215-238-9484
To order: try calling ahead—as it does get busy
Sicklerville Road, Williamstown, NJ
1010 Black Horse Pike, Blackwood, NJ
2081 Old Marlton Pike, Route 70, Cherry Hill, NJ
1526 West Ritner Street, Philadelphia
This classic Old South Philly deli started out as a bakery in 1953, but now it pays just as much attention to its meat and cheese as its bread: It has four delis serving exclusively Dietz and Watson products. Cacia's offers all types of Italian specialty sandwiches—all made from scratch.
You'll want to try their signature, Dietz-&-Watson-loaded Godfather hoagie, which includes sharp provolone cheese, Genoa salami, prosciutto, capocollo and your dressing of choice, all on Cacia's fresh-baked bread. caciabakery.com, 215-334-1340
To order: go to their website, DoorDash, Grubhub or Facebook for delivery or pickup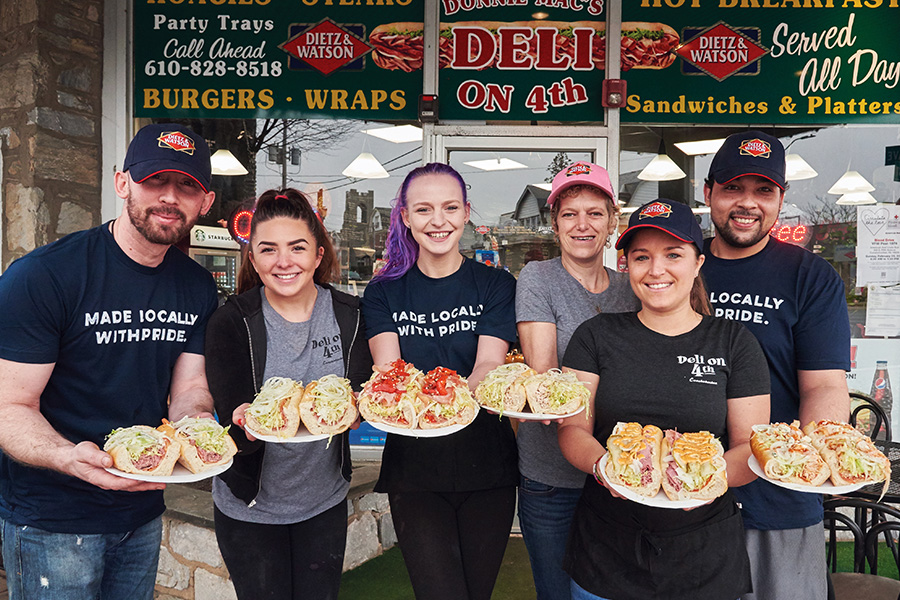 326 Fayette Street, Conshohocken
Deli on 4th has been around for almost 40 years, and for every one of those forty years, they've served their signature hoagie—The Godfather (it's a great name, so never mind that it appears twice on the list). It's sharp provolone, capocolla, genoa salami, roasted red peppers, soppressata and prosciutto, topped with lettuce, tomato and onion. It's a Dietz-and-Watson lover's dream that's made them a beloved neighborhood spot. Plus, they now serve breakfast and lunch all day long, from Monday to Friday until 6 p.m. delion4th.com, 610-828-8518
To order: go to their website, Grubhub or DoorDash for delivery or pickup, or order at the store through user-friendly kiosks
4011 Linden Avenue, Philadelphia
Linden brings it all back to the hoagie fundamentals: Dietz & Watson meats and cheeses, thoughtfully topped and dressed. It's what makes their lauded Linden Club incredible: Cooper sharp, black pepper turkey, bacon, romaine and tomatoes on a seeded roll with tomato-garlic pesto sauce. There are pairings a plenty on offer too: everything's homemade, from the hoagies to soups to traditional meatballs. Makes for a perfect packed lunch to bring along to a Phillies game. facebook.com/linden-italian-market, 215-332-0277
To order: delivery is offered for catering orders only. Call ahead for pickup.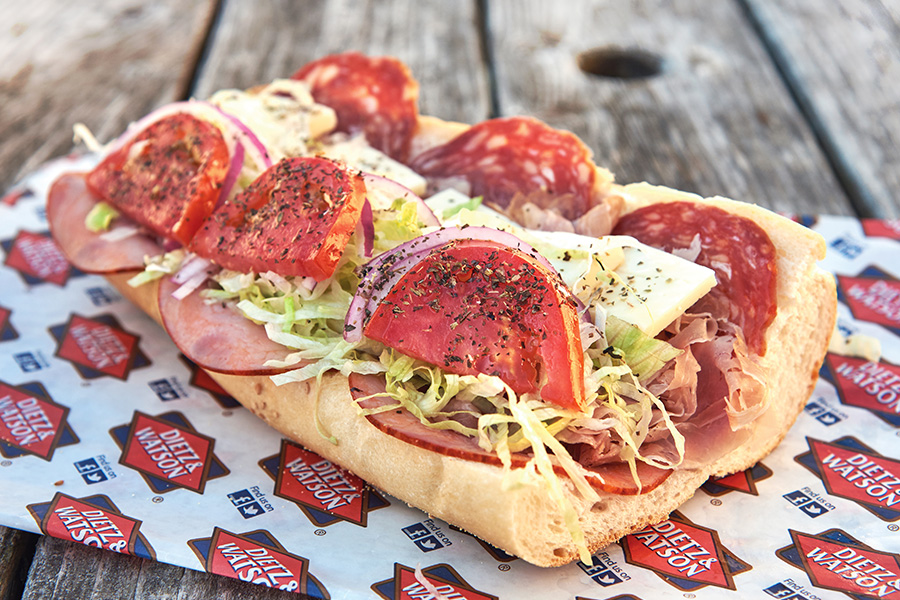 250 West Ridge Pike, Royersford
It's all about fresh preparation at Sonny's, a small mom-and-pop shop: everything's made daily and nothing's ever frozen. They show off that commitment in their signature Junkyard sandwich, which piles up two Dietz & Watson meats and six toppings: turkey, prosciutto, homemade sauteed spinach, homemade roasted peppers, fresh mozzarella, oil, vinegar, oregano and extra sharp provolone, all held together with authentic South Philly bread. For an insider tip, smear on some of their specialty Abruzze cheese spread and head out to the picnic tables for deli dining al fresco. sonnysdeli.com, 610-454-9633
To order: use Grubhub, Facebook, their website or call for takeout.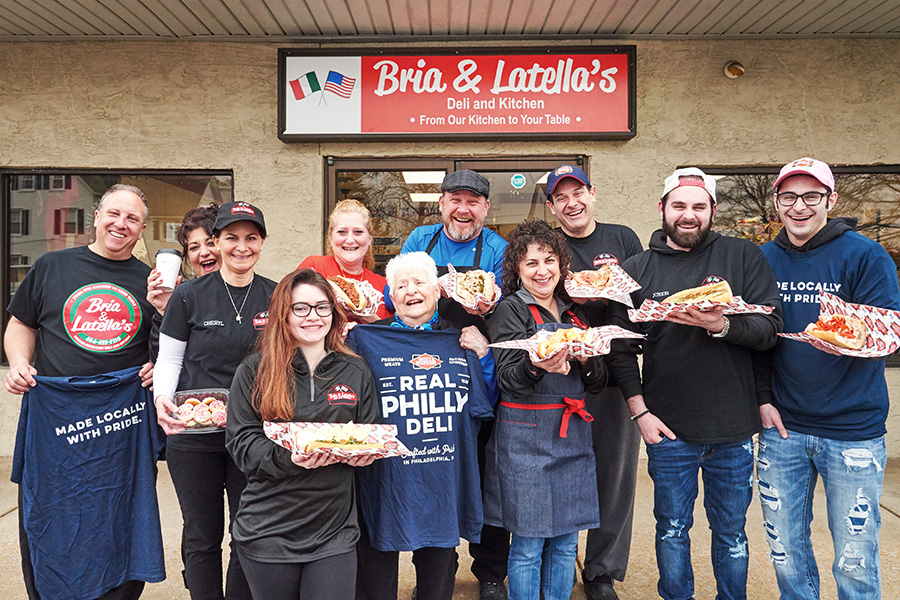 37 South Eagle Road, Havertown
We love a deli that's all about family and community, and that's Bria and Latella's. They want to get to know you when you come into their Havertown store, and most of all they want you to love the food they serve.
They accomplish that goal when you try their most popular sandwich, properly named The Boss—it's all fresh Dietz and Watson meats and cheeses, including sharp provolone, Genoa salami, hot capocolla, prosciutto and soppressata. The entire menu will make your mouth water at all the sweet, spicy and salty options. Next time you're in the suburbs, stop at Bria and Latella's to give your taste buds what they want. briaandlatella.com, 484-455-7150
To order: call ahead, but they're always happy to meet you in person.
2852 St. Vincent Street, Philadelphia
Marinucci's has been family-owned and operated since 1991, serving exclusively Dietz & Watson meats, so it's no surprise their two (!) top sandwiches on this list are loaded with classic flavors. The Nucci is an Italian hoagie with sharp provolone, roasted red peppers and prosciutto. The Brous Avenue hoagie is Dietz & Watson Italian Style Roast Pork with sharp provolone and roasted peppers. They recommend combining it with Gritty Sauce for some more intense flavor. Pick one and head to their outdoor patio at the back of the deli, decked out in D&W umbrellas and tables for the ultimate Philly deli experience. facebook.com/marinuccis, 215-333-3354
To order: check them out on Grubhub, Doordash, Easy Cater, Facebook or their website, or just order by phone.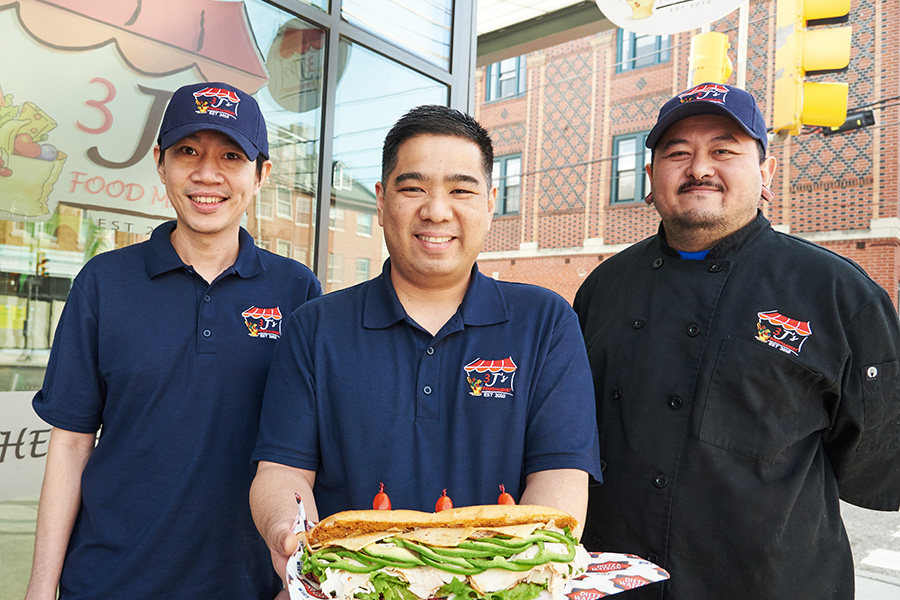 1140 Shackamaxon Street, Philadelphia
801 North 2nd Street, Philadelphia
3J's is always keeping things interesting with a wide variety of bites, specialty groceries and drinks. Make it spicy with a Korean Bulgogi hoagie, or try a twist on a classic reuben with their signature 3J beef hoagie, with Dietz & Watson roast beef, corned beef and pastrami, plus Swiss cheese, Russian dressing and your choice of veggies. 3jsmarket.com, 215-279-7488
To order: use Grubhub, Doordash, Caviar or Ubereats. Try their touchscreen kiosks to order in store
341 Dartmouth Avenue, Swarthmore
The Co-Op captures the spirit of what it means to be a Philly deli: a community-owned store, they're dedicated to providing fresh food—from seafood to produce to baked goods—at an affordable price. But they're not on this list just for the goodwill: the sandwiches, featuring Dietz & Watson, are pretty incredible too. Try the Big Gus: it's turkey, Genoa salami, provolone, lettuce, tomatoes, onions, and balsamic vinaigrette dressing on a long roll. Plus, every month they have a new, consistently tasty sandwich to try: recent options include "Pig in a Beret," "Pollo on the Port," and more. swarthmore.coop, 610-543-9805
To Order: try their home delivery and curbside service every Tuesday and Thursday. You can also place a pickup order online.
The Real Philly Deli Program is Dietz & Watson's endeavor to keep Philly fed like family during an uncertain time. Check out the full list of participating delis here and show your support by ordering an incredible hoagie today. Follow @dietzandwatson on Instagram for updates on your favorite delis, meats and cheeses.
This is a paid partnership between Dietz & Watson and Philadelphia Magazine
---