Vote Now For Your Favorite Real Philly Deli (Plus, Four You Need to Visit Today!)
Philadelphia is a hoagie town—and, man, are we proud of it. That's why Dietz & Watson is asking you to cast your votes for the best Real Philly Deli this summer. Delis from all over Philadelphia, and the tri-state area have submitted their very best hoagies and are asking you to pick your favorite. Go here to make your selection (and receive a special coupon as thanks!).
While many city delis offer up their own specials, these four are the real deal. Go on a deli crawl (like a bar crawl—but with hoagies) and visit these all-star spots. Pro tip: enjoy the local attractions while getting your fill of delicious local eats.
What to Eat & Where to Eat It
For a longstanding local favorite, visit Linden Italian Market in the East Torresdale neighborhood at 4011 Linden Avenue. Among a bevy of standout sandwiches, select The South Philly, which owner Linda Milanese says was added to the menu because she "wanted to bring some South Philly to [her] customers."
The Italian hoagie — and Real Philly Deli entry — is made with prosciutto, imported hot capicola, Genoa salami, pepper ham (all Dietz & Watson!), and imported sharp provolone. Topped with their homemade roasted peppers marinated in olive oil, garlic and fresh basil, Linden is serving up this classic on an Italian seed roll.
As you leave Linden Italian Market, visit the Glen Foerd Estate to enjoy The South Philly hoagie on their gorgeous grounds. Afterward, take a tour inside the historical mansion or check out the Linden Avenue River. Watch the boats go out, and bring the little ones to the playground or the hatcheries to go fishing.
After, head to Marinucci's Deli at 2852 Vincent Street to enjoy a Nucci to-go (it's made with Dietz & Watson peppered ham, Genoa salami, capicola and prosciutto). Tip: arrive early! Word has it that the super-popular deli starts seeing customers as early as 10:30am.
Marinucci's Deli is nearby Tacony Creek Park. Sitting on 302 acres, the park offers creek views, wildflowers and, not to mention, a stellar spot to have a picnic.
When you're done, work your way up to Roxborough for a T & F Farmers' Pride Smokin' Classic at 8101 Ridge Avenue. The hoagie consists of Dietz & Watson Black Forest Smoked Turkey, cheddar cheese, Applewood smoked bacon, tomato, lettuce, onion, oregano, salt and pepper, baked and served atop an Abruzzi roll with mayo.
"After one bite, it was clear this hoagie was going to become a new favorite," explains creator Anthony DeLizzio. "The smoky flavor from the turkey and bacon combine beautifully with the creamy, rich Peppadew cheese."
Outdoor enthusiasts are in luck at T & F Farmers' Market. Nearby, they can eat their Smokin' Classic at Wissahickon Environmental Center, also known as the "Tree House" by locals.
"It is a great place for families because children can learn about the different animals that call this area home," said Bianca DeLizzio.
Finally, go south to the Olde City Food Market at 202 Market Street to finish off the crawl with their sweet-meets-savory, Thanksgiving-worthy Old City Gobble. The panini calls for Dietz & Watson oven-roasted turkey, double cream cheddar, granny smith apples and cranberry honey mustard, grilled between an Amoroso hoagie roll.
Proud creator Edward Cho deems it "A perfect marriage of flavors."
When you're done with your sandwich, indulge with a heaping scoop of ice cream or a banana split at Franklin Fountain.
Not a bad way to spend a day, right?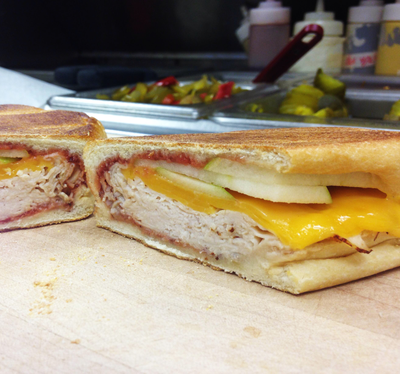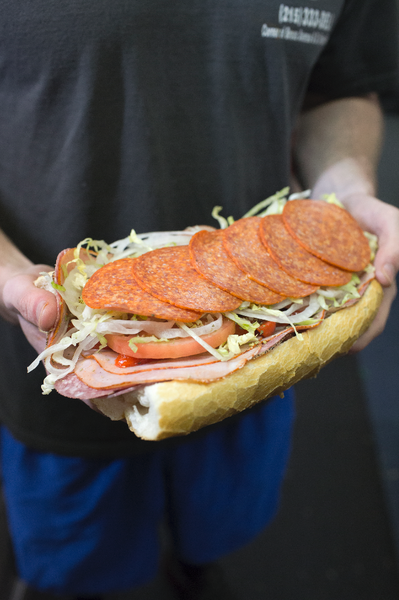 Hungry yet? Don't forget to vote for your favorite Real Philly Deli!
Remember: you have until June 30th to cast your ballot.
This is a paid partnership between Dietz & Watson and Philadelphia Magazine's City/Studio
---