Drumroll Please! The Best Real Philly Sandwich Is…
It's finally here! The moment you've been waiting for—the winner of Dietz & Watson's Real Philly Deli competition is…
Linden Italian Market with The Linden Club!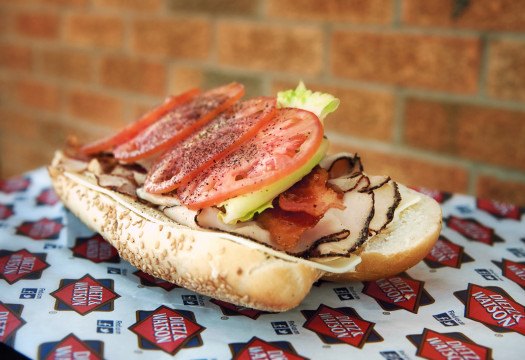 That's right—Linda Milanese and her team over at Linden Italian Market won over the hearts of local hoagie lovers and took home the highest hoagie honor for their culinary creation, The Linden Club. After months of voting and lots of tastings, the 18-year-old family-owned shop snagged the top spot—establishing the Northeast mainstay as the best of the best. The winning masterpiece consists of Dietz & Watson Black Peppered Turkey, Sharp Cheddar, bacon, romaine lettuce, dried tomato and basil pesto olive oil on top of a seeded Italian roll—crafting a beautiful flavor-packed combo that blends a turkey club with a classic Italian-style sub.
Before you run off to taste test the champion sandwich for yourself, read on to hear all about Linda and the hoagie inspiration behind the mouth-watering winning sammy:
What inspired you to create the Linden Club?
When Dietz started the Real Philly Deli competition three years ago, we came in third place with our "South Philly" sandwich. So, when it came to this year, I knew I wanted to make something really Philly. Nothing's more Philly than an Italian hoagie. I thought making an "Italian club" and adding turkey and bacon would be a fun twist.
Tell us your backstory. Is this a family business?
Now it is! But initially I bought it on a whim, 18 years ago. I was working as an office manager and my neighbor was selling the shop. I loved to cook and had a few catering jobs beforehand so I wanted to give it a shot. The shop was always a deli so we closed on the Saturday so I could
train, did inventory on Sunday and reopened on Monday. I worked by myself for the whole first week. Eighteen years later (the whole time located right next to a Wawa), I'm still here!
How is your family involved now?
All of my kids had to work in the shop once they hit eighth grade. Now, me and my oldest daughter run it together. It's great working with family.
What makes your deli "Real Philly"?
Everything is homemade. We make homemade soups and salads, meatballs, sausage, peppers and onions, long hots, and grilled chicken sandwiches. One of the biggest compliments we get is that people come in and say, "It smells like a deli." We're always cooking something.
Have you always used Dietz &Watson?
Yep, for 18 years I've exclusively used Dietz & Watson.
Hoagies are a tradition in Philly. Do you feel like you've started any of your own traditions running the shop?
Yeah, working with my daughter has been great and I have a 9-year-old grandson and 6-year-old granddaughter who love to come into the shop. The call it "mom mom's supermarket." I hope they'll want to get involved someday.
How important is your community and your customer base to you?
I've lived in this neighborhood for 33 years. I know 75 percent of the people that come in and I try to give back to the community as much as possible. Every month, six of us head out to the American Cancer Society's Hope Lodge to feed survivors and those undergoing treatment. I also do luncheons for the homeless at Angels in Motion in Kensington and support the Police Department. I'll go drop off sandwiches during big events like the Pope's visit. I really try to get involved as much as I can.
What's next now that you've won?
We're going to get t-shirts made and signs for out front with our new bragging rights! Plus, we'll be at Best of Philly showcasing the Linden club, which will be really fun.
Taste the Best Real Philly Deli Sandwich of 2018 at The Best of Philly Soiree. Snag your tickets here.
This is a paid partnership between Dietz & Watson and Philadelphia Magazine's City/Studio
---