[rev_slider alias="RealPhillyDeliLighter"]
You came. You ate hoagies.
And you picked a winner for
the 2018 Real Philly Deli Faceoff.
Congratulations to Linden Italian Market and thank you to everyone who voted!
Check out these Real Philly Delis and plan your visit to each to taste some of the best hoagies in Philadelphia.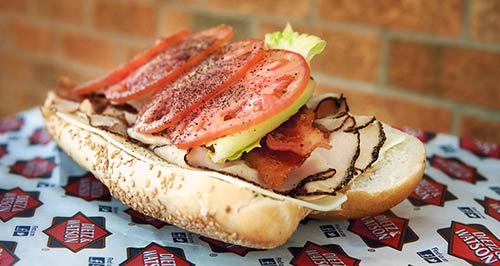 The Linden Club
Linden Italian Market
4011 Linden Ave. • Philadelphia, PA
Features a seeded roll stacked with Dietz & Watson's C-Sharp New York State Aged Cheddar and Black Pepper Turkey Breast. Topped with bacon, romaine lettuce, tomato, dried tomato, basil pesto and oil.
Real Philly Deli Directory Map
Philadelphia is one of the best sandwich cities in the world. This honor was claimed by our corner delis. They're the heart and soul of the neighborhood, run by the same families and feeding the same neighbors for years. Unpretentious and hardworking, they are Philly.