Before and After: The Drab to Dreamy Den
Dens can be a difficult space to navigate for new homeowners and leave them with a lot of questions like: Do I add in a TV? What about a desk for work from home days? What will I use the space for—reading, lounging, games, guests? Despite their lack of presence in modern homes, dens can be a great place to sit back and relax with guests or a glass of wine, without the distractions of technology. Which is exactly why this Greenville, Del. family wanted to rehab their tech-free safe haven with the help of the design team at Studio 882.
If you're looking to shed some light and love on your den, here are a few tips and tricks from the team at Studio 882 to really make your space stand out:
Be Bold
Most homeowners steer clear of color in small spaces but that's actually a misstep. Colors can add character to a room that furniture and accessories cannot. This den originally had wood-paneled walls. Instead of restaining them a white-wash or inoffensive stain, the designers at Studio 882 painted the panels with Benjamin Moore's Hale Navy. The tone adds a luxe but livable air to the room and gives off the dramatic effect the couple was looking for. Now, it's a great space for good conversation with guests, instead of a lackluster living room left unused.
Look Up
One of the least thought about portions of a room is the ceiling. Most people don't notice a ceiling unless there's something wrong—leaking, peeling paint, an outdated lighting fixture, etc.—but it's actually where playful, personalized details can really shine. To make the biggest impact in a small space, Studio 882 opted to install an ornamental plaster ceiling system from Hyde Park Mouldings in New York City. Take note—they also left the ceiling white, to make it pop against the dark navy walls. Ceiling details seal the deal on this room's cool and cozy look.
Go with Your Gut
Or your heart! The homeowners had their hearts set on the Chinoiserie Chairs from Baker's Milling Road Collection but they were discontinued. Instead of giving up, they stuck with their gut and were determined to make it happen. When there is a will, there is a way. With the help of the team at Studio 882, they got in touch with Baker's and convinced them to make just 4 more chairs! Thankfully, they obliged and now the couple can happily sit in comfort for years to come.
Add Personality
Finishing touches are as important as large pieces of furniture or paint. They add the most personality to the space with the easiest effort. By choosing a statement-making coffee table, the couple centered the space and gained a conversation piece all in one. They also decided to shop their house before buying new pieces and wound up transporting the rug in from another room in their home. Don't be afraid to scour your signature pieces. They might be just the fit you were looking for in your new space.
Ask for Help!
If design expertise isn't your thing, don't be afraid to ask for help! The masterminds at Studio 882 have a solution for every space. Whether you want everything wrapped up in a weekend or are prepping for an extensive remodel, Studio 882 has the resources and team to make your dream home a reality.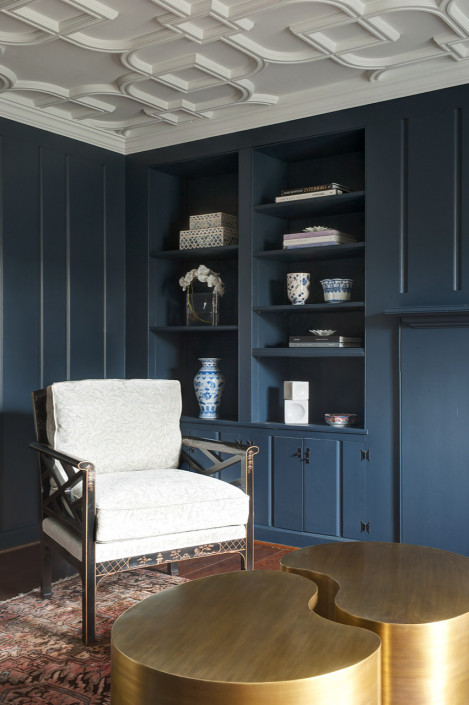 For more home inspiration, visit Studio 882 at 101 Applied Bank Blvd, in Glen Mills, or call 610-314-8820 for a design consultation.
This is a paid partnership between Studio 882 and Philadelphia Magazine's City/Studio
---