7 Ways to Boost Your Curb Appeal Before the Holidays
It probably feels like it was just yesterday you were soaking up the sun at the Jersey shore, but before you know, you'll be basting the turkey while friends and family flood every inch of your home. Yikes, that came up quick! Feeling like your home isn't quite guest-ready yet? Relax, you've got time and we've got a few ideas to make your home feel the most inviting it's ever been.
From small tweaks to sizable changes, there are hundreds of ways to make a dramatic difference to your house, even before your guests pull into the driveway. Let's face it—first impressions matter (especially with the in-laws!) so make yours a good one with these 7 essential upgrades:
Dress Up Your Door
Front doors are traditionally the focal point of a home's curb appeal and the first glimpse guests get into the style and feel of your space. Craft a warm and inviting entrance for guests by opting for a vibrant variation from the usual hardwood door. For bonus points, add a seasonally-inspired wreath or decoration.
Swap Out Your Hardware

Small tweaks like new house numbers, a mounted mailbox and door knobs make a huge difference—especially when yours may be looking a little long in the tooth after years of wear and tear. Spruce things up and add a little extra shine with bronze-finishes, mixed metals and contemporary brushed nickels.
Refresh Your Window Frames
Windows are one of the most underrated aspects of a home. Not only do they serve the functional purpose of letting in light and air, they also add interest and style to the overall look and feel of a home. To make the biggest impact and add a touch of modern sophistication, consider swapping your white window frames for black ones. Not ready for a color swap? Work on improving your home's eco status instead by replacing your old windows with energy efficient ones, which can help . They can increase the energy efficiency of your home and help with insulation—keeping your space warm and cozy during the winter months.
Add Symmetrical Accents

Adding symmetrical lights, potted plants, décor and more on either side of your door frame creates a clean, pleasing to the eye accent to every home. Try mounted sconces to add extra light and illuminate your guests' way to your front door, or seasonal plants to add an extra touch of warmth and thoughtfulness to your entryway.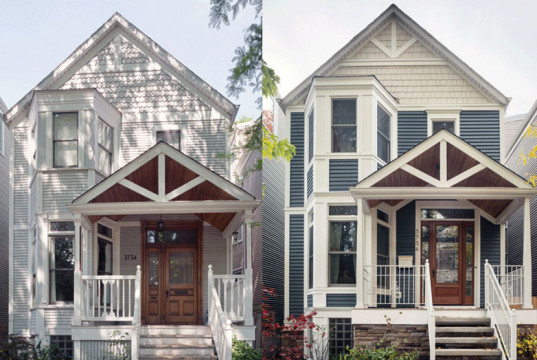 Restore Your Siding

Siding replacements are a bigger project to tackle and something you've probably been putting on the back burner for a while now. But it's also the most impactful upgrade you can make to your home's exterior and well worth the time and investment. With a switch of your home's color or texture, it can feel like a whole new house (without any house hunting or moving involved!). Plus, investing in a new look will benefit more than just your home's aesthetics. Choosing siding made from fiber cement allows you to have the attractive look and feel of wood without the worry of weather, insects and rot.
Switch to Sliding Glass Doors

Opening your home up to the outdoors can make a cramped household feel spacious. The easiest way? Add sleek sliding glass doors that seamlessly allow your guests to go in-and-out with ease. Not only will it encourage folks to head outdoors, it will give those who'd prefer to stay inside a glimpse of the great outdoors and make your space feel larger.
Edge Walkways and Driveways

It might sound simple but adding a few stones lining your walkway and driveway can transform a dated pathway into a clean and cozy route to your front door, encouraging and welcoming guests indoors.

Build your home renovation project and receive an instant price at renoviso.com. Renoviso's team of personal project consultants are always available at (856) 354-7113
This is a paid partnership between Renoviso and Philadelphia Magazine
---