Franklin Mills Is Being Renamed, Renovated
As part of a "multimillion dollar" renovation, Franklin Mills Mall is getting a whole new look — and name.
---
Say goodbye to the Franklin Mills Mall.
As part of a "multimillion dollar" renovation, Franklin Mills Mall's owner is renaming Northeast Philly's outlet-shopping mecca Philadelphia Mills. The largest mall in the city has already removed the "Franklin Mills" sign from the main entrance. The mall's owners, Simon Property Group, say a dozen new retail and dining options will open over the life of the renovation.
"Philadelphia Mills is an important part of the city's retail history and we look forward to working with the Mills as this incredible asset is transformed and repositioned for a bright future," City of Philadelphia Deputy Mayor Alan Greenberger said in a release. This is such a big deal even the city government is weighing in!
Renovation on the exterior has already begun and is expected to finish this year. The grand re-opening is scheduled for fall of 2015, after interior renovations are finished. In addition to a visual refresh, Simon says the mall is adding fancy new restrooms, free Wi-Fi and charging stations.
---
Renderings of the new Philadelphia Mills
Courtesy Philadelphia Mills

Courtesy Philadelphia Mills
Courtesy Philadelphia Mills
Courtesy Philadelphia Mills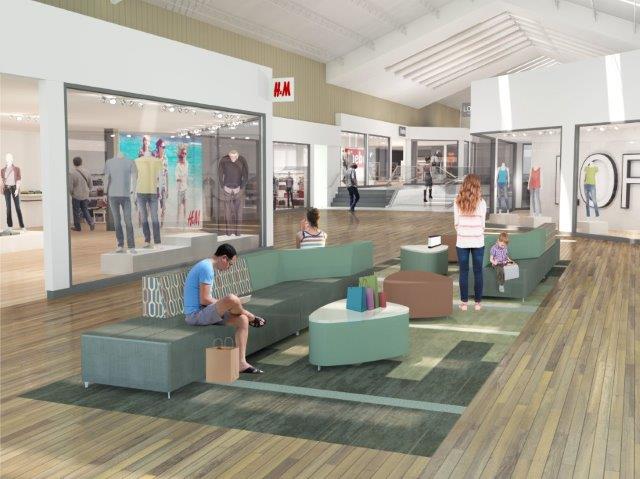 ---
Mills opened with great fanfare in 1989 on the site of the old Liberty Bell Park Racetrack. CBS called it "the mall of the future." Milton Glaser — the inventor of the "I ♥ NY" logo, designer of an iconic Bob Dylan poster and co-founder of New York magazine — designed the mall's logo and Philadelphia sports-themed food court.
But it had enough money troubles two years in that Mayor Wilson Goode wanted to declare the area blighted so the mall could get a tax break. There was a perception in the area that Franklin Mills caused a huge uptick in crime, particularly car thefts. "Before its opening in July [1989]," the Inquirer wrote in 1990, "many residents thought the 49th Street Galleria would become a drug-ridden hangout for delinquent teenagers who would mug and intimidate shoppers." The mall kept this bad reputation throughout its existence, and lived up to it at times: Just last year, there was stun gun fight on Black Friday.
It attracted 18 million shoppers a year in the mid-1990s, calling itself "the most popular tourist attraction in Pennsylvania." Bus tours came from up and down the eastern seaboard. Here's a 1998 notice for the fifth-annual overnight bus trip from Connecticut.
As outlet shopping sprouted up all over, the mall tried going upscale and oriented itself as a more conventional mall. It has a reputation as a dump. But it's underrated: As Shoppist editor Emily Goulet pointed out last May, there were actually reasons to go to the mall, including Saks and Neiman Marcus outlets. We'll see if the new Philadelphia Mills attracts local shoppers turned off by the mall previously.
---