Your First Look at Joan Shepp Before It Opens This Weekend
It's heeeere.
---
If I leave our office building, turn right and then make an immediate left down an alleyway, I can cut through two parking lots and be at Joan Shepp's new location in exactly two minutes. I discovered this yesterday evening when I set out for the store's private press preview, an exclusive sneak peek at the space before it officially opens to the public this Saturday. After a much-publicized decision to leave its prime Walnut Street spot, and then it's short-lived tenure at Liberty Place, Joan Shepp announced it was moving into the rundown space at 1811 Chestnut Street—the former site of a mattress store—to plenty of raised eyebrows. They were supposed to open in April. Then, we heard, possibly May. But I can tell you after last night's walk-through: It was worth the wait.
The place doesn't look massive when you enter it. It's three floors—all gleaming, bright, buffed-to-a-shine white. The non-color was a smart move: Shepp's mostly black collection cuts a modern contrast against it, making each rack of clothing, all of them spaced widely apart, look more like art in a gallery setting than clothes fit to purchase. But you'll want to purchase them all, perhaps even more than you did at Walnut Street, and definitely more than you did at Liberty Place. This is because here the clothes stand out as what they are: investment pieces by the designers who make the sort of clothes you'll want to wear — or at least have hanging in your closet for your granddaughters — thirty years from now.
A beefed-up men's section takes up the smallish third floor. This is where men's style blogger Sabir Peele and I drooled over a floral-print Dries jacket. Walk down to the middle floor—really more of just a landing area—and you get a view of the first-floor shoe lounge, where pairs perch like sculptures on tall white cubes. A wall of windows gives a view of the back garden (where, last night, the beautiful owner of La Crêperie Café was serving the most delicious crêpes).
But wander back; the first floor sprawls out into a huge back room, with several smaller offshoots. Here you'll find the women's collection, peppered with jewelry cases featuring Eddie Borgo, John Wind and more. Dressing rooms are large and set away from the main shopping floor; racks are divided up by designer: Moschino, Rick Owens, The Row, 3.1 Phillip Lim. It's luxury shopping at its finest — the sort of store that makes you feel like you're in Paris — and a smart, edgier foil to Boyds just across the street.
See pics of the store below, and see it for yourself at the opening party this Saturday, from 10am to 6pm.
---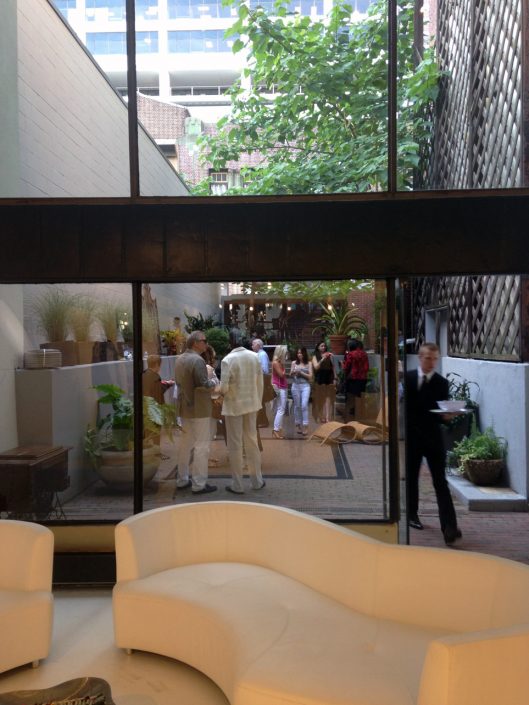 ---
---