Living in Narberth: A Neighborhood Guide
The wedge-shaped borough offers a tranquil environment and family-friendly small-town feel unmatched anywhere else on the Main Line.
---
Getting off the SEPTA Regional Rail train in Narberth or turning off busy Montgomery Avenue onto one of its far quieter streets, one might be forgiven for thinking one had passed through a time warp and landed in the 1950s.
The kind of small-town friendliness and tranquility many identify with that halcyon decade survives intact and unaltered in this very walkable little borough surrounded by Lower Merion Township.
It has all the things we associate with those times: Fourth of July parades, community celebrations, convenient parks, a compact, small-scale downtown. It even still has its own movie theater and neighborhood-scale supermarket.
Narberth has been marching to the beat of its own drummer since it was created by a gentleman named Edward R. Price in 1881. Price was one of the descendants of an early settler in the "Welsh Barony," Edward Rees, who arrived on these shores in 1683. Price established the settlement of Elm on his 100-acre farm in 1881 as a Quaker-friendly community. Elm changed its name to Narberth in 1893 and incorporated as a borough two years after that.
It should come as no surprise, perhaps, that a town first settled by Friends remains such a friendly place. Helping keep it that way is a large contingent of residents who have lived here all their lives and cherish it deeply.
Yet thanks to its location, Narberth residents also enjoy easy access to all the best the city has to offer whenever they feel like it. But if they don't feel like accessing those things all that often, well, they're forgiven — they have so much to enjoy close to home.
---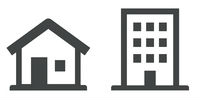 Narberth Housing Prices at a Glance
Median single-family house value: $482,300 (2.2% increase in the past year, 11.7% increase in the past five years)
Median condo/co-op value: $185,100*
Median monthly rent: $1,943
*figure is for zip code 19072, which includes Penn Valley
---
What You Can Buy in Narberth
Truly Unique Residence in a Converted Church
316 N. Essex Ave. | 4 beds, 3 baths, 5,408 square feet, $1,585,000
Totally Rebuilt Bungalow with Modern Style Just Steps from the Town Center
101 Windsor Ave. | 3 beds, 2 full, 1 half baths, 1,619 square feet, $675,000
Vintage 1900 Twin with Wraparound Porch and Updated Interior
106 Merion Ave. | 5 beds, 1 bath, 1,337 square feet, $414,900
---

Public Transportation in Narberth
SEPTA Regional Rail: Narberth station, Paoli/Thorndale Line
SEPTA Bus Routes: 44, on Montgomery Avenue, the borough's northern border; 44 via Narberth, on Essex, Windsor (eastbound), Iona (eastbound) and Haverford avenues
---
Food Shopping in Narberth
Supermarkets: American Family Super Market, 230 Haverford Ave.; Acme, 829 Montgomery Ave.
Specialty food stores: The Cheese Company, 217 Haverford Ave.
---
What a Real Estate Agent Says About Narberth
"The Borough of Narberth was incorporated in 1895 and has certainly seen major changes in the last 124 years. It is situated within the borders of Lower Merion Township but has its own government, police force, and taxing authority, but is part of the Lower Merion School District.
"Prior to World War II, it was primarily a blue-collar town with many of the residents working for the railroad. After the war, it saw an influx of new residents from the city of Philadelphia and the Pennsylvania coal regions.
"What attracted those families to the borough is what still attracts the current buyers. Some of the attractions:
Walkability to the town center for shopping, dining, commuter train line to Center City and playground.
Excellent Lower Merion school system.
Organized activities run by volunteers, such as the Memorial Day Parade, July 4th fireworks, Halloween Parade, Little League baseball, Summer League Basketball and many more events.
"It is truly a family-oriented town where neighbors help and care for each other. Housing prices range from $200,000 to $1,500,000, with the average price being right around $500,000.
"Narberth was a well-kept secret for almost 100 years, but for better or worse, it has been discovered, and hopefully the new residents will continue the volunteerism and support of the local businesses as their predecessors did."
—John Duffy, Duffy Real Estate, Inc., based in Narberth since 1978
---
Local Color
Oh say, can you see? For an old-fashioned, small-town Fourth of July celebration, there's no better place to be on the Main Line than Narberth. The earliest record of a July Fourth observance in the borough dates to 1903, and the borough started an official celebration in 1942 as a wartime morale-booster. Since 1972, the all-volunteer Narberth Fourth of July Committee has put on that celebration, which includes a carnival and picnic during the day and one of the best fireworks shows on the Main Line at night.
The Fourth of July Committee keeps itself busy with other activities for Narberth residents the rest of the year as well. There's an Easter egg hunt in the spring, a summer concert series, a Halloween parade, Santa's annual visit to the Narberth train station, and youth sports leagues, to name a few.
---
Did You Know?
Narberth calls itself "a big little town," and as a borough separate from surrounding Lower Merion Township, it has its own mayor and council, its own police force and its own volunteer fire company. It even had its own school district back in the 1960s, when Pennsylvania had more than 2,200 separate school districts. As part of a wave of consolidations later that decade, Narberth opted to join the Lower Merion School District, and today, Narberth children can attend their choice of two grade schools, two middle schools and either of the highly regarded district's two high schools. The old Narberth Elementary School, however, still stands. Built in 1961-62, it now houses daycare and early childhood education facilities.
House price and rent data from Zillow Home Value Index and Zillow Rent Index, July 2019
---
---