Living in Ardmore: A Neighborhood Guide
The oldest, largest and liveliest of the Main Line's "downtowns" also serves as the anchor of its most diverse residential community.
---
For decades, Ardmore has been known as "The Main Street of the Main Line." The nickname fits like a glove: it's home to both the Main Line's largest and busiest business district and to the government of Lower Merion Township, the Main Line's most populous jurisdiction and the only one to have all of its territory fall within it.
When it was first settled in 1853, the community was known as "Athensville." It got its present name from the Pennsylvania Railroad, which renamed its station there, and by extension the community, in 1873.
Ardmore is home to one of the nation's first planned shopping centers — Suburban Square, begun in 1929 — and to the oldest and largest African-American community on the Main Line. Many of Ardmore's civic institiutions and public amenities, including its post office, its library, a skating rink, a swimming pool and lighted tennis and basketball courts, lie within the boundaries of this historic black community.
And yet, the presence of all these old established institutions notwithstanding, there's a perpetually youthful vibe to the scene along Lancaster Avenue, the "Main Street of the Main Line's" Main Street. That could have something to do with the live music concerts at the legendary Ardmore Music Hall, or maybe it's because of the breweries and restaurants that have settled in the area of late. Regardless, whether you're young or young at heart, you'll find something to refresh your spirits here.
---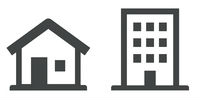 Ardmore Housing Prices at a Glance
Median single-family house value: $336,000
Median condo value: $217,000
Median monthly rent: $1,970
---
What You Can Buy in Ardmore
A Chance to Live like a du Pont
300 Glenn Rd. | 5 beds, 4 full, 1 half baths, 5,963 square feet, $1,799,000
A Condo with Character in a Restored Historic Building
115 E. Montgomery Ave. #3B | 2 beds, 2 full, 1 half baths, 1,860 square feet, $949,000
Handsome Dutch Colonial Twin with Updated Kitchen
141 Drexel Rd. | 5 beds, 1 full, 1 half baths, 1,539 square feet, $390,000
---

Public Transportation in Ardmore
SEPTA Regional Rail: Ardmore station, Paoli/Thorndale Line
SEPTA Norristown High-Speed Line: Ardmore Avenue station
SEPTA Bus Routes: 44 (express to Center City), 103 (to 69th Street Terminal via Ardmore Busway), 105 (to Rosemont and 69th Street Terminal via Lancaster Avenue and Overbrook), 106 (to 69th Street Terminal via Argyle and Haverford roads; some runs continue on to Paoli via Lancaster Avenue)
---
Food Shopping in Ardmore
Farmers' markets: Ardmore Farmers Market, Suburban Square
Supermarkets: Acme, 601 W. Lancaster Ave., Bryn Mawr (outside neighborhood); Giant, 50 E. Wynnewood Rd., Wynnewood (outside neighborhood); Whole Foods Market, 15 E. Wynnewood Rd., Wynnewood (outside neighborhood)
Specialty grocers: Maido! A Marketplace of Japan, 5 E. Lancaster Ave.; Trader Joe's, 112 Coulter Ave., Suburban Square
---
What A Real Estate Agent Says About Ardmore
"Ardmore is the perfect Philadelphia suburb. At just nine miles from Center City, nestled between Bryn Mawr and Wynnewood, you get all the charm and convenience of the Main Line combined with the energy of young new developments. In a lot of ways, Ardmore is a great example of the "new generation" of Philadelphians and Main Liners, looking for community and endless things to do: breweries, retail shops, music venues, farmer's markets and restaurants. And the variety of the housing options reflect the diversity of the town—from a refurbished one-bedroom for the young professional to the brand new five-bedroom in a great school district for a single family."
—Mariellen Weaver, The Weaver Dream Team, Keller Williams Main Line Realty
---
Local Color
There's a reason we named Ardmore the "Best Suburban Nightlife Scene" this year, and one of the contributors to the honor is Tired Hands Brewing Company. The award-winning purveyor of "strange and beautiful beers" lets patrons dine in the middle of the brewery at their "fermentaria" (35 Cricket Terrace) or chow down in a less industrial setting at their brew café (16 Ardmore Ave.) Chances are you'll run into the crew at the annual Restaurant Week sponsored by the local business improvement district, the Ardmore Initiative, as well.
---
Did You Know?
Ardmore is one of two Main Line communities whose names mean roughly the same thing. Bryn Mawr, a few miles further out on Lancaster Avenue, also got its name from the Pennsylvania Railroad too; the railroad chose a Welsh term meaning "Big Hill." "Ardmore" comes from the Irish (Ard Mór) and Scottish Gaelic (Àird Mhòr) words meaning "great height."
House price and rent data from Zillow Home Value Index and Trulia, July 2018
---
---