Living in Fishtown: A Neighborhood Guide
One of Kensington's oldest neighborhoods has gotten new life as younger residents swim upstream from Center City.
---
Fishtown got its name because of fish, of course.
In the 1730s, the Germans and Englishmen who poured into the newly created town of Kensington set about turning it into an industrial powerhouse. The first of what would be many industries to take root and flourish in the Philadelphia suburb were both maritime ones: Shipbuilding and fishing.
The fishing industry took off here because of the abundant stocks of shad that made their way up the Delaware River to spawn each year. A settlement grew around the place near Gunnar's Run where the fishermen set out in their boats, and that little corner of Kensington became known as Fishtown.
The fish made Fishtown a working-class community, and it remained working-class — first those Germans and Englishmen, later Irish and Polish — from its founding up until very recently, even after the industry scared the fish away, then left itself. And after the industry left, the neighborhood became insular in a way that led some Philadelphians to avoid it.
That Fishtown remains only in vestigial form. Its three Catholic churches survive, for instance, but they now combine to form a single parish. On top of that vestigial Fishtown, new, younger arrivals, including some from outside the region, have built a livelier, more welcoming neighborhood on top of the one inhabited by many of the old-timers.
This new, hip Fishtown boasts brand-new half-million-dollar homes on its narrow rowhouse-lined streets. Its denizens have launched beer gardens, artisan butcher shops, coffee roasters, whiskey bars, music venues, comic-book emporia and vintage furniture boutiques, to name a few of the scores of new businesses that now dot Fishtown's two main commercial thoroughfares.
It all got to the point where, a year ago, a writer in Forbes called it "America's hottest new neighborhood." The torrid pace of new construction has shown no signs of slowing down since then, either. This old neighborhood just to Center City's northeast continues to make itself new. It seems that even the fish have noticed, for the shad are back in the Delaware too.
---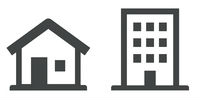 Fishtown Housing Prices at a Glance
Median single-family house value: $280,000
Median condo/co-op value: $346,900
Median monthly rent: $1,511
---
What You Can Buy in Fishtown
Industrial-Chic Loft in Iconic Memphis Flats
1714 Memphis St. #310 | 3 beds, 2 baths, 1,541 square feet, $469,000
New Construction Bi-Level Condo Across from Penn Treaty Park
319 E. Allen St. #4 | 2 beds, 1 full, 1 half baths 1,200 square feet, $389,900
Brand-New Townhouse with Soaring Living Room
2321 Gaul St. | 3 beds, 2 full, 1 half baths, 2,150 square feet, $595,900
---

Public Transportation in Fishtown
SEPTA Market-Frankford Line: Girard and Berks stations
SEPTA Trolley Route: 15, on Girard Avenue
SEPTA Bus Routes: 5, on Frankford Avenue; 25, northbound on Frankford Avenue, Norris Street, and Cedar Street, and southbound on Memphis Street, Palmer Street and Frankford Avenue; 43, on Delaware Avenue (some runs terminate at Penn Treaty Park); 89, westbound on Norris Street and Susquehanna Avenue, and eastbound on Frankford Avenue, Norris Street, Cedar Street and York Street
---
Food Shopping in Fishtown
Supermarkets: Acme, 180 W. Girard Ave., Northern Liberties, one long block west of neighborhood; The Richmond Shops IGA, Port Richmond Village Shopping Center, 2497 Aramingo Ave., just outside neighborhood
Local grocers: Anne's Place, 460 Belgrade St.; D & C Grocery, 543 E. Thompson St.; Dan's Fresh Meats, 2000 Frankford Ave.; Fishtown Market, 2328 E. Norris St.; Garrison's Market, 2315 Memphis St.; Gomez Grocery Store, 2572 Frankford Ave.; Norris Grocery, 2601 E. Norris St.; Riverwards Produce, 2200 E. Norris St.; Te Jada Grocery, 2036 E. York St.
Specialty grocers: Castellino's Italian Market, 1255 E. Palmer St.
---
What a Real Estate Agent Says About Fishtown
"Fishtown. A neighborhood named by Charles Dickens? [Not really; the term predates Dickens. —ed.] An old-school Philly blue-collar neighborhood? One of the hottest residential neighborhoods in Philly? A neighborhood that definitely does not follow William Penn's simple perpendicular street grid? A neighborhood for young families, hipsters, Yuppies, developers—all of these? One thing Fishtown definitely has become is Philly's premier dining destination 'hood. (Or is that Passyunk Square, Rittenhouse, Midtown Village? The competition is stellar).
When I got into the business in 2001, Fishtown was far-off up-and-coming. Today, some properties listed for sale in adjoining neighborhoods claim they are in Fishtown. (Like the corner of Kensington and Lehigh — really?) And there are a lot of properties to sell in actual Fishtown. Lots of new construction, rehabs, condos, loft condos, and even some resales or fixer-uppers mixed-in As of June 14, there were over 100 active listings, ranging in price between $160,000 and $1.4 million and averaging in the $450,000 to $470,000 range. And in the previous six months, the average sale price for the 160+ sales was in the $370,000 to $400,000 range with generally quick sales at or around (or above) full price. The food scene, nightlife, and housing market are all happening in Fishtown.
—Jeff "City" Block, Compass
---
Local Color
Like its next-door neighbors Northern Liberties and East Kensington, Fishtown throws an annual festival where the locals invite the city to come check out the place, see what makes it special, share the local love and have fun. Fishtown's entry in this derby is the annual River City Festival, a major fundraiser for its sponsor, the Fishtown Neighbors Association. After an 11-year run during which the festival grew beyond its organizers' wildest dreams, the festival is taking 2019 off while the organizers determine how to make it an even better and more enjoyable event for everyone. They'll be back in 2020, though, and we can't wait to see what the retooled festival will look like.
---
Did You Know?
Along with the influx of newer, younger residents has come a panoply of new restaurants that have turned Fishtown into one of the city's premier dining destinations. Among those newcomers: Pizzeria Beddia, acclaimed as the best pizzeria in the country when the original takeout shop opened; Kensington Quarters (above), a new American restaurant where you can also buy the cuts of meat you just dined on; and Suraya, an adventurous Lebanese restaurant and market that was Philly Mag's Best New Restaurant of 2018. In addition to these three, all of which you will find on our 50 Best Restaurants list, you will find dozens of other great places to eat and drink, offering fare from plain to fancy and atmosphere from casual to classy.
Updated Aug. 10th, 11:02 a.m., to correct the historical section.
House price and rent data from Zillow Home Value Index and Zillow Rent Index, June 2019
---
---