Living in Northern Liberties: A Neighborhood Guide
The city's original "bonus room" has come into its own once again.
---
Northern Liberties began with America's first two-for-one deal.
In order to entice settlers to take up residence in his new colony of Pennsylvania, William Penn promised early purchasers of land two acres of lots in his city of Philadelphia for every 100 they bought in the country. The only problem was, he hadn't given Philadelphia enough land to fulfill that promise.
Thus were born the "liberty lands" to the north and west of the city. The land in this territory enabled Penn to make good on his offer. The lands to the west became today's West Philadelphia. Those to the north ended up as a score of neighborhoods that comprise much of North Philadelphia as far as Frankford Creek. Northern Liberties is the only one of those neighborhoods whose name hearkens back to its origins.
The neighborhood became a hotbed of industry quickly as mills, breweries, tanneries and other manufacturing operations that would have been considered noxious in the city set up shop there in the late 18th and early 19th centuries. Immigrants from central and eastern Europe followed in droves.
By the end of the 1960s, though, many of those factories had closed up shop, and the last of them — the massive Schmidt's brewery — gave up the ghost in 1987.
For years afterward, the area remained a partial wasteland of abandoned factories and warehouses. That didn't keep real estate promoters from talking it up as the city's "next hot neighborhood" in an era when Philly's overall fortunes were continuing to cool. Then, one day, while it seems no one was looking, it became just that. New houses began to sprout where old factories once stood, joining the neighborhood's existing quirky housing stock. Restaurants, bars and shops began to reanimate the old market square along North Second Street. The creation of the Piazza out of a chunk of the old Schmidt's brewery site in 2009 confirmed to many that Northern Liberties' days as a "hot neighborhood" had indeed arrived.
Today, with almost all of it redeveloped, "NoLibs" is no longer hot. Instead, it's cool.
---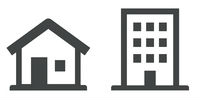 Northern Liberties Housing Prices at a Glance
Median single-family house value: $451,800
Median condominium value: $358,500
Median monthly rent: $1,903
---
What You Can Buy in Northern Liberties
Luxurious Extra-Wide Townhouse with Eurostyle Kitchen and Large Deck
624 N. Bodine St. | 5 beds, 3 full, 2 half baths, 5,565 square feet, $1,975,000
37-Foot-Wide Modern Townhouse with Split-Level Main Floor
455 Reno St. | 4 beds, 2 full, 2 half baths, 3,100 square feet, $699,000
Attractive Loft Condo in Converted Warehouse
813 N. Hancock St. #4 | 1 bed, 1 bath, 835 square feet, $300,000
---

Public Transportation in Northern Liberties
SEPTA Market-Frankford Line: Spring Garden and Girard stations
SEPTA Trolley Routes: 15, on Girard Avenue
SEPTA Bus Routes: 5, on Girard Avenue, 2nd and 3rd streets; 43, on Spring Garden Street; 57, on 3rd and 4th streets
---
Food Shopping in Northern Liberties
Supermarkets: Acme, 180 W. Girard Ave.
Specialty grocers: Al-Rousan Halal Food Market, 126 W. Girard Ave.; Jerusalem Corner Store (Middle Eastern specialty grocer), 115 W. Girard Ave.; New Spring Garden Market (Asian specialty grocer), 400 Spring Garden St.; Penn Herb Co. Ltd., 2nd and Green streets (just north of Spring Garden Street)
Local grocers: Palm Tree Market, 717 N. 2nd St.; 3J's Food Market, 801 N. 2nd St.
---
What a Real Estate Agent Says About Northern Liberties
"We've fondly lived in Northern Liberties, Philadelphia since 2004-05. To us, it was love at first sight because even back then, Northern Liberties had a vibrant and strong personality all of its own, completely unique compared to the surrounding comparable growth districts such as the Art Museum area, Queen Village, and Graduate Hospital. It was and is a harbinger of artists, industry, entrepreneurs, and at the very core a strong neighborhood association, community and neighborhood.
"As real estate professionals, my wife Stephanie and I saw Northern Liberties teeming with endless growth potential and happiness for homeowners like ourselves. Plus it had the 'secret ingredient' to a successful and thriving neighborhood: its commercial corridors, Spring Garden Street, Girard Avenue, and our favorite, North 2nd Street. Lacking in almost nothing, today Northern Liberties is a place where everyone can enjoy the urban terrain, green spaces, dog parks, shopping, dining, fitness, wellness establishments, entertainment, and convenience to Center City.
"Affordability is what drove the initial inhabitants to Northern Liberties, and with tremendous growth, new construction surged past the million-dollar mark. Even with that, Northern Liberties also still offers more affordable living options such as condos and rentals in addition to all the different housing inventory of resales of rowhomes ranging in size which provides its own level of diversification. And with the pricing increases, this has allowed the adjacent neighborhoods of Fishtown and South Kensington to become some of the highest appreciating zipcodes in the city the last few years as the lifestyles are starting to merge between all of these areas."
—Christopher Somers, The Somers Team, Keller Williams Philadelphia
---
Local Color
Not everyone in Northern Liberties is here for the beer, but suds play an outsized role in the neighborhood's history. A historical marker near the site of the former Ortlieb brewery marks the place where the first lager beer in America was brewed, and for decades, the largest industrial facility in the neighborhood was the Christian Schmidt Brewing Company. The huge complex slowly decayed for 15 years after it shut down in 1987 before developer Bart Blatstein bought it at a sheriff's sale in 2002 and tore it down.
Today, the former brewery site houses a shopping center and The Piazza, a mixed-use development featuring three apartment buildings and an office tower, all with street-level retail, facing an interior public commons modeled after Rome's Piazza Navona. Post Brothers, its new owners, have plans to turn the commons into a mix of amenities for the apartment-dwellers and public gathering space.
Meanwhile, beer lovers have their choice of places to imbibe, from NoLibs institution Standard Tap (2nd and Brown streets) to Yards Brewing Company's brewery and tasting room at 5th and Spring Garden streets at the neighborhood's southern edge.
---
Did You Know?
You can still find "liberty lands" in Northern Liberties. They're not house lots, though — instead, they form Liberty Lands Park, one of the neighborhood's most popular public assets. Privately maintained by the neighborhood's civic organization, the Northern Liberties Neighbors Association, the park features a playground, community gardens, landscaped flower beds and even a rain garden installed by the city Water Department (photo above). Open from dawn to dusk, the park also hosts a variety of community events from farmers' markets to film screenings.
House price and rent data from Zillow Home Value Index and Zillow Rent Index, April 2019
---
---