Get Cozy by the Fireplace in One of These Five City Apartments for Rent
January is traditionally the coldest month of the year. These fireplace-equipped rentals should make you feel warm all over.
---
Winter officially began Dec. 21st, and while it may not quite feel like it yet, it's still a sure thing that we will get some cold weather this season, global warming be damned.
Which makes this the perfect time of year to grab a good book — or your main squeeze — and sit (or cuddle) by the warmth of the fire burning in your fireplace.
What? You don't have a fireplace in your crib? You can remedy that real quick by renting one of these five houses and apartments for rent in the city. All of these are either new or recently redone, and all of them boast at least one working fireplace. Most of them have some other goodies tossed in for your enjoyment when the weather gets better.
6xx S. 19th St., Graduate Hospital (above) | 1 bed, 1 bath, 850 square feet, $1,795 per month plus utilities and half the water bill. No pets or smoking.
This attractive apartment occupies the top two floors of a compact rowhouse not far from the former Graduate Hospital. It's been nicely refurbished with new hardwood floors. The living room has a working wood-burning fireplace and is wired for surround sound. The upstairs bedroom has ample closet space, and there's a washer and dryer in the closet to boot. Topping all of this off is your own roof deck for open-air enjoyment and entertainment when the weather turns nice.
6xx S. 19th St., Philadelphia, Pa. 19146 [Landlord via Zillow]
---
534 Montrose St., Queen Village | 2 beds, 1 full, 1 half baths, 980 square feet, $1,950 per month plus utilities. Cats and small dogs welcome.
You might note as you peruse these listings that trinities are very well represented. Given when they were built, most of them have fireplaces as part of the basic package, and this handsome expanded Queen Village trinity is no exception. This one has two of them: one in the main floor living room and another in the second-floor bedroom. It also has a very nicely outfitted kitchen with granite countertops, stainless steel appliances, a dishwasher, a butcher-block-topped island and glass-front display cabinets. When the weather gets warmer, you can chill on either your ground-level patio with its found-object mosaic or your roof deck in back of the top-floor bedroom.
534 Montrose St., Philadelphia, Pa. 19147 [Mikaelyn Austin | Maloca Rentals via Zillow]
---
319 S. Iseminger St., Washington Square West | 2 beds, 1 bath, 1,080 square feet, $2,100 per month. Small dogs welcome.
Here's another trinity — only this one has four floors. Built in 1867 and located in the middle of one of Wash West's cutest "little street" blocks, it's just been refurbished and updated for today. The original pumpkin pine floors have been refinished, and both of its fireplaces work. The larger one on the main floor sits opposite an all-new kitchen with under-counter appliances (including the fridge), and the smaller second-floor one adds charm to the den with built-in bookcase. The second-floor bathroom has also been renewed and features a "crazy high-volume shower." Finally, there's an attractive courtyard in the back and a laundry and lots of storage space in the basement.
319 S. Iseminger St., Philadelphia, Pa. 19107 [Owner via Zillow]
---
160 N. 22nd St., Apt. A, Logan Square | 1 bed, 1 full, 1 half bath, 1,550 square feet, $2,550 per month. Small dogs welcome.
This recently remodeled bi-level contemporary condo is the roomiest and most snazzily outfitted of our featured units. It has more than 1,500 square feet of space on its two floors, so you won't feel claustrophobic while cozying up to the gas fireplace with full-height slate surround in its living room. The open-plan main floor also features display alcoves in the dining area and a walk-in pantry, laundry room and half bath off the kitchen. The upstairs bedroom has all the room you might want: in fact, this floor originally had two bedrooms and could be converted back. The spa-like bathroom has a jetted tub and a large two-person glass shower, and there's a large rear courtyard for nice-weather enjoyment. This unit is also wired for sound and cable, with in-wall speakers and Cat6 Ethernet wiring.
An off-street parking space also comes with the unit.
160 N. 22nd St., Apt. A, Philadelphia, Pa. 19103 [Owner via Zillow]
---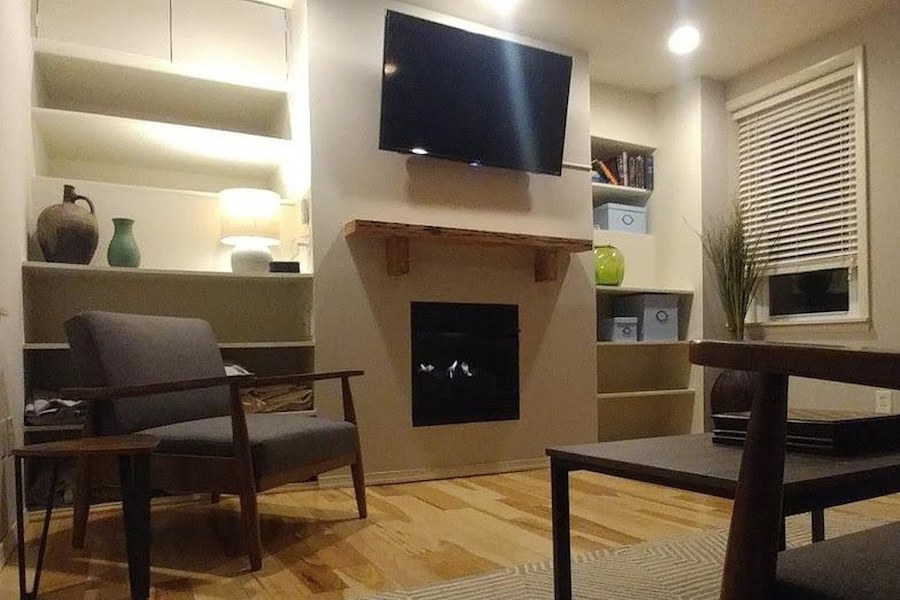 13xx Addison St., Washington Square West | 2 beds, 1 bath, 740 square feet, $3,000 per month, utilities included. Dogs welcome.
The last trinity in our roundup is also the most stylish one, having just gotten the full contemporary makeover. That makeover included exposing the brick walls and a gas fireplace in the living room. Why so much for such a compact house? Well, for starters, it comes fully furnished, including the 50-inch HDTV in the living room. Along with the TV you get free access to Netflix, DirecTV and several other streaming services. And those included utilities also includes Internet service. All of the kitchen appliances and fixtures in the bathroom are the latest and greatest to boot. There's also a washer/dryer combo in the top-floor bedroom and a small patio in the back.
13xx Addison St., Philadelphia, Pa. 19147 [Josh Gallioto via Zillow]
---
---