Living in Chinatown: A Neighborhood Guide
The neighborhood fought for its survival in the 1960s. The sense of community born in that fight sustains it in the face of change today.
---
We know exactly when Philadelphia's Chinatown was born. The year was 1871, when an immigrant named Lee Fong opened a laundry at 913 Race St. Like many Chinese who settled on the East Coast in the latter half of the 19th century, Fong traveled east to escape rising anti-Chinese sentiment on the Pacific coast, where most of the Chinese emigrés in America at the time lived.
Today's Chinatown, however, is of more recent origin. For most of its history, it was identified mainly by a cluster of businesses in the 900 block of Race Street, but liberalized immigration policies led many families from China to settle in the area after World War II. Many of its neighborhood institutions date from these years. In the mid-1960s, plans to build a new expressway along Vine Street threatened one of them, Holy Redeemer Catholic Church (see "Did You Know?" below). The community organized to save both it and the neighborhood itself.
Institutional and commercial development have hemmed Chinatown in on three sides, and as a result, newer arrivals have turned the section of Callowhill above Holy Redeemer into "Chinatown North." The heart of the neighborhood, however, remains the tight-knit cluster of shops, restaurants, and other businesses between Filbert and Vine streets from Eighth to 11th. Building conversions have added a stock of loft-style condominiums to the neighborhood's rental apartments; these units have attracted a more diverse population to the neighborhood without robbing it of its essential Chinese character.
---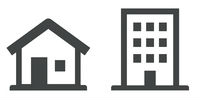 Chinatown Housing Prices at a Glance
Median single-family home value: Not available
Median condominium value: $206,000
Median apartment rent: $1,477/month
---
What You Can Buy in Chinatown
High-Floor Condo That Greets the Rising Sun
1100 Vine St. #904 | 2 beds, 2 baths, 1,333 square feet, $399,000
Loft Condo in Converted Former Hotel
1010 Race St. #2F | 1 bed, 1 bath, 718 square feet, $149,900
Updated Condo With High Ceilings and Balcony
926-28 Race St. #4C | 2 beds, 1 bath, 946 square feet, $349,000
---

Public Transportation in Chinatown
SEPTA Broad-Ridge Spur: Chinatown Station
SEPTA Market-Frankford Line: 8th Street and 11th Street stations, one block south of the neighborhood
SEPTA Regional Rail: Jefferson Station, all lines
SEPTA Bus Routes: 23, along its western edge; 47, along its eastern; 48, westbound on Arch and eastbound on Market; 17, 33, 44, 62, all on Market, one block south of the neighborhood
---
Food Shopping in Chinatown
Farmers' market: Reading Terminal Market, 12th and Arch streets
Local grocers: Chinatown abounds in markets carrying Chinese and other Asian specialties. Among the larger: Asia Supermarket, 143 N. 11th St.; Great Wall Seafood & Grocery, 102 N. 10th St.; Wang Sheng Supermarket, 917-21 Arch St.
---
What A Real Estate Agent Says About Chinatown
"Chinatown is very advantageous to a lot of homeowners and renters due to its extremely close proximity to Center City as well as walkability to incredible restaurants in every direction, not just in Chinatown but in Old City, Washington Square West and Center City. The lifestyle it offers is impressive due to its proximity to Center City.
"Chinatown is dense, so there are a lot of apartments and condos, which present a lot of lifestyle options whether you're renting or owning, For instance, if you're looking for that warehouse-y feel, you can find good options there and in Chinatown North. It's very unique in that it hasn't been 'discovered' yet because it's already so dense.
"In terms of new housing options, there's not a ton of development because it's already very densely built.
As Chinatown continues to grow and expand, you can already see the Loft District [Callowhill] beginning to benefit from that, especially in the area north of Spring Garden around 10th Street. There's a strong Asian and Chinese influence in these neighborhoods as you head north from Chinatown, and investors and homeowners are picking up on that trend. The neighborhoods outside Chinatown are improving every day."
—Christopher Somers, The Somers Team; owner, RE/MAX Access
---
Local Color
One of the newest additions to the Chinatown events calendar is the Philadelphia Chinese Lantern Festival, which takes over Franklin Square in the evenings every May and June. Visitors can expect to see a dazzling and colorful array of handcrafted lanterns produced by Chinese artisans, experience demonstrations of Chinese acrobatics, and explore the world of Chinese arts and crafts. The lanterns change from year to year, making this an annual event you'll want to return to. Festival proceeds help maintain Franklin Square's free attractions and programs, and the square's playground remains open to the public throughout the festival, as does the square itself during the day.
---
Did You Know?
Philadelphia's Chinatown is home to the first Catholic church built specifically to serve the Chinese faithful in the Western Hemisphere. Holy Redeemer Chinese Catholic Church opened in 1941 to minister to a fast-growing community of Chinese Catholics, and that community continues to grow today with the arrival of more immigrants from China. A Pennsylvania Department of Highways (now PennDOT) proposal for an expressway along Vine Street that would have taken out the church galvanized the neighborhood in opposition and led to the creation of the Philadelphia Chinatown Development Corporation. Thankfully, the highway folks listened, and the church survives today next to a slimmed-down, redesigned Vine Street Expressway.
House price data from Zillow House Value Index and Zillow Rent Index, April 2018
---
---